School of Trades and Technology Menu
Automotive Service Technician
As an automotive service technician, you'll utilize a full range of knowledge and abilities to perform preventative maintenance, diagnose problems and repair vehicle systems on cars and light trucks.
Foundation
Learn the skills you need to become an apprentice mechanic, even if you don't have any experience.
VIDEO SOURCE:
WORKBC'S CAREER TREK
What you'll learn:
General shop practice and automotive fundamentals, and how to operate basic test equipment.
Gain familiarity working with engines, electrical systems, running gear, clutches, transmissions, rear axles, steering systems and braking systems.
Applied mathematics and safety education.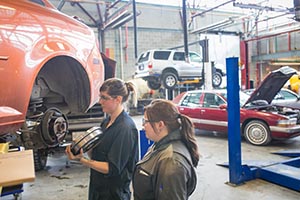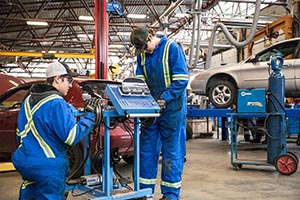 What makes our program unique:
Learn from an instructor with over 40 years of experience in the trade, who is still active repairing vehicles, and building hot rods and customs.
Students are encouraged to bring their own vehicles to work on when relevant topics are covered in classes.
Tools are supplied.
What you'll graduate with:
Automotive Service Technician Foundation Certificate of Completion
The in-school technical training required for Level 1 Apprenticeship
450 hours of work-based training towards your Apprenticeship training
Program requirements:
Grade 12 graduation or equivalent
Successful score on ACCUPLACER
Stats:
85% of graduates from this program are in labour force
90% of graduates from this program satisfied with training
100% quality of instruction rated by program graduates
Instructors:
John Wrigley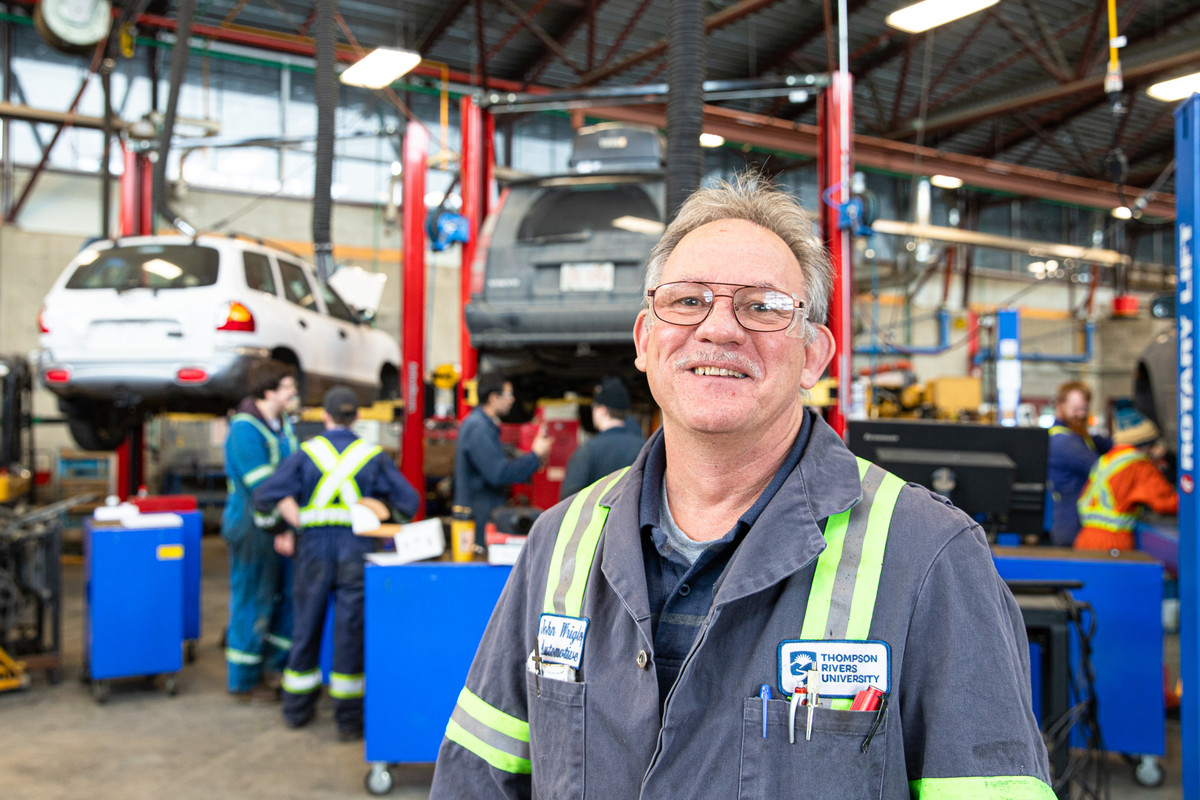 Automotive has always been John's passion. He became an Automotive Journeyperson in 1981 and started his teaching career in 2007. He has raced stock cars, rebuilt cars and is still building rods and customs, and finds joy working on cars and sharing his knowledge with others.
Apprenticeship
Apprenticeship provides automotive service technician certification through work-based training and in-school technical training. Employers sponsor students for the work-based training and TRU offers the in-school technical training for levels 1, 2, 3 and 4 of your apprenticeship. Each level consists of seven weeks of on-campus training. Once you've completed all four levels and the required work-based hours, you'll receive an Automotive Service Technician Certificate of Apprenticeship and qualify to write the interprovincial Red Seal exam for your Certificate of Qualification.
Program requirements:
Sponsored by an employer registered by SkilledTradesBC
Must be in good physical health
Apprenticeship training dates
All apprenticeships have a waitlist. Adding your name is free and you will be contacted when your name comes up.
| | From | To | Location | Availability |
| --- | --- | --- | --- | --- |
| Automotive Service Technician (Harmonized) - Level 2 | October 30, 2023 | December 15, 2023 | Kamloops | Available |
| Automotive Service Technician (Harmonized) - Level 3 | January 2, 2024 | February 16, 2024 | Kamloops | Limited Space |
| Automotive Service Technician (Harmonized) - Level 4 | March 25, 2024 | May 10, 2024 | Kamloops | Available |
Submit your name
to the interest list for an apprenticeship course
Contact
apprenticeship@tru.ca
Costs for AST programs
Fees are subject to change.
Estimated Costs include items such as student/ancillary fees, books, personal tools and safety gear, which are kept by students when they graduate from the program.
General
Application fee
{{ formatPrice(all.applicationFee) }}
Accuplacer exam fee
{{ formatPrice(all.accuplacerFee) }} plus GST
Accuplacer rewrites
{{ formatPrice(all.accuplacerRewrite) }} plus GST
Parking (parking website)
{{ formatPrice(all.motorcycle) }} (pass) Motorcycle
${{ all.parking }} per day (pass options)
Foundation

| | |
| --- | --- |
| Tuition | {{ formatPrice(auto.tuition) }} |
| Student and lab fees | {{ formatPrice(auto.fees) }} |
| Learning guides and/or textbooks | {{ formatPrice(auto.books) }} |
| CSA work boots, clear safety glasses, 2 pair coveralls, welding gloves and welding hat | {{ formatPrice(auto.equipment) }} |
| Calculator, 3-ring binder, paper, pens, etc. | {{ formatPrice(all.supplies) }} |
| Total | {{ formatPrice(autoTotal) }} |
Apprenticeship
The in-school technical training costs are based on the number of weeks you need, with each apprenticeship level requiring seven weeks.
Automotive service technician apprentices must purchase the required textbooks.
Seven weeks tuition and fees
{{ formatPrice(appr.seven) }}
Contact us for more rates