School of Trades and Technology Menu
Automotive Service Technician
Automotive service technicians examine, test and repair the parts and systems on cars and light trucks. They often use computerized diagnostic equipment to test, adjust and repair key vehicle components such as engines, steering systems, braking systems, drive trains, vehicle suspensions and electrical systems. The work of an automotive service technician also involves reassembling and testing repaired items against manufacturers' standards, as well as performing preventative maintenance such as wheel alignments, oil changes and tune-ups.
Automotive Service Technician
Gain the skills you need to become an apprentice mechanic even if you have little or no experience in the automotive field. You receive first-year credit for apprenticeship technical training after completing the program.
Course content
General shop practice, automotive fundamentals, engines, basic test equipment, electrical systems, running gear, clutches, transmissions, rear axles, steering systems and braking systems, applied mathematics and safety education will be covered.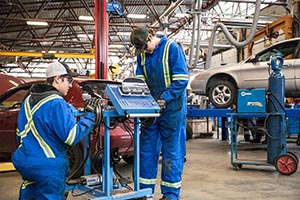 Hands-on
We place strong emphasis on practical training with numerous hands-on projects. You will develop enough skills to be hired on as a productive employee — reducing the need for employers to invest more resources into training.
Education requirements
Completion of Grade 10 with Grade 10 Math and English (Grade 12 with Grade 11 Math, Physics and English recommended)
Acceptable score on Entry Assessment Test
General requirements
Must be in good physical health
Mechanical aptitude
Must have safety boots and glasses
Must supply and launder your own coveralls
Must purchase welding gloves and welding hat
Automotive Service Technician
Apprenticeship training dates
| | From | To | Location |
| --- | --- | --- | --- |
| AUTO - Level 3 | March 30, 2020 | May 15, 2020 | Kamloops |
| AUTO - Level 4 | March 29, 2021 | May 14, 2021 | Kamloops |
All apprenticeships have a waitlist. Adding your name is free and you will be contacted when your name comes up.
Add your name
for this apprenticeship waitlist
Contact
apprenticeship@tru.ca
Costs for automotive service technician programs
Fees are based on 2019 rates and are subject to change.
Costs include items such as student/ancillary fees, books, personal tools and safety gear, which are kept by students when they graduate from the program.
General
Application fee
$29.83
Accuplacer exam fee
$37
Accuplacer rewrites
$25
Parking (student parking website)
$2.50 (pass) Motorcycle
$5 per day
Foundation

| | |
| --- | --- |
| Tuition | $2,970 |
| Student and lab fees | $1035 |
| Learning guides and/or textbooks | $345 |
| CSA work boots, clear safety glasses, 2 pair coveralls | $265 |
| Calculator, 3-ring binder, paper, pens, etc. | $50 |
| Total | $4,665 |