Williams Lake Campus
Learning Commons
The Learning Commons provides a safe and supportive environment for students and members of the community to learn and study.
The Learning Commons was developed in summer 2021 with the community in mind. It was designed to meet the needs of our community by providing a comfortable space with access to computers, internet and tools to support you in your educational journey.
Upon entering the space, you'll meet our Learning Commons Coordinator, Nic, and our Campus Tutor, Dustin. Nic and Judy are here to help you succeed. They are available during Learning Common hours for support.
---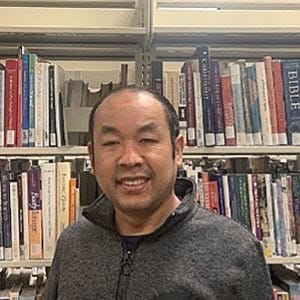 Nic Suapa
I am here to support you whether you're on campus or studying through open learning. I can help you create career goals, educational plans, course selection, transition and/or transfer to university programs. I am happy to assist you in applying for awards, financial aid, and sponsorship. I can also connect you to counsellors and accessibility services if needed.
I work with students in all steps along their educational path anywhere from university preparation to a Master of Education. My education background includes BEd, MEd, MPA, and Ph.D. in Adult Education and Human Resource Development.
---
Dustin Batty
Dustin is available to help students understand their coursework, explain the ins and outs of academic writing, and facilitate a comfortable and productive studying environment. Dustin is skilled in helping find studying strategies for students to excel in their courses.
Tutoring is a free service our campus offers to TRU Williams Lake and Open Learning students.