Continuing Studies
Register Online for Continuing Studies
Bus Driver Training
Due to the huge success of the first program, Thompson Rivers University, in partnership with School District #27, will be offering the School Bus Driver Training Program this fall. This program is FULLY FUNDED by the Government of Canada through the Canada-British Columbia Job Fund and will offer eligible students the opportunity to obtain their Class 2 Driver's license, including Workplace Essential Skills, Job Shadowing, Air Brake certification as well as practical driver training.
If you enjoy working with children and would like to pursue this fully funded School Bus Driver Training, please call 250.392.8010 to get more information, or click here to find out if you are eligible. For more information or to apply, please call 250.392.8010. Full time training begins October 2. We still have room for one more applicant!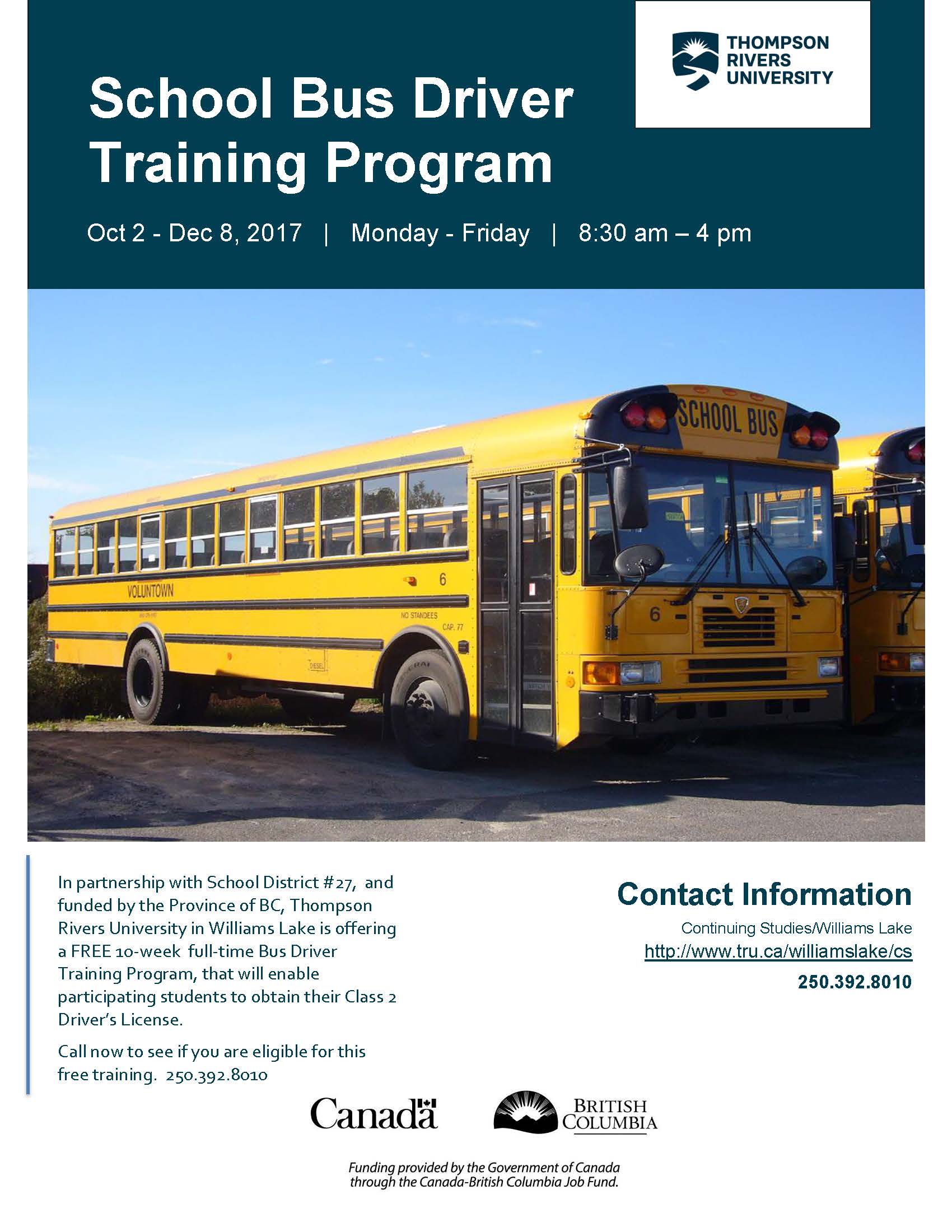 Continuing Studies
Continuing Studies offers an array of programs, workshops and courses designed to meet the demands of today's workplace and the interests of the Cariboo Chilcotin community. With new knowledge, new skills and abilities come greater opportunities for success. If you have questions, or would like to register for these or any of our other courses, please call 250-392-8010.
We offer programs, courses and workshops in the following areas:
How to Register
Registration for our courses can be done in person, by mail, online, or by calling 250-392-8010.
Register Early
Please register early to ensure you secure a spot and the course can be run.
Customized Contract Training
Continuing Studies can work with you set up customized training based on your needs, whether it is for industry, business, a community organization, government agency or special interest group.
In response to special requests we can provide:
Flexible and cost-effective training
Training by knowledgeable and experienced instructors
Training schedules to suit you and your employees/clients
Contact Julie Bowser for more details at 250-392-8177 or jbowser@tru.ca.
Withdrawing From Courses
If you need to withdraw you must do so one week prior to the start of the course and no refunds are available once a course commences. To receive a refund, a person must withdraw one week prior to the start of the course. Refunds come from TRU Kamloops by cheque.
Course Changes
Times, dates, prices and course offerings subject to change. Courses are checked three business days prior to the start of each course and if there are not enough registrants, the course will be cancelled. If the course is cancelled by TRU, a full refund will be issued.
Your Feedback is Important
Continuing Studies is a part of your community, therefore, we welcome all communication from current and potential students, if there is a training program you feel would be an asset to our schedule, please contact our office at 250-392-8010. Do not hesitate to tell us if we can improve our products, services or quality. We encourage feedback so that we can provide the education and training that is relevant to our communities.