Williams Lake Campus
Your TRU Williams Lake Campus Card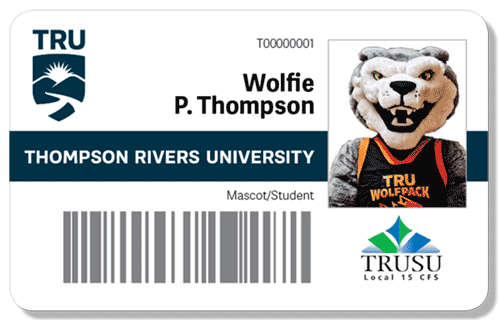 This photo identification card is required to access Library services, to access the Cariboo Memorial Complex at no cost and as identification on campus. The Campus Card also provides various student discounts at merchants throughout the City of Williams Lake.
So that we can have your TRU Williams Lake Campus Card ready when you arrive on campus later this summer, we ask that you send us your ID photo now. Your Campus Card will be ready for pick up at the Library Centre. You will need to show one other form of photo ID in order to receive your card.
Prepare your photo:
Your photo must be in jpg format
Your photo should be taken against a plain (preferably white) background
The photo should be a headshot with a clear view of the face (no hats, sunglasses, or silly faces)
You can smile!
The file that you send should be no larger than 1.2 MB
Use your TID (student ID number) as the file name
Send us your photo:
Create an email to send to wlselfie@tru.ca
Write your full name and TRU ID number in the Subject line of the email and indicate you are a Williams Lake student
Attach your jpg file
Hit send
Check for a confirmation email from us. This email will include a Cardholder Agreement and instructions on when and where to pick up your new Campus Card. Be sure to read it so that you understand how your card may be used. You will sign this agreement when you pick up your card.
If we have any problems using your photo, we will email you within a week. Please check back into your email to ensure everything is fine.