CanCode Workshops
What is CanCode?
The CanCode Project is an initiative funded by the Canadian Government that aims to give Canadian youths the opportunity to learn Digital Literacy skills that are beginning to become more and more apparent in our daily lives! EUReKA! provides free workshops to youths around Kamloops to get them engaged in technology in a fun and educational setting, all while teaching with real-word examples.
Meet our CanCode Team!
Meet Sam and Nat! They'll be your CanCode instructors throughout each workshop!
Sam is a third-year Bachelor of Computer Science student here at TRU! Nat is a fourth-year Electrical Engineering student from UVIC.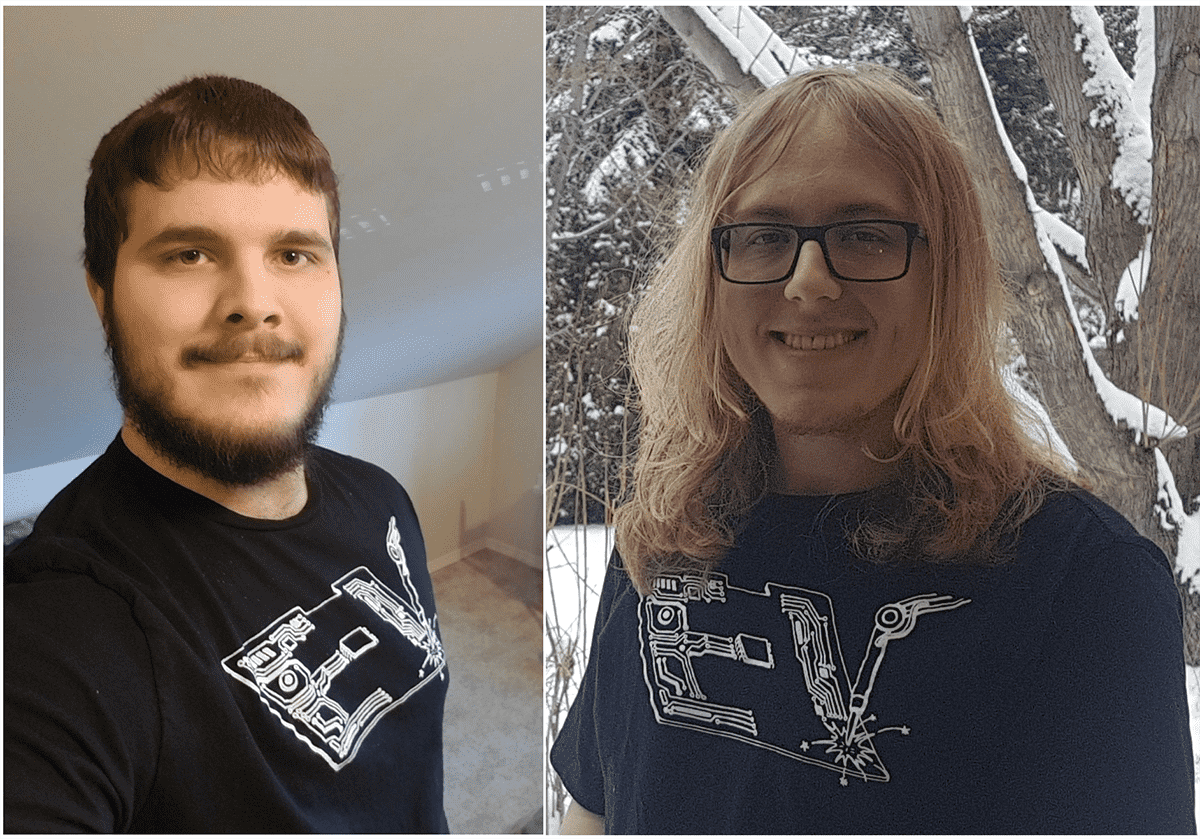 Online CanCode Workshops:
With schools closed for the foreseeable future, we want to bring CanCode and digital learning to you in the comfort of your own home! Each workshop package comes with a video tutorial, a walk-through document, and all the resources you'll need to follow along and learn with us.
Each workshop is also paired with a survey form so we can hear from you! Please fill these out after participating in the appropriate workshop and let us know your favourite part, or where we can improve to better help you learn.
Download the software and workshop package of your choice, and follow the accompanying video to get started!
GIMP Photo Editing – Grade 4-7
In this workshop, students will be taught how to use GIMP for image manipulation. In Part 1, students will learn how to selectively desaturate objects in a coloured photo, how to use layers, and how to edit in objects from different photos. In Part 2, students will learn how to add text to an image, as well as how to use GIMP to create GIFS from image sets. Students will then combine these activities into adding text to GIF images!
Resources:
Download GIMP here: GIMP Photo Editor
GIMP Part 1
GIMP Part 2
Feedback
HTML5 Website Design - Grade 6-7
In this workshop, students will gain basic understanding of HMTL (hypertext markup language) coding. In Part 1 they will learn the basics of tagging and the HTML language, see how HTML is used to build other websites, and begin building their own locally hosted (ie. not online; not visible to anyone but them) website! In Part 2, students will explore more tags to add to their site to fully customize it, learn how to build a responsive website that would work on a phone, and continue building their site!
Resources
Download Notepad++ here: Notepad++ Editor
HTML Part 1
HTML Part 2
Feedback
Storytelling with Algorithms - Grade 3-7
We use algorithms every single day! We get ready in the mornings in a certain order; we put our keys in our car before we start it; we follow recipes to make cookies! Computers use algorithms to try to figure out what to do and how to do it. We can use algorithms to get a computer to tell a story that we make! In Part 1, we'll learn the basics of Scratch to tell a story, then in Part 2 we'll get more complex with using algorithms to tell stories in loops!
Resources
Learn more about Scratch here: Scratch
Storytelling Part 1
Storytelling Part 2
Feedback