School of Trades and Technology Menu
Instrumentation and Control Technician
Attention electricians

Are you a red seal qualified graduate electrician looking to further your career? Are you interested in instrumentation? Great idea! Electrician, combined with an instrumentation and control technician red seal, is in high demand. We have good news. TRU is now recognizing your previous learning and experience and has put together an accelerated program that reduces the time to get your instrumentation accreditation from 40 weeks to 30 weeks. That's equivalent to saving a whole year.

What you need to do

Register with SkilledTradesBC as an instrumentation apprentice.
Apply to the instrumentation and control technician apprenticeship program at TRU.
Request a previous learning assessment. As an accomplished electrician, you will be granted advanced standing status in the program.
As an instrumentation and control technician (formerly known as an industrial instrument mechanic) you'll build, calibrate, commission, program and maintain industrial control systems. Positions are needed in virtually all industrial enterprises, where you'll be responsible for installing instruments to monitor various process parameters like temperature, pressure and flow—used by a programmed controller to command final control elements, such as valves and motors, to meet process specifications.
Instrumentation and Control Technician Foundation Program
Our Foundation program includes level 1 apprenticeship training plus additional technical and hands-on experience that will provide the necessary skills to work as an apprentice in this trade.
VIDEO SOURCE:
WORKBC'S CAREER TREK
What you'll learn
How to program Programmable Logic Controllers (industrial computers) using Ladder Logic and Instruction List programming languages.
How to develop and build industrial control circuits.
How to disassemble, repair and rebuild valves, regulators, actuators and other components; and calibrate various instruments.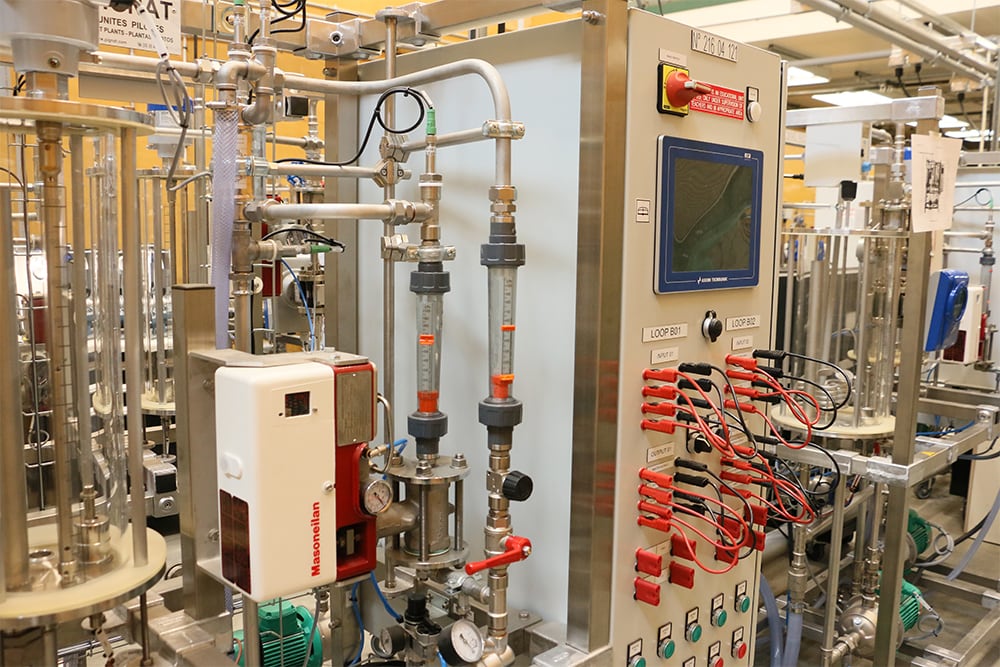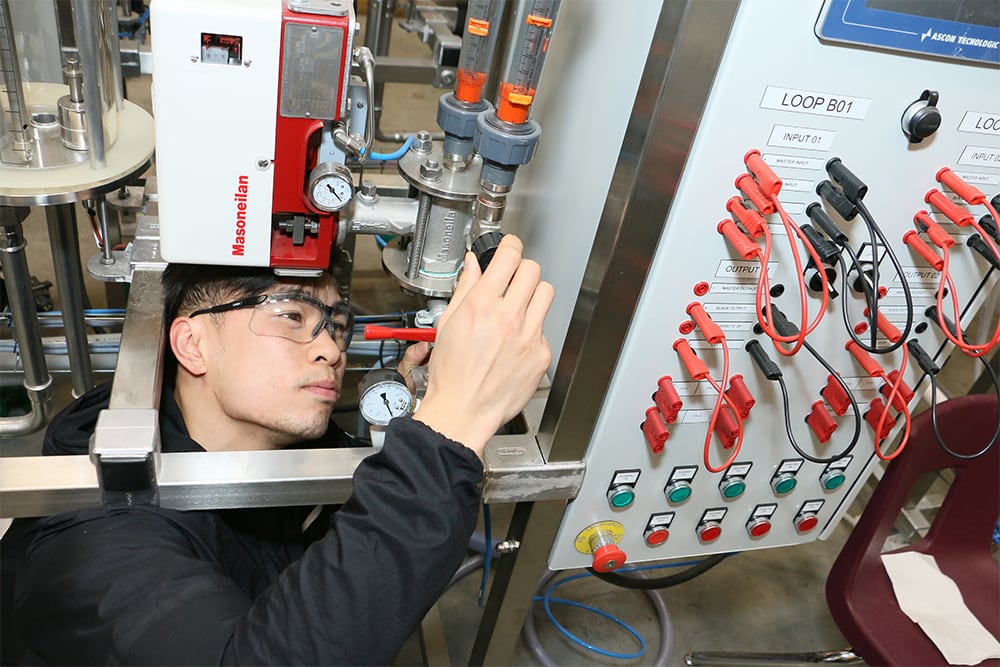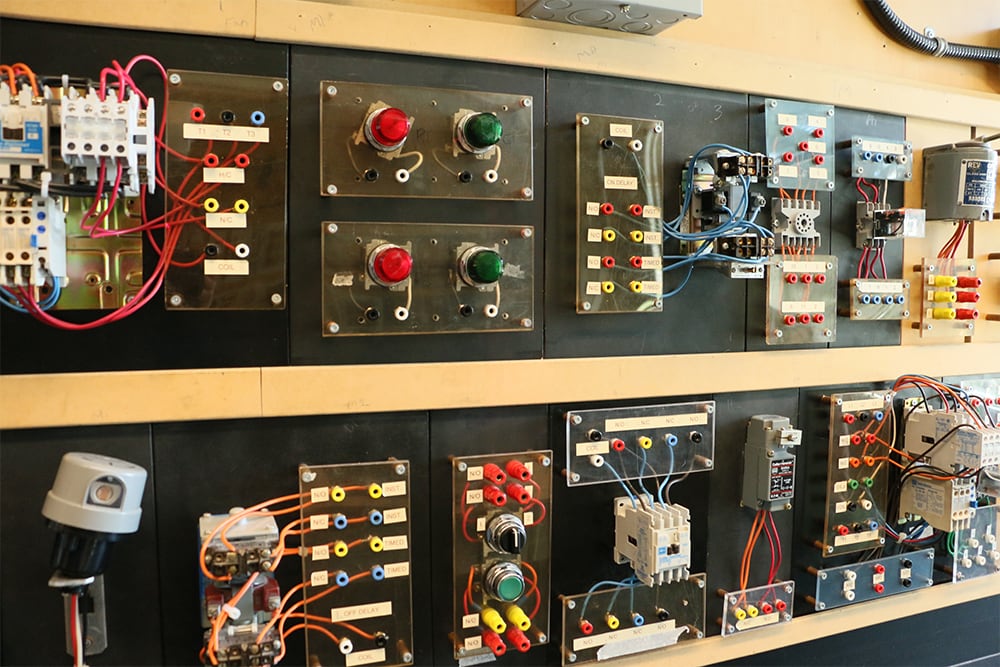 What makes TRU's program unique
New facilities in TRU's Industrial Training and Technology Centre including an electrical and electronics lab, calibration and valve lab, programming lab, and process control lab fitted with a full-class set of sophisticated Pignat process-control trainers.
Access to a unique collection of real and functional processes, including a multi-fuel power plant with DeltaV DCS, a pilot water treatment facility with SCADA and a waste water treatment facility.
Because facilities and equipment are new and state-of-the-art, students learn and train on equipment actually used in the field.
What you'll graduate with
Instrumentation and Control Technician Foundation Certificate of Completion
The in-school technical training for apprenticeship level 1
325 hours of work-based training towards apprenticeship
Program requirements
Grade 12 graduation or equivalent
English 12
Mathematics 11 with good Algebra skills
Successful score on ACCUPLACER
General requirements
Students are required to supply their own approved safety glasses and boots
Instrumentation and Control Technician
Apprenticeship provides Instrumentation and Control Technician certification through work-based training and in-school technical training. Employers sponsor students for the work-based training and TRU offers the in-school technical training for levels 1, 2, 3 and 4 of your apprenticeship.
Each level consists of 10 weeks of on-campus training. Once you've completed all four levels and the required work-based hours, you'll receive an Instrumentation and Control Technician Certificate of Apprenticeship and qualify to write the interprovincial Red Seal exam for your Certificate of Qualification.
Program requirements
Sponsored by an employer registered by SkilledTradesBC
Must be in good physical health
Apprenticeship training dates
| | From | To | Location | Availability |
| --- | --- | --- | --- | --- |
| Instrumentation and Control Technician - Level 3 | January 2, 2024 | March 8, 2024 | Kamloops | Available |
| Instrumentation and Control Technician - Level 1 | March 11, 2024 | May 17, 2024 | Kamloops | Available |
| Instrumentation and Control Technician - Level 2 | May 21, 2024 | July 26, 2024 | Kamloops | Available |
| Instrumentation and Control Technician - Level 4 | January 6, 2025 | March 14, 2025 | Kamloops | Available |
| Instrumentation and Control Technician - Level 2 | March 24, 2025 | May 30, 2025 | Kamloops | Available |
Submit your name
to the interest list for an apprenticeship course
Contact
apprenticeship@tru.ca
Costs for Instrumentation and Control Technician programs
Fees are subject to change.
Costs include items such as student/ancillary fees, books, personal tools and safety gear, which are kept by students when they graduate from the program.
General
Application fee
{{ formatPrice(all.applicationFee) }}
Accuplacer exam fee
{{ formatPrice(all.accuplacerFee) }} plus GST
Accuplacer rewrites
{{ formatPrice(all.accuplacerRewrite) }} plus GST
Parking (parking website)
{{ formatPrice(all.motorcycle) }} (pass) Motorcycle
${{ all.parking }} per day
Foundation

| | |
| --- | --- |
| Tuition | {{ formatPrice(inct.tuition) }} |
| Student and lab fees | {{ formatPrice(inct.fees) }} |
| Learning guides and/or textbooks | {{ formatPrice(inct.books) }} |
| CSA work boots, clear safety glasses | {{ formatPrice(inct.gear) }} |
| Scientific calculator (non-programmable) | {{ formatPrice(inct.calculator) }} |
| 3-ring binder, paper, pens, etc. | {{ formatPrice(all.supplies) }} |
| Total | {{ formatPrice(inctTotal) }} |
Apprenticeship
The in-school technical training costs are based on the number of weeks you need, with each apprenticeship level requiring 10 weeks.
Ten weeks tuition and fees
{{ formatPrice(appr.ten) }}
Contact us for more rates