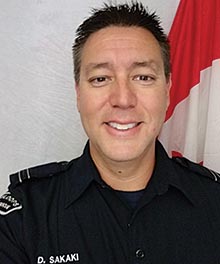 Captain David Sakaki - Doctor of Letters, honoris causa
Capt. David Sakaki is a well-known Kamloops firefighter and global humanitarian who has impacted the lives of thousands around the world. Founder of the Kamloops Firefighters Operation Nicaragua and a Rapid Response Team Leader for Global Medic, he has assisted in dozens of international medical and humanitarian projects since 2007. Through Operation Nicaragua, he has brought clothing, medical supplies, school supplies, fire-fighting equipment and training to some of Nicaragua's poorest communities. Global Medic missions have taken him to the Philippines, Japan, India, Nepal and Greece, where he assisted Syrian refugees in 2015. In honour of his outstanding volunteer work at home and around the globe, he was recognized nationally with a Queen Elizabeth Diamond Jubilee Medal in 2012, and was named Honorary Commander of the Fire Fighters of Nicaragua in 2014. David Sakaki's dedication to assisting communities in need demonstrates the global citizenship that TRU aims to foster in our students.
---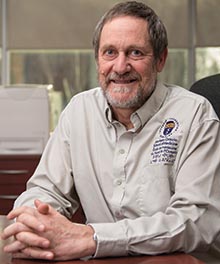 Dr. Roger Strasser - Doctor of Laws, honoris causa
Dr. Roger Strasser is an internationally recognized leader in health care reform and one of the world's foremost authorities in rural medical education. He is the founding dean and CEO of the Northern Ontario School of Medicine (NOSM) at Lakehead University in Thunder Bay and at Laurentian University in Sudbury, the first Canadian medical school established with an explicit social accountability mandate to improve the health of people and communities in the region it serves. Since 2002 NOSM's unique model of community-engaged learning has supported recruitment, retention and socio-economic development in historically underserved communities across northern Ontario. As one of the few professors of rural health in the world, Strasser also leads research relating to socially-accountable health professional education, recruitment and retention of health professionals, and rural health service delivery models. Roger Strasser's impact on health care in remote and rural communities worldwide represents the visionary leadership that TRU aims to foster in our students.
---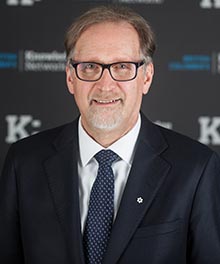 Mr. Rudy Buttignol - Doctor of Letters, honoris causa
Mr. Rudy Buttignol is an internationally acclaimed documentary filmmaker and producer who has contributed to the growth and quality of Canadian documentary filmmaking for more than 40 years. A tireless advocate for the arts in his role as president and CEO of British Columbia's Knowledge Network, one of Canada's most respected public broadcasters, Buttignol has directly impacted the success and international reputation of Canada's film and television industry. In recognition of his contributions to Canadian documentary filmmaking and his role in transforming the Knowledge Network, he was awarded a Queen Elizabeth II Diamond Jubilee Medal in 2013, and was appointed a member of the Order of Canada in 2015. The founding chair of the Documentary Organization of Canada, he has also served on the boards of several international film festivals. Rudy Buttignol's passion to educate through the arts exemplifies the lifelong quest for knowledge TRU aims to foster in our students.
---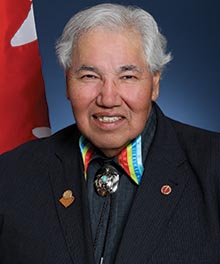 Senator Murray Sinclair - Doctor of Laws, honoris causa
Senator Murray Sinclair is an Ojibway-Canadian judge and First Nations lawyer, well-regarded for his stature in the legal field. Since 2009 he has gained wider recognition as the Chief Commissioner for the Truth and Reconciliation Commission (TRC), which has provided Canadians with a better understanding of what happened in residential schools and a clearer path toward reconciliation. Sinclair is Manitoba's first Aboriginal judge, and has been a member of the Manitoba Court of Queen's Bench since 2001. He was appointed to the Canadian Senate in March of 2016. In his accomplished career, he has helped lead some of the most significant inquiries of our nation, resulting in deep and profound changes in national policies as well as collective perspectives of our Canadian history in regards to Aboriginal peoples. Murray Sinclair's commitment to reconciliation and strengthened relations among all Canadians represents the intercultural understanding TRU aims to foster in our students.
---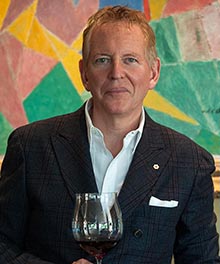 Anthony von Mandl - Doctor of Laws, honoris causa
Anthony von Mandl is an entrepreneur whose visionary efforts to transform BC's Okanagan valley into a world-class wine-producing region have enhanced the reputation of Canadian wines and made the Okanagan a premiere tourism destination. At age 22 he founded Mark Anthony Wine Merchants, and began to realize his dream when he established Mission Hill Family Estate in 1981. Then in 1994, Mission Hill won Top Chardonnay Worldwide at the International Wine and Spirit Competition. Named Canadian Winery of the Year six times, Mission Hill recently won Best Pinot Noir in the World at the Decanter World Wine Awards. Von Mandl Family Estates now includes Martin's Lane, the world's most advanced six-level, gravity-fed winery. In recognition of his innovative contributions, von Mandl received the Order of British Columbia in 2005 and the Order of Canada in 2016. Anthony von Mandl's passion and willingness to take risks to transform the Okanagan valley exemplifies the pioneering spirit TRU aims to foster in its students.
To Top
SIGN OUR VIRTUAL GUESTBOOK
Share your congratulations and well wishes to our graduating class online!
Sign Virtual Guestbook