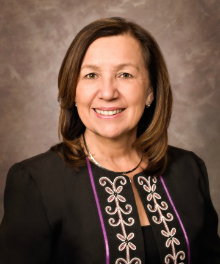 Marie Battiste - Doctor of Letters, honoris causa
Dr. Marie Battiste is a First Nations educator and researcher whose work urges the de-colonization of Aboriginal education as a means for Aboriginals to improve their physical, spiritual and mental health. A tireless advocate of Aboriginal peoples, her research interests are decolonization in the areas of Aboriginal education, language, social justice, policy, and power; and the protection and advancement of Indigenous knowledge.
Currently co-lead of the Aboriginal Learning Knowledge Centre, Dr. Battiste has served as a Professor in Research and Leadership in Aboriginal Education at the University of Saskatchewan since 1993. She has presented nationally and internationally; won several prestigious awards in the areas of publishing and curriculum development; authored and co-authored numerous papers, books, chapters, and reviews; and continues to serve on the boards of such notable organizations as the International Research Institute for Maori and Indigenous Education (University of Auckland, New Zealand). Dr. Battiste holds two honorary degrees.
---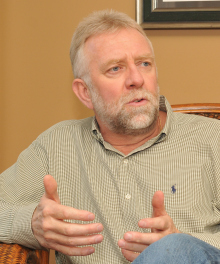 Mark Brown - Doctor of Laws, honoris causa
Mark Brown is a Kamloops success story and the embodiment of every entrepreneur's dream. Arriving in Kamloops in 1981 with an old pick-up truck, a beaten-up industrial trailer and very little money, he refurbished the trailer, sold it, and with the proceeds, bought two more old trailers. Again, he refurbished them, sold them and repeated •the process, putting himself on the path to eventually selling his company, Northern Trailer, in 2007 for more than $s70 million. Much of Brown's success lay in penetrating the niche market of portable buildings for industrial camps for coastal logging operations, interior mining ventures and major projects such as Tumbler Ridge, Revelstoke Dam and the Coquihalla Highway. However, Brown acknowledges that his accomplishments are most importantly a result of surrounding the company with great, forward thinking staff who always focused on doing the right thing and remaining committed to customers' needs.
By strategically locating his business in Kamloops where the major highways met and climates suited wood buildings and working on them, Brown retained a competitive edge through delivery time and price to much of BC and Alberta. Loyal to Kamloops as 'home base', the Brown's, Mark and Ellen, contributed substantially to the local economy, allowing for the return a portion of business profits to local community groups and organizations prior to the sale. Since the sale to Horizon North Logistics, headquartered in Calgary, Brown continues to work for Northern Trailer as its president. The Brown family's giving has since been directed towards the areas of health, well-being, the disenfranchised, leisure, arts and culture, the environment, employment opportunities, education and Thompson Rivers University.
---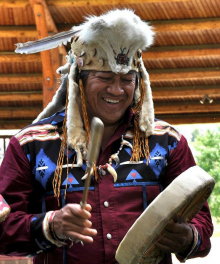 Chief Wayne Christian - Doctor of Laws, honoris causa
Chief Wayne Christian (Kukpi7 Christian) is a North Okanagan First Nations leader who has helped create better conditions for Aboriginals in his own community and around the world. A life-long leader, his journey began in 1971 as president of his high school student council in Armstrong BC. Since then, he has been elected chief of the Splatsin First Nation several times and has advocated on provincial and national committees to improve conditions for Aboriginal people in the areas of health, title and rights, and culture. Chief Christian has spent considerable time advocating on behalf of youth, from creating sport and culture opportunities to being a co-investigator of the Cedar Project, a federally-funded study addressing the HIV-related vulnerabilities of Aboriginal young people using drugs. He has been instrumental in the creation of innovative programs such as Survivors of Trauma, which assesses multi-generational impacts of residential schools. Chief Christian's belief that strength lies in pulling together is evident in his work in band relations in the Secwepemc nation, through various committees and programs. He is vice-president of the Secwepemc Cultural Education Society.
---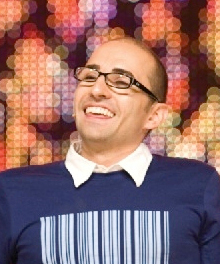 Spencer West - Doctor of Letters, honoris causa
Spencer West is a motivational speaker who has an impressive ability to inspire and empower others. He uses his perceived disability to motivate and inspire millions of people around the world to be leaders and voices for social change. Having lost both legs at the hip due to the genetic condition sacral agenesis, Mr. West walks on his hands and has turned this into inspiration through action. Last year Spencer West gained worldwide media attention by climbing Mt. Kilimanjaro and raising more than $500,000 for sustainable clean water projects in East Africa. He has motivated millions through the Me to We speakers program and through the Go Global speaking tour operated by Free The Children. His autobiography, Standing Tall: My Journey, would be aptly described as beyond all odds. He has shared the speaker's stage with luminaries the likes of Dr. Jane Goodall, former US Vice-President, AI Gore, his musical idol, Jason Mraz, Mia Farrow, Reverend Jesse Jackson, Nobel Peace Prize Laureates Betty Williams and Elie Wiesel, and His Holiness the Dalai Lama.