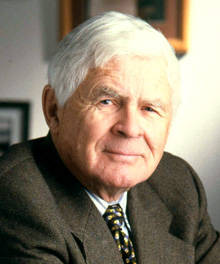 Irving K. "Ike" Barber - Doctor of Letters, honoris causa (posthumous)
Mr. Irving K. Barber was one of BC's most prominent entrepreneurs and a generous benefactor of post-secondary educational institutions. Born in 1923, he left high school without graduating. Mr. Barber's service with the Canadian military during the Second World War earned him a second chance to pursue his education, and in 1950, Mr. Barber earned a Bachelor of Science in Forestry from UBC. He went on to found Slocan Forest Products Ltd. in 1978, eventually making it into one of North America's leading lumber producers. A recipient of the Order of BC, an Officer of the Order of Canada, and a Companion in the Canadian Business Hall of Fame, Mr. Barber's philanthropy enabled students throughout BC to access education. The many facilities for research and learning that bear his name include TRU's Irving K. Barber British Columbia Centre. Ike Barber's legacy at TRU represents a commitment to foster community outreach, engagement in lifelong learning, and the academic success of Aboriginal students.
---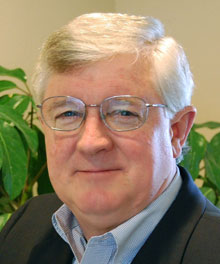 George D. Kuh - Doctor of Letters, honoris causa
Dr. George D. Kuh is an American educator and researcher. Born in Chicago, Illinois, he was the first in his family to pursue a university education. When he graduated with a BA in 1968, he accepted a job at his alma mater's enrolment office, and has worked with and studied students and universities ever since. Dr. Kuh earned an MS from St. Cloud State University in 1971, and a PhD from the University of Iowa in 1975. After a 34-year career at the Indiana University School of Education, he is now Chancellor's Professor Emeritus at Indiana University Bloomington (IUB), and adjunct professor in the College of Education at the University of Illinois. His insight into how to effectively assess the quality of the undergraduate experience, and his groundbreaking National Survey of Student Engagement (NSSE) are recognized as significant advances in the philosophy and practice of education. He has been widely published, won numerous awards for teaching and research, including Indiana University's prestigious Tracy Sonneborn Award, and holds six honorary degrees. He is a true innovator and champion of education. George D. Kuh embodies TRU's commitment to student engagement and academic success.
---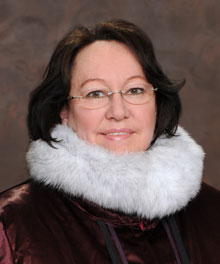 Sheila Watt-Cloutier - Doctor of Laws, honoris causa
Sheila Watt-Cloutier is a human rights and environmental activist and advocate. Born in northern Quebec's Nunavik region, she was sent away at age 10 to attend school in the south, but returned as an adult as a student counsellor and later was elected corporate secretary of Nunavik's Inuit land claim organization. From 1995 to 2002, as President of the Inuit Circumpolar Council (ICC) Canada, she was instrumental in negotiating the Stockholm Convention banning persistent organic pollutants. Then as International Chair of ICC, she identified the impacts of climate change on the Arctic as a human rights issue. An Officer of the Order of Canada and internationally recognized for her environmental leadership, Ms. Watt-Cloutier has won numerous awards, and in 2010 was named one of 25 Transformational Canadians by the Globe and Mail. Her life's work was memorialized in May, 2012 on a Canadian stamp as one of four "Canadians Who Made a Difference." She continues her activism and advocacy work, and is finishing her book, The Right to Be Cold. Sheila Watt-Cloutier represents TRU's dedication to Aboriginal perspectives, environmental sustainability, and international collaboration.
---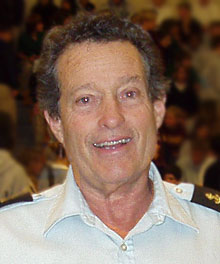 Captain Charles James Reid Moore - Doctor of Laws, honoris causa
Captain Charles James Reid Moore is a seafarer and environmentalist dedicated to raising global awareness about the degradation of marine environments. He grew up in Long Beach, California, sailing the Pacific Ocean with his father, and studied chemistry and Spanish at the University of California at San Diego. After he retired from his woodworking business in 1994, Captain Moore founded the Algalita Marine Research Institute in Long Beach, and launched the Oceanographic Research Vessel Alguita a year later. In 1997, when the Alguita was returning from Hawaii by an alternate route, Captain Moore discovered a mass of plastic waste polluting an area known as the Pacific Gyre. Since then, as related in his 2011 book, Plastic Ocean, he has been documenting the contamination of the world's oceans by plastic waste and its effects on sea life. He has led expeditions across more than 40,000 nautical miles of the North Pacific Ocean to understand and remediate the ocean's plastic load, and brought the issue to the attention of the scientific community, global media, and the general public. Captain Charles James Reid Moore embodies TRU's dedication to environmental sustainability.
---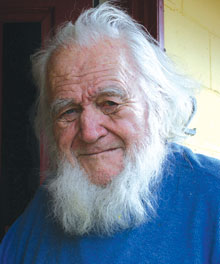 Paul St. Pierre - Doctor of Laws, honoris causa
Paul St. Pierre is a journalist, author and former Member of Parliament. Born in Chicago in 1923, and raised in Nova Scotia, St. Pierre began his newspaper career in British Columbia in 1945. A columnist with the Vancouver Sun for almost 30 years, he is best known for his fictional accounts of life in BC's Cariboo-Chilcotin region, including his novella, Breaking Smith's Quarter Horse. He wrote scripts for the ground-breaking 1960's CBC television series, "Cariboo Country", which for the first time cast First Nations actors. From 1968 to 1972, St. Pierre was a Liberal MP for the Coast-Chilcotin riding, and served as a BC Police Commissioner from 1979 to 1983. His 1983 novella, Smith and Other Events, won the Western Writers of America Spur Award, and in 2000 he received the George Woodcock Lifetime Achievement Award for his outstanding literary career in British Columbia. The BC Cowboy Hall of Fame gave him the 2007 Joe Marten Memorial Award for the Preservation of Cowboy Heritage in BC. St. Pierre was presented with the Key to the Cariboo-Chilcotin and the Key to the City of Williams Lake in 2011 for his lifelong contributions to the region. Paul St. Pierre embodies TRU's commitment to community, diversity, and citizenship.