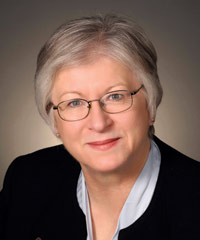 Sheila Fraser
Sheila Fraser was Canada's Auditor General for the past 10 years. She focused the Office's efforts on serving the needs of parliamentarians by ensuring transparent government spending and responsible stewardship of public funds. She also promoted the use of plain language in the Office's performance audit reports tabled in the House of Commons. During her tenure in this position, her team exposed the $100 million dollar sponsorship scandal, overspending on health care, and weaknesses in national security. She said in a May 17th interview with CBC's George Stroumboulopoulos, "We have contributed to making government better."
Dr. Fraser epitomizes TRU's commitment to career success and quality of service to students. She is a leader who, in plain speech, says "we" rather than "I" whenever possible, and expresses no concern about leaving her office because she believes her success is due in large measure to a talented and committed team, though the creation of such a team is undoubtedly the work of a tremendously capable leader. It gives Thompson Rivers University great pleasure to confer the degree of Doctor of law, honoris causa, upon Dr. Sheila Fraser.
---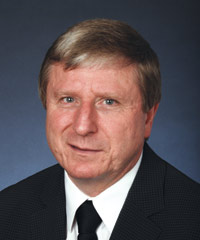 Kenneth Ogilvie
Kenneth Ogilvie is an environmental policy consultant and senior advisor to Deloitte & Touche. He is Executive Director Emeritus of the Pollution Probe Foundation, chairs the Institute for Environmental Innovation (Tulsa), is the Vice-Chair of Sustainable Development Technology Canada, and is Vice President of Quality Urban Energy Systems of Tomorrow.
Mr. Ogilvie's involvement in environmental issues spans his entire career. He led environmental protection activities for Environment Canada, including the preservation of Oshawa Second Marsh and the Great Lakes Water Quality Program. As Executive Director of the Canadian Environmental Advisory Council, he published major reports including "Land Use Planning and Sustainable Development in Canada." While Executive Director of Pollution Probe, he built a comprehensive air programme and developed a programme on environment and children's health.
Mr. Ogilvie represents TRU's recognition of the environmental challenges faced by current and future generations and the importance of environmental responsibility to a sustainable future. It gives Thompson Rivers University great pleasure to confer the degree of Doctor of laws, honoris causa, upon Kenneth Ogilvie.
---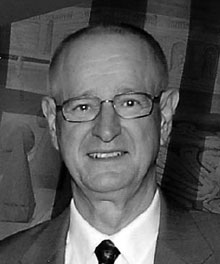 Ron Olynyk - Doctor of Letters, honoris causa
Ron Olynyk is a Chartered Accountant who joined the University College of the Cariboo Board of Governors as Chair in 2002, a position he held until November 2009. During this time, Mr. Olynyk's wisdom and calm, non-confrontational style assisted in guiding the agenda of the university forward. He was a highly respected representative of the university and was at the helm during a period of great growth for the university. Undoubtedly the most significant event for Thompson Rivers University during this period was the granting of university status in 2005. In addition to his contributions to Thompson Rivers University, Mr. Olynyk has been active in other areas of the Kamloops community. He was an executive member of the Chamber of Commerce and the Kamloops CA Association, serving a term as President of each. He has held positions on several local committees and was the Financial Agent in one federal and four provincial elections. Mr. Olynyk has volunteered in local sports as a coach and in community events such as the 1993 Canada Summer Games. Mr. Olynyk embodies Thompson Rivers University's commitment to leadership, vision and community service.
---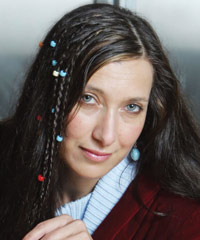 Nelofer Pazira
Nelofer Pazira is a Canadian filmmaker, author, human rights activist and journalist for CBC's The National. Her documentary films include Safar e Ghandehar, based on her efforts to find a childhood friend in Taliban-ruled Afghanistan in 1996, and the Gemini award-winning Return to Kandahar. Her family immigrated to New Brunswick in 1990 from Kabul, Afghanistan, fleeing 10 years of Soviet occupation. Her 2005 auto-biography A Bed of Red Flowers: In Search of My Afghanistan won the Drainie-Taylor biography prize.
Dr. Pazira is a past president of PEN Canada, an organization which defends freedom of speech for persecuted writers around the world, and the founder of Dyana Afghan Women's Fund, a charity which supports education and skills training for women in Afghanistan. She is also a UNESCO good will ambassador.
Dr. Pazira embodies Thompson Rivers University's commitment to the values of equity, access to education and global citizenship. It gives Thompson Rivers University great pleasure to confer the degree of Doctor of letters, honoris causa, upon Dr. Nelofer Pazira.
---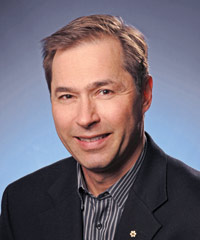 Stephen Podborski
Stephen Podborski is a two-time Olympian and the first North American male to win an Olympic Medal in downhill skiing. He is a member of the Canadian Olympic Hall of Fame and the Canada Sports Hall of Fame, among others, and is an Officer of the Order of Canada.
Mr. Podborski has demonstrated a constant commitment to sport and community. He has been a commentator and analyst at four Winter Olympics, then was Executive Director of International Relations for the successful Vancouver 2010 Olympic Bid, and assistant Chef de Mission for the Canadian Olympic Team for the Winter Games in Vancouver. He then became Director of Community Sports at Telus. He is a Session Member of the Canadian Olympic Committee, Vice-President of the Canadian Snowsports Association, and President of the Ski Canada Foundation. He is also a founding member of AthletesCan, an Athlete Ambassador for the international charity Right to Play, and a national spokesperson for the Kelty Patrick Dennehy Foundation.
Mr. Podborski embodies TRU's commitment to community. It gives Thompson Rivers University great pleasure to confer the degree of Doctor of laws, honoris causa, upon Stephen Podborski.