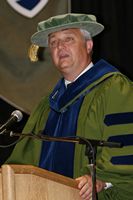 Dr. Peter Armstrong, Doctor of Laws, honoris causa
Peter Armstrong, founder, president and CEO of the Armstrong Group, the owner and operator of Rocky Mountaineer Vacations (RMV) has contributed to increasing the standard of service and credibility of the rail tour and hospitality industry in western Canada -- a standard that is now recognized throughout the world. Considered one of Canada's foremost tourism business leaders, he epitomizes Thompson Rivers University's desire to inspire the next generation of tourism entrepreneurs to set their career goals high wherever they set their sights; locally, nationally, or globally.
Now in its eighteenth year of operations, RMV has grown into a successful company that has hosted nearly one million guests on North America's largest privately owned passenger rail service, including bringing 80,000 visitors to Kamloops each season. The Armstrong Group also owns and operates the Thompson Hotel, Three River Junction Theatre and Gray Line West.
He is the recipient of the Canadian Venture Capital Association's Entrepreneur of the Year Award, Ernst & Young's Entrepreneur of the Year Award for Tourism and Hospitality, and the Queen's Golden Jubilee Medal for contribution to Canadian communities. He has also been inducted into the Canadian Railway Hall of Fame and was named the 2007 Tourism Leader of the Year by Tourism BC.
---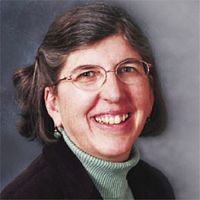 Dr. Nancy Edwards, Doctor of Letters, honoris causa
Dr. Nancy Edwards is one of Canada's foremost nurse-scholars who provides mentorship for new and mid-career health researchers, and also helps researchers find ways to influence policy with their findings. Her research career and efforts at helping others build capacity for research has inspired nurse-scholars and nurse-educators in Canada and around the world.
Dr. Edwards is a full professor and principle scientist at the Institute of Population Health at the University of Ottawa, and is also Academic Consultant for the City of Ottawa regarding public health services, and Vice-Chair of the Canadian Institutes for Health Research Governing Council.
She has contributed scholarly articles to over 90 scientific and technical publications, and has held research fellowships in Canada and visiting professorships in Mexico and China, where she has directed three international projects over the past five years, and was appointed one of five national nursing research chairs funded by the Canadian Health Services Research Foundation and the Canadian Institutes for Health Research.
She has led national and international studies addressing a number of issues, and is currently collaborating with the Ontario Ministry of Health and Long Term Care and the Registered Nurses Association of Ontario on studies examining the dissemination and uptake of research evidence.
Dr. Edwards was awarded an honorary lifetime membership by the Canadian Public Health Association in 2000, and in 2006, City of Ottawa mayor Bob Chiarelli proclaimed May 10, 2006, "Nancy Edwards Day" in honour of her outstanding work in community health. This past year, she was the recipient of the 2006-2007 University of Ottawa Excellence in Research Award.
---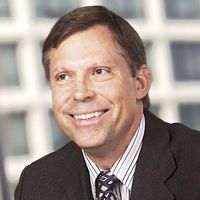 Dr. Chad Gaffield, Doctor of Letters, honoris causa
As president of the Social Sciences and Humanities Research Council, one of Canada's most prestigious research organizations, Chad Gaffield, one of the best-known and most-respected scholars across the social sciences and humanities in Canada, provides leadership to researchers across Canada and epitomizes Thompson Rivers University's continuing development of and commitment to research and scholarship in the social sciences and humanities.
He has been president of the Canadian History of Education Association, the Canadian Historical Association and the Humanities and Social Sciences Federation of Canada, and is currently team leader of one of the most comprehensive humanities and social science research projects ever undertaken in Canada.
Throughout his academic career, Dr. Chad Gaffield has been at the cutting edge of systematic social science history in Canada, and he continues to make outstanding contributions to the furthering of knowledge of Canadian history. He is the author, editor or co-editor of 12 books and the author or co-author of 59 peer-reviewed articles and book chapters, and in the past seven years, has presented 36 conference papers, 37 guest lectures and published 11 book reviews.
Among many other awards and citations, Chad Gaffield was elected a Fellow of the Royal Society's Academy of Humanities and Social Sciences, the highest honour that can be attained by scholars, artists and scientists in Canada, and has also been awarded the Commemorative Medal for Her Majesty Queen Elizabeth II's Golden Jubilee and the Royal Society of Canada's J.B. Tyrrell Medal, the highest recognition for Canadian historical research.
---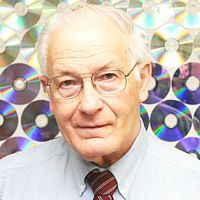 Gordon Gore, Doctor of Letters, honoris causa
Gordon Gore has been recognized provincially, nationally and internationally as an author and teacher in science education who has dedicated his life to getting students excited and confident about science. He exemplifies Thompson Rivers University's mission as a regional, teaching-focused university, to serve people and their communities through quality education, training and scholarship.
Gordon Gore taught science and mathematics in secondary schools in Vancouver, Richmond, Kamloops, and Mission for 32 years and lectured at UBC and TRU both during this time and for a number of years afterward. He is the author or co-author of sixteen textbooks and the author of ten books of science experiments for youth, seven British Columbia Teacher's Federation lessons aids and at least 50 magazine articles. From 1970 to the present, Gordon Gore has also presented dozens of workshops for teachers on photography, science and physics, and presented over 80 science shows at schools and community events.
In 2000, he founded the BIG LIttle Science Centre to inspire children, their families and teachers to explore and experience science in an entertaining and stimulating environment and to nurture a lifelong appreciation for and interest in science.
Gordon Gore has received a Distinguished Service Award from the British Columbia Teachers' Association, the British Columbia Science Teachers' Association's Outstanding Science Teacher of the Year Award, the Rotary Club Four Way Test Award, British Columbia Lieutenant-Governor and Premier's British Columbia Community Achievement Award, and the British Columbia Association of Physics Teachers Lifetime Achievement award.
---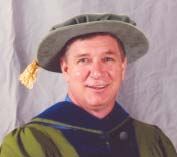 Rick Hansen, Doctor of Letters, honoris causa
Rick Hansen moved to Williams Lake in 1971. Following a car crash at the age of 15, Rick sustained a spinal code injury that paralyzed him from the waist down. Forced to define a new life for himself, Rick never hesitated to challenge society's perceptions about what is possible for anyone with big dreams and the passion to see them through. He was the first student with a physical disability to graduate in Physical Education from the University of British Columbia.
He went on to become a world-class athlete, winning 19 international wheelchair marathons, including three world championships, and competed for Canada in the 1984 Olympic games.
In 1985, he pushed his wheelchair out of Vancouver, BC and set out on a journey that would make history. His legendary Man in Motion World Tour spanned more than 40,000 km through 34 countries, took over two years to complete, and raised more than $26 million for spinal cord injury. Rick's incredible achievement became a testament to the strength of the human spirit and the power of teamwork. His courage and determination inspired us to believe in the possibility of a fully accessible and inclusive society, and a cure for spinal cord injury.
In 1987, Rick was appointed a Companion of the Order of Canada and he has received several honorary degrees.
Most recently he was inducted into Canada's Sports Hall of Fame and Canada's Walk of Fame.
As a positive role model dedicated to improving the world around him, Rick has a remarkable ability to engage and motivate youth. He regularly shares his message of hope, inspiration, and the importance of making a positive difference in the lives of others with young people across Canada.
Today, Rick is still a Man in Motion. As President and CEO of the Rick Hansen Foundation, he remains committed to making communities more accessible and inclusive for people with a spinal cord injury, and advancing spinal cord research. Through Rick's leadership, the Foundation has generated more than $178 million for spinal cord injury related programs and initiatives.
Rick lives in Richmond, BC with his wife and their three daughters. He has a passion for the outdoors and volunteers his time to support fish conservation. As Chair of both the Fraser River Sturgeon Conservation Society and the Pacific Salmon Endowment Fund, Rick is a strong voice for helping to restore and protect sturgeon and salmon populations.
---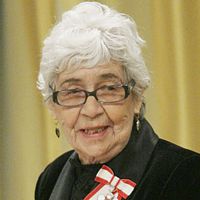 Dr. Daphne Odjig, Doctor of Letters, honoris causa
Daphne Odjig is one of Canada's foremost artists who has played an important part in recording developments that have been traumatic, passionate and critical to the rewriting of Canadian art history, and who epitomizes Thompson Rivers University's mission to become a university of choice for aboriginal and First Nations students.
Daphne Odjig is an established and well-respected Canadian artist whose artwork has been commissioned for permanent collections in Japan, Israel, Yugoslavia and Sweden, and has been featured in 23 solo exhibitions, four group exhibitions and numerous books and book covers. She has written and illustrated a set of ten books on Indian legends for children, her artworks are displayed in 12 permanent collections, and she was one of four artists in the world to be selected by the curators of the Picasso Museum to paint a memorial to Picasso.
She co-founded the Professional Native Indian Artists Association, colloquially called the 'Indian Group of Seven,' in Winnipeg in 1973, and in 1974, she and her husband opened the Warehouse Gallery in Winnipeg, a huge venture that provided support for emerging aboriginal artists.
Daphne Odjig has been awarded a Canadian Silver Jubilee Medal, the Order of Canada, a National Aboriginal Achievement Award for Arts and Culture, and a Governor General's Award in Visual and Media Arts. She has received four honorary degrees, was honoured as an elder by the Society of Canadian Artists of Native Ancestry, and was elected to the Royal Canadian Academy of Art.
---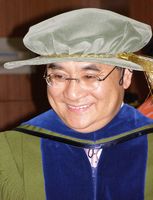 Dr. Francis Pang, Doctor of Laws, honoris causa
Dr. Francis Pang is a friend and advocate of Thompson Rivers University whose efforts, influence and connections have done much to further China-Canada relations and TRU's standing and presence in China.
Dr. Pang was born in Hong Kong in 1951 and was raised and educated there. In 1973, he started his business career in China in the wake of China's recently introduced open-door policy and economic reforms. He introduced 21st-century commercial-industrial techniques to the Chinese garment industry, and successfully lobbied for the insurance infrastructure to support cross-border economic ventures. He also introduced single-welded steel pipe technologies in order to allow China to transport high-pressure petroleum and natural gas safely for long distances, and was one of the first people to warn the Chinese government about the dangers of polyvinyl chloride.
Dr. Pang, wife, and two children immigrated to Canada in 1985 where he is a resident of Toronto and president of Pang Holdings Ltd. He is also President of AKD Education Consultants Inc. in Beijing, Executive Director of the Beijing UNESCO Association Club, and is a cabinet member of the University of New Brunswick's Campaign UNB.
He has participated in many important international conferences, including the APEC Summit, and Canada-China Business Council's Team Canada activities, and has organized many cross-cultural meetings for high-ranking officials, in politics, education, diplomacy, and business. He also facilitated numerous academic partnerships between China and TRU as well as other Canadian universities, has implemented summer and winter camps that see 80-100 Chinese students come to TRU's campus in Kamloops on a biannual basis, and has greatly assisted the implementation of tourism professor training at the Beijing Institute of Tourism. He has also been instrumental in helping to position TRU with important government officials and key educational associations in China, and was crucial to the signing of a contract between TRU and ChinaNet.com to deliver customized training programs for the Beijing Olympics.
Dr. Pang was awarded the Queen's Jubilee Medal in 2002, and received the Great Wall Friendship Award in 2004. In 2007, the governments of New Brunswick and Canada bestowed Tributes of Honour upon Dr. Pang in recognition of his outstanding achievements and contributions in international education.
---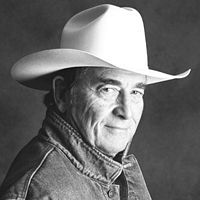 Ian Tyson, Doctor of Letters, honoris causa
Ian Tyson is a Canadian music icon whose accomplishments over the past half century have made him one of Canada's best and best-known artists.
Ian Tyson made his musical debut in Vancouver in 1956, and in addition to recording 12 albums with singer/songwriter Sylvia Fricker and eleven solo albums, has produced a video, written a book, hosted two television shows, and has played at concerts all over North America.
His song, Four Strong Winds, became a folk standard and was chosen in 2005 as the greatest Canadian song of all time by the audience of the CBC Radio One series 50 Tracks: The Canadian Version, and he was one of the first Canadian musicians to break into the American popular music market.
He has received a Country Music Award from the American Society of Composers, Authors and Publishers, six Big Country awards and a Juno award. He was twice named Male Vocalist of the Year by the Canadian Country Music Association, which also presented him with single and album of the year awards, and he has won the Alberta Recording Industries Association's best male recording artist and best-selling album awards. He has been inducted into the CMA Hall of Honour, the Canadian Country Music Hall of Fame, the Juno Hall of Fame, the Canadian Broadcast Hall of Fame and the Prairie Music Hall of Fame, and was named to the Order of Canada.