The Writing Centre
Location change
The Writing Centre has moved to HL 104. We are on the ground floor, near the computers.
Undergraduate Appointments:
Apr. 15 to 18: Limited Appointments Available
May 13 to Aug. 8, Mon. to Thurs. 9:00am to 3:00pm
After-hours appointments in House of Learning (near the Security desk)
Graduate (Master's Degree) appointments:
Jan. 21 - Apr. 18 (In-person)
Evening appointments in Graduate Research Commons
Open Learning students
Apr. 12 - May 18 (WC Online)
May 21 - Aug. 7 (WriteAway)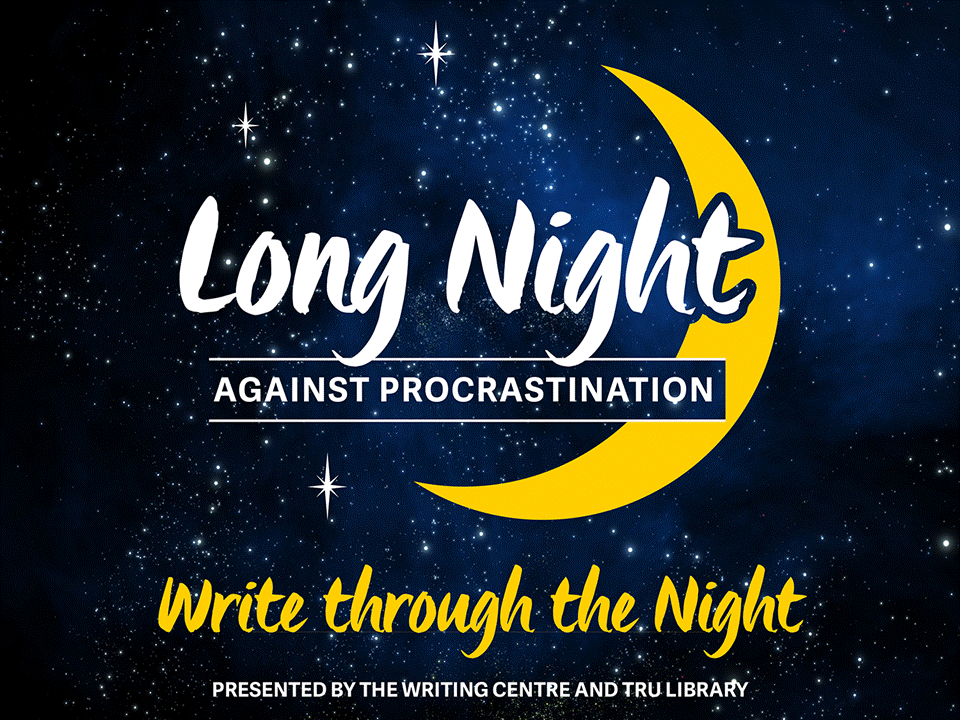 Long Night Against Procrastination
Writing doesn't have to be a lonely and isolating chore requiring endurance and fortitude. Attend Long Night Against Procrastination on March 21 from 8:00pm-8:00am and put a dent in your assignments by joining a community of campus writers and academic support services.
Workshops
If you are an instructor, the Writing Centre can send a tutor to your class to deliver a workshop on the following subjects:
Academic Integrity in a Nutshell
Getting Started: Academic Tone and Style
Thesis Statement Boot Camp
Grammar Boot Camp
Editing and Polishing your Work: Self-revision and Peer Editing
Structuring your Research Essay
Integrating Source Material
APA in a Nutshell
Whether you are an undergraduate or graduate student, the Writing Centre can assist you by providing feedback on your writing. Students may receive help with any stage of the writing process: assignment interpretation; generating ideas; creating an outline; lower-order concerns such as sentence structure, grammar, and punctuation; higher-order concerns such as clarity of ideas and soundness of arguments; research and citation; and revision and editing. Our goal is to help you become a better, more confident writer.
Register for the Writing Centre online
Book an Appointment
The Writing Centre has handouts, videos, tutorials, and web links that you can use to improve your skills in many areas. Use our resources
Become a tutor
There are several types of tutor opportunities for students in the Writing Centre: work study, honorarium, and volunteering.
---
Confidentiality
We strive to maintain a positive, safe, supportive environment, and we take student confidentiality seriously. Therefore, we do not normally disclose information about a tutoring session without the permission of the student. Discussions and session information will be kept confidential unless a tutor believes a student may be at risk of harming themself or another, or there is an alleged violation of TRU's Academic Integrity Policy.