Business and Management Studies
Benefits
Develop your supervision, business and management skills. Business and Management Studies programs are designed so that you can transition into or out of post-secondary education as your professional and family commitments and educational needs change. This is thanks to our open admissions policy, laddered curriculum with a progressive credential structure, commitment to active prior learning assessment and recognition (PLAR) and generous transfer credit.
While you can choose from many OL and TRU courses to fulfill your program requirements, you can also access post-secondary courses from other institutions and transfer them to your OL program. See British Columbia Council on Admissions & Transfer (BCCAT) to explore your options.
Plan ahead and make the most of your OL Business and Management Studies credential. Program Advisors help you choose courses that can later be applied toward another program, either at OL or elsewhere.
Start your journey today.
Pathway Chart
The following chart shows how credits gained in one credential can ladder into (count toward) the next credential: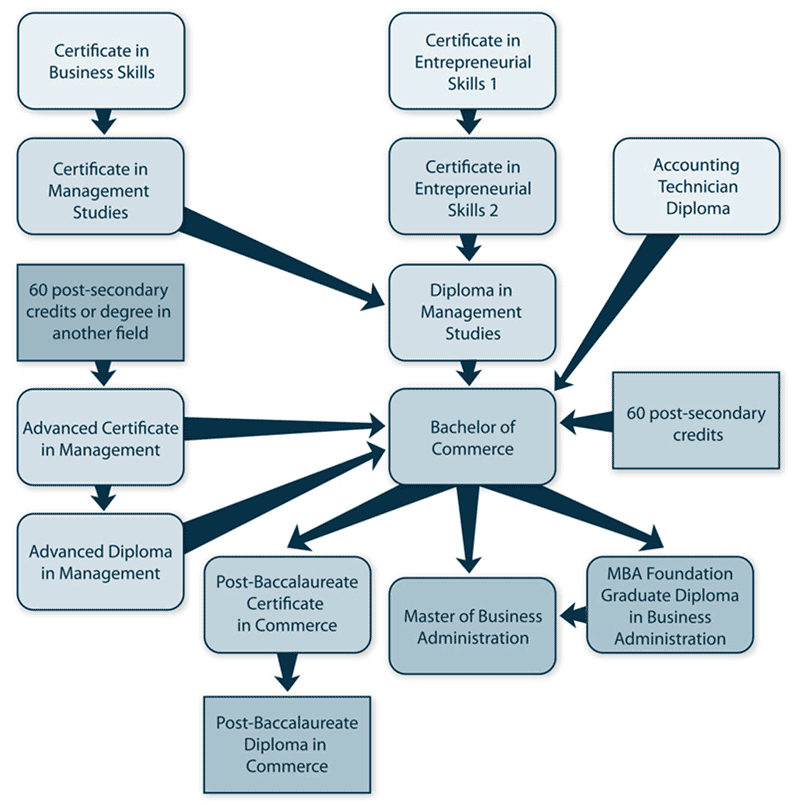 Before Registering or Applying
First, read about distance education and course delivery formats. Look at the program descriptions, which state any admission requirements and the residency requirements. Be sure to familiarize yourself with the course descriptions, too.
Financial Assistance
You can apply for financial assistance if you meet specific place of residence requirements. See Student Awards & Financial Support.
Prior Learning Assessment and Recognition (PLAR)
If you have applied for or been admitted to an OL Business and Management Studies program, you may be eligible for credit based on an assessment of your prior learning. PLAR allows you to earn academic credits for knowledge, training and skills gained through work and life experience.
Fit Life Around School
Contact
Email Business and Management Studies if you have questions about OL's Business and Management Studies programs and courses.