Business and Management Studies
Overview
TRU-OL Business and Management Studies programs are designed so that you can transition into or out of post-secondary education as your professional and family commitments and educational needs change. This is accomplished through an open admissions policy, laddered curriculum with a progressive credential structure, and a commitment to active prior learning assessment and recognition (PLAR) and generous transfer credit.
TRU-OL's Business and Management Studies programs are designed to develop your supervision, business and management skills.
TRU-OL offers many courses for degree program requirements. For some concentrations, however, and for graduate program eligibility, you may need to take classroom or distance education courses at other post-secondary institutions and then transfer the credits to your TRU-OL program.
Pathway Chart
The following Pathway Chart illustrates Business and Management Studies' flexible program structure and how credits gained in one credential can ladder into (count toward) the next credential: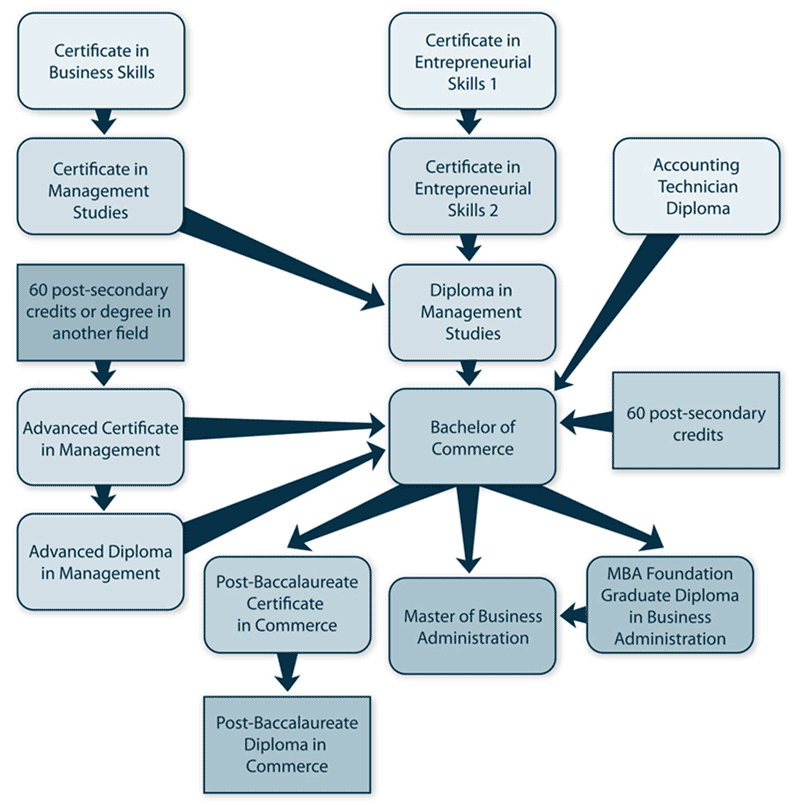 Programs
All Business and Management Studies programs are listed in the left-hand navigation bar. You may earn a certificate, diploma or degree by fulfilling the requirements of individual programs. The credits you gain in one credential can count toward the next credential.
When you are admitted to a program, you are assigned a TRU-OL program advisor who will answer your questions and provide you with a program plan to guide you through your studies.
English Proficiency Requirement
Applicants must have a proficiency in English at a level suitable to the course or program of study for which they are applying. Students who have English as a second language may be required to provide evidence of proficiency in English. Refer to detailed information about the English proficiency requirement.
Admission Requirements
Most Business and Management Studies programs have open admissions, but students should refer to the requirements of the program they are interested in.
Residency Requirements
Residency requirements means that before a student can receive a credential from a particular institution, they must complete either a predetermined number of that institution's credits or else a certain percentage of the program through the institution that will be awarding the credential. The number of credits or percentage of the program is specific to a post-secondary institution but can be as high as 50% of a total program (60 credits out of 120 credits) for an undergraduate degree.
For most TRU-OL Business and Management Studies programs, the following residency requirements apply:
Certificate programs - 6 credits
Diploma programs - 9 credits
Degree programs - 15 credits
TRU-OL's residency requirements can be met by:
Taking courses with TRU (either on campus or at a distance)
Taking courses with TRU's consortium partners: the University of Victoria and Simon Fraser University
Acquiring credit through Prior Learning Assessment and Recognition
Financial Assistance
Students applying for financial assistance must meet specific residency requirements, which differ from program residency requirements. See the Student Awards & Financial Support page for full information.
Prior Learning Assessment and Recognition (PLAR)
PLAR allows a student to earn academic credits for knowledge, training and skills gained through work and life experience.
Students who have applied for or been admitted to a TRU-OL Business and Management Studies program may be eligible for credit based on an assessment of their non-formal or prior learning. There is generally no limit on the amount of PLAR that can be credited to TRU-OL programs in which PLAR applies. However, note that PLAR credit awarded by TRU-OL toward a TRU credential may not be transferrable to other post-secondary institutions.
TRU-OL accepts PLAR credit from all BC post-secondary institutions that have formally adopted the recommended BC provincial standards.
PLAR Contacts
For more about PLAR and how to apply, refer to the PLAR policies pages.
Email PLAR Advising.
Call toll-free: 1.800.663.9711 (Kamloops and International) or call 250.852.7000.
Program Contacts
Email Business and Management Studies.