Williams Lake and District Credit Union Community Health Centre
1250 Western Avenue - Room 1318 - 250-392-8033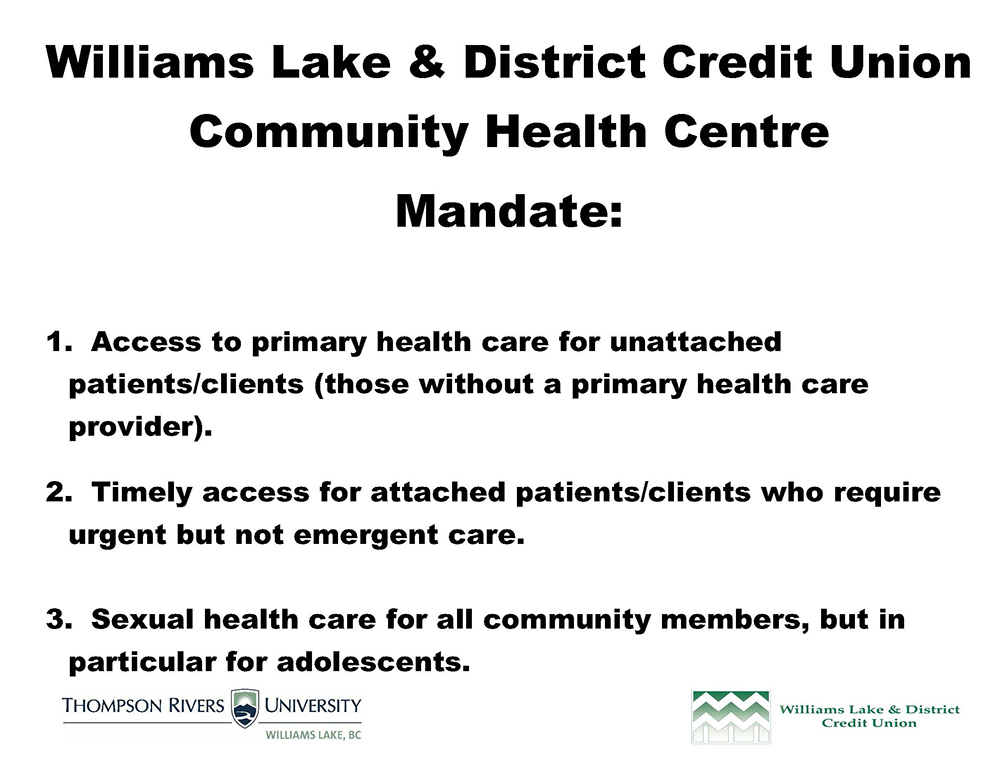 As of November 27, 2014, the Health Centre has a new name. Read all about it here.
The Williams Lake and District Credit Union Community Health Centre is led by Family Nurse Practitioner Sandi Lachapelle. It is the first university Health Centre that is run by a Nurse Practitioner.
The Health Centre offers sexual health services such as:
STI testing and treatment
Contraception counselling and prescribing
IUD insertion
Pregnancy testing and counselling
Appointments for urgent concerns such as:
Minor acute injuries
Minor acute illnesses such as sore throat or other infections requiring treatment
Flu shot
Forms and testing
Hours of Operation:
December 10, 2018 to December 16, 2018
Monday, December 10, 2018 - Closed
Tuesday, December 11, 2018 - Appointments 9:00 a.m. - 4:30 p.m.
Wednesday, December 12, 2018 - Appointments 9:30 a.m. - 4:30 p.m.
Thursday, December 13, 2018 - Appointments 9:30 a.m. - 4:30 p.m.
Friday, December 14, 2018 - Closed
Saturday, December 15, 2018 - Closed
Sunday, December 16, 2018 - Closed
The Centre is closed for lunch 12 p.m. to 1 p.m. daily
The door will no longer be opened if it is closed due to safety concerns
Email wldcuchealthcentre@tru.ca to book an appointment