Water Systems
What is a Water System?
Water systems come in different shapes and sizes, and some are more complex than others. But the end product from any of these systems should be the same: a good supply of water that is safe for all users of the system.
A "water system" is clearly defined in drinking water legislation and includes systems in operations such as resorts, small businesses, and industrial parks.
Small Water Systems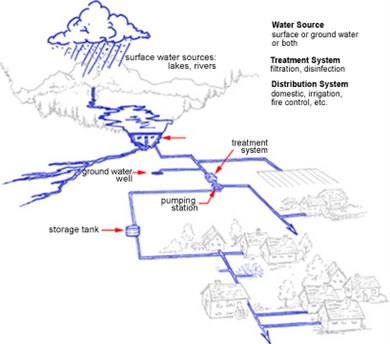 Map of a Small Water System
The Provincial Health Officer's Annual Report (2000) defines a water system as:
"a system of water supply, including its source, treatment, storage and distribution facilities, where drinking water is provided for domestic purposes."
The Drinking Water Protection Act (DWPA) specifies that:
anything other than connection to a single family dwelling is a "domestic water system," (unless specifically exempted by regulation).
The domestic water system defined in the DWPA, means "a system by which water is provided or offered for domestic purposes" (drinking, food preparation, washing, etc.), including:
works used to obtain intake water
equipment, works, and facilities used for treatment, diversion, storage, pumping, transmission and distribution
any other equipment, works, or facilities prescribed by regulation as being included
a tank truck, vehicle water tank, or other prescribed means of transporting drinking water, whether or not there are any related works or facilities
the intake water and the water in the system, excluding equipment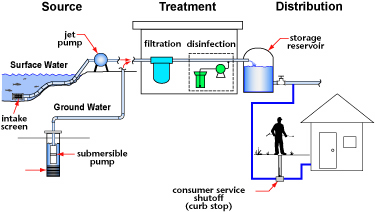 Small Water System Flow Chart
When thinking of a "water system," many people may picture large municipal or community systems. Based on the definitions above, water works systems include smaller ones serving:
small neighbourhoods (e.g., "good neighbour systems" or systems shared by a few
neighbours with few, if any, formal arrangements)
campgrounds and parks
bulk water haulers
work camps and other work sites
public access facilities (e.g., small commercial or institutional systems)
highway rest areas
So, as you can see, the definition of a water system must apply to systems of all shapes and sizes. Users of systems serving small operations should be afforded the same precautions and outcomes as users of large municipal systems.