Water Hauling
A common method of providing water for a small water system is to haul it in a tank. The tank might be in the back of a pickup truck or on a specialized truck used for water hauling. Water hauling companies are required to be licensed to operate.
Tanker Trucks
Water may be delivered to a customer by tanker truck for immediate use or for temporary storage in a tank. This method of water delivery is not efficient and only relatively small quantities of water can be delivered at a time.
Typical Water Hauling Applications
Hauling of water may occur:
Where a water source is physically separated from the user and it is not economical to install a water supply system. For instance, temporary construction, logging camps, and oil drilling operations routinely have water delivered instead of developing a permanent water system. During emergencies such as power outages, distribution system failures, or periods of drought.
Potential for Water Contamination
Water for delivery is typically obtained from a water utility at an approved bulk water filling station. Only approved stations should be used in order to avoid potential water contamination. As a precaution, these filling stations should include a backflow prevention device.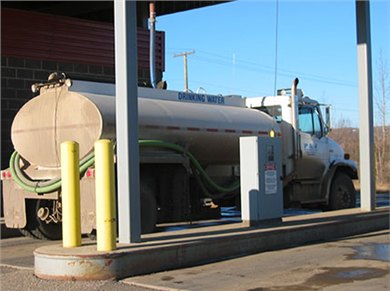 A Typical Water-hauling Vehicle at a Bulk Water Filling Station
Other important things to consider about water hauling are:
the cleanliness of the tank
transit time
source water
transfer equipment
Chlorine may be added to disinfect the water in transit or in storage.
Water hauling equipment must not be used for delivery of other liquids, such as sewage or chemicals.