Pipe Systems
Water Pipe Systems
A water pipe system has construction requirements that must be met in order to maintain water quality.
Typically, water pipes are buried in the earth for:
convenience
frost protection
prevention of physical damage
restraint of the forces of internal pressure
Where pipes are not buried, they should be protected from thermal and physical damage by, for example, suspending a pipe underneath a bridge at a river crossing.
Where pipes cross major highways or railways, further protection in the form of encasement by a larger diameter protective pipe may be necessary.
The selection of materials for constructing a water pipe system should consider:
working pressure
surging pressure
depth that pipe will be buried
corrosiveness of soils
earth-loading ground water
accessibility
proximity to other utilities
potential sources of contamination, such as sewers
Buried pipes should be surrounded by compacted sand or gravel, or bedding, to protect the pipe from damage during and after construction.
Water quality may deteriorate within a watermain and bacteria can flourish in pipes with:
poor source water quality
low flow
dead ends
Dead ends can be avoided if the system layout includes looping. If system looping is not possible, frequent watermain flushing may improve the water quality.
---
Pipes
Water pipes are used to move water from a water source or storage reservoir to the water user. They can be:
larger pipes; called watermains
smaller pipes that provide water to individual users; called water services
Water in the pipes is pressurized, and the pipes are usually buried in the earth and located along roadways.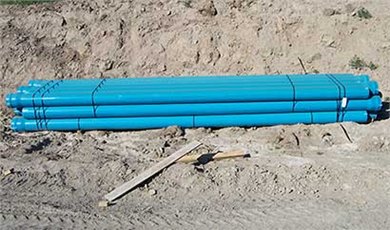 200mm (8") Diameter PVC Pipe, Ready for Installation
Pipe Sizes
Pipes range in size from 13 mm (1/2 in) in diameter for water services to 600 mm (two ft) in diameter for the larger watermains.Small water systems typically use water pipes that are 300 mm (1 ft ) in diameter or smaller.Generally, the more water the system is required to deliver, the larger the pipe size.However, a pipe that is too small can cause significant pressure loss in the system.
Pipe Materials
Historically, pipes have been created from wood (wood stave), cast iron, galvanized steel, and asbestos cement.
Pipes today are commonly made from:
polyvinyl chloride (PVC)
ductile iron (DI)
high density polyethylene (HDPE)
Smaller-diameter water services are usually manufactured from high-density polyethylene (HDPE), copper, or a variety of new composite materials.
Selection of materials is important and should take into consideration:
working pressure
pressure surging
depth that pipe will be buried
corrosive soils
earth loading
ground water
accessibility
proximity to other utilities
potential sources of contamination, such as sewers
---
Related Equipment
Related Water Pipe Equipment
A water distribution system may include equipment such as:
valves
water services (smaller pipes, as opposed to watermains)
various pipe fittings
hydrants
Valves
Valves are used to control the movement of water within a water system.
Specialized valves are used to:
reduce pressure
release trapped air
reduce the effects of water hammer
Valves can be operated manually or automatically.
Some are suitable for burying directly in the earth, while others that must be accessible for operation and servicing will have to be put in valve chambers.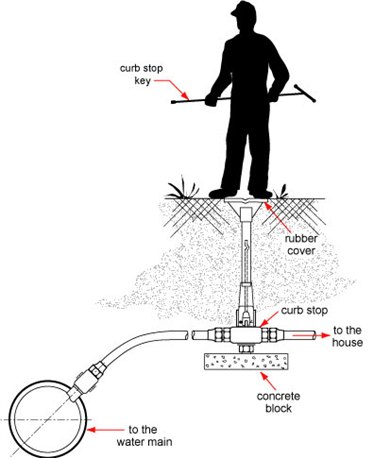 Curb Stop; Water Service Shutoff in a Valve Chamber
Hydrants
Hydrants are devices that allow large quantities of water to be discharged from a water system for fire protection, or watermain flushing. Common types include yard hydrants, blow-offs, or fire hydrants.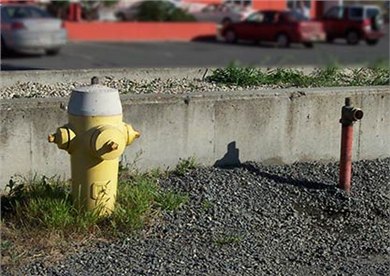 Typical Fire Hydrant
Water Services
Water service connections are the small-diameter pipes that join a customer to the larger watermain. The hookup is made to the user's service pipe by a connection to the watermain; usually a small fitting inserted into the pipe or into a saddle or tee.
Additionally, an isolation valve, known as a curb stop, is located between the watermain and the home in order to stop flow in the event that repairs are required. Each home should have an isolation valve located within the building.
Pipe Fittings
Pipe fittings are generally used to:
join two different pipe materials
join two different pipe sizes together
change direction of pipe alignment (vertically and horizontally
terminate the end of a pipe.
Thrust restraint may be required for pipe fittings to withstand the forces of changing water direction or pressure.
Some common fittings are:
tees, wyes, crosses, and bends
reducers
couplers
end caps
restraints
Fittings may require glue-type solvents, pipe threads, or compressed rubber gaskets for joining, depending on the specific application and pipe material.
---
Operation and Maintenance for Pipe Systems
Pipe systems must be correctly operated and maintained in order to deliver good-quality water and to ensure system capacity and reliability.
Operation and maintenance duties may include:
watermain flushing
equipment exercising and inspection
leak detection and repairs
replacement
Watermain Flushing
Pipe systems can accumulate debris that can cause water quality to deteriorate and allow bacteria to grow. Watermain flushing is used to discharge debris or contaminants. Flushing moves water at a high flow rate through a pipe network. In extreme cases, scouring or swabbing, commonly known as pigging, may be required to remove stubborn debris.
Water is flushed in one direction, moving it through the system from one end to another without reintroducing debris-laden water into parts of the system already flushed. Fire hydrants and blow-offs are used to discharge water from the system during flushing.
*NB: A water system operator should develop a standard operating procedure that includes public notification when flushing.
When to Flush
Flushing should be included in an annual maintenance schedule. More frequent flushing may be required for seasonal issues or unique events such as contamination, breaks, or system repairs. Avoid flushing during cold weather to prevent ice buildup or freezing of hydrants.
Water Loss and Leak Detection
Water loss may result from one or several of these factors:
leaking pipes
theft
watermain flushing
Most water loss is due to pipe leaks which can be located through leak detection procedures.
Testing for Leaks
One good method for detecting leaks is hydrostatic testing. This requires isolating a section of pipe and then pressurizing it to ensure that new or repaired work does not leak.
* NB: Leaking pipes can allow contaminants that can cause health problems to enter the water system. This is even more likely if leaking pipes become depressurized. An example of this is a leaking water pipe that is being drained. Contaminated ground water can be pulled in through a crack and cause the system to be contaminated when it is returned to service.
Pipe Repairs
During pipe repairs, consider possible operational issues and health effects. For instance, any new pipes and fittings should be disinfected prior to use.