Water Distribution Systems
Definition
A water distribution system is the physical works that deliver water from the water source to the intended end point or user. It is designed to deliver sufficient water quantity and quality to meet the requirements of the customer.
Typically, this is achieved by way of pumps and motors, watermains, service pipes, storage tanks or reservoirs, and related equipment, in a closed system under pressure.
Some of the levels of service within a community include:
sufficient water for domestic use within a home for cooking, cleaning, and drinking
domestic use plus water available for fire protection
domestic use plus commercial, industrial, institutional, and agricultural use
In some cases, hauling and delivering of water by tanker truck is required.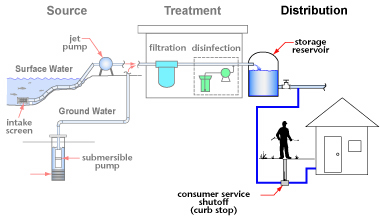 Small Water System Flow Chart: Distribution