5th Wheel RV Trailers & Heavy Trailer Endorsement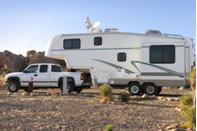 The endorsement 20 for heavy trailers, and endorsement code 07 for 5th wheel trailers, are now required for trailers that weigh over 4600 kilograms (10,000 lbs). This course provides the training needed to prepare for the endorsement codes 20 and 07 ICBC road test. A licensed instructor delivers individualized training using hands-on practice and demonstrations. Students are taught vehicle inspection and skills required for safe operation of a vehicle while pulling a heavy trailer or 5th wheel trailer. This training program requires the student to supply their own vehicle and trailer that weighs a minimum of 4600 kilograms (10,000 lbs) for the training and the ICBC road test.
We book the ICBC road test for you as part of this course.
Prerequisites
To enter this course you must hold a Class 5 drivers license, for the endorsement 20, hold a valid Class 3 learner's licence and for the endorsement code 07, hold a valid 5th wheel learners licence.
To obtain the learners licence, apply to the ICBC licence office in your area and ask for the information to study for the learner's exam.
Date and fee
Students must register and bring a paid tuition receipt to the School of Trades and Technology building, Room TT158, to book your training dates or register and book your training over the phone if paying your tuition with VISA, AMEX, and MasterCard. Times and dates are confirmed for each student upon receipt of payment. For prices and scheduling information, please contact us.