Class 2 Bus Driver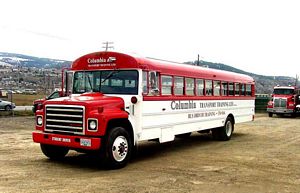 This 16-hour course provides the training you need to prepare for a Class 2 road test. You'll experience mixed urban and rural driving, and receive the training you need to continue to safely improve your skills. A licensed instructor individualizes training using hands-on practice and demonstrations. Practical training is scheduled in three-hour lessons, using a 72 passenger airbrake equipped standard transmission bus. This training program provides the use of the school bus for the practical training, as well as for a pre-arranged ICBC road test.
Please note: If you train and test on an automatic transmission ICBC will restrict you to driving automatics only.
Prerequisites
To enter this course, you must be 19 or older, produce a valid Class 2 learner's permit with an air brakes endorsement.
Pricing
For prices and scheduling information, please contact us.