Class 1 Mountain/Highway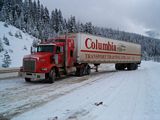 This one-day course is your opportunity to operate an industry current tractor-trailer unit through mountain highway passes (your choice of three routes). Training topics include: load security, vehicle handling, pre-hill brake and vehicle inspection, pre/post vehicle inspections, electronic engine operation, advanced transmission operation, weigh-scale procedures, on-board trip computer operation, log-book training.
Prerequisites
To enter this course you must be 19 years of age or older and produce a valid Class 1 licence or Class 1 learner's permit with an air brakes endorsement.
Pricing
For prices and scheduling information, please contact us.