Class 1 Long/Short Haul
Canadian Driver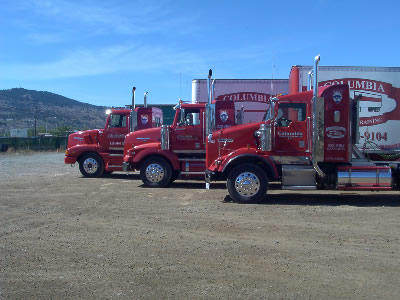 This course is designed for those students who want to change careers or are being retrained as a commercial truck driver. The course includes 20 hours of highway and mountain training where the student will learn to read road grades and fine-tune their shifting skills. Students will also be taught vehicle handling characteristics, collision avoidance, load security and weigh scale procedures. This three week, sixty hour Driver Training Program provides the training and information you will need to prepare for the Class 1 road test. A licensed instructor individualizes training using hands-on practice and demonstrations. Practical training is scheduled in four and eight-hour lessons using industry current tractor-trailer units. Upon successful completion of this course, students will have the confidence and skills required applying for in-town and highway driving positions.
Prerequisites
Participants entering this course must be 19 years of age or older and produce a valid Class 1 learner's permit with an air brakes endorsement.
Course outline
Vehicle Familiarization
Airbrake Refresher
Full Pre-trip Training (pre/post trip checks)
Proper Transmission Operations – utilizing double clutching
Training on the Splitter – half shifts
Engine Operation – peaks torque, operating ranges, shift points, fuel economy
Rural, Urban and Highway Driving Techniques
Collision Avoidance
Proper Cornering Techniques
Traffic and Highway Laws Refresher
Reading Road Grades
Fundamentals of Backing a Trailer
Proper Coupling and Uncoupling of Truck and a Trailer
Mountain Operating Procedures
Braking Techniques Engine Brake – ie Jakebrake
Pedestrian and Cyclist Awareness
Logbook Documentation
Pre-Hill Brake Checks
Weigh Scale Procedures
Brake Adjustment Training
Stopping Distances
Load Security
Tire Chain Installation
Pricing
For prices and scheduling information, please contact us.