Class 1 Greenhorn Driver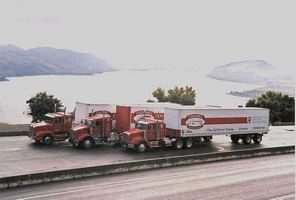 This course is designed for those individuals who, after a number of years in one job, are changing careers and have no previous experience operating commercial trucks and/or manual transmissions.
Students experience a mix of 104 hours of urban and rural driving including mountain and highway training, pre-trip inspections, logbooks, load security, tire chains and collision avoidance training.
A licensed driving instructor will customize individual training, using hands-on practice and demonstrations. Students will be taught skills required to drive, pre-trip inspections of a commercial vehicle and prepare for the ICBC Class 1 Road Test. Practical training is scheduled in 4 and 8-hour lessons using industry current tractor-trailer units.
During the course, students will experience driving in the Fraser Canyon, Highland Valley to Ashcroft, Revelstoke, and the Coquihalla Highway, which offers some of the most challenging Class 1 terrain in B.C.
This course gives each student 104 hours of driving miles, therefore allowing them the opportunity to learn at their own pace while building the confidence to drive commercial vehicles. Over and above the 104 driving hours, students will also receive an additional 30 hours of observing vehicle pre-trips and yard operations throughout the program.
Prerequisites
To enter this program must be 19 years of age or older and hold a valid Class 1 learners licence with an air brake endorsement.
Class 1 course outline
Vehicle familiarization
Airbrake refresher and troubleshooting training
Vehicle pre-trip training (pre/post trip checks)
Proper transmission operations – utilizing double clutching
Progressive shifting
Training on the splitter – half shifts
Engine operation – peaks torque, operating ranges, shift points, fuel economy
Trailer familiarization, vans, flat decks, and tankers
Rural, urban and highway driving techniques
Collision avoidance
Proper cornering techniques
Traffic and highway laws refresher
Fundamentals of backing a trailer
Proper coupling and uncoupling of truck and a trailer
Mountain driving operating procedures
Skip shifting
Zero torque shifting
Downhill braking techniques
Engine brake use – i.e. Jake brake
Pedestrian and cyclist awareness
Pre-trip and logbook documentation
Pre-hill brake check procedures
Weigh scale procedures
Brake adjustment training
Stopping distances
Load security
Tire chain installation
Sliding 5th wheels
Sliding trailer suspensions
Air ride trailer suspensions
Customer relations
Students observe vehicle pre-trips and yard operations (30 hours – no charge)
Program highlight: One-to-one student-to-instructor ratio
Centralized training location allows for access to all major highways
Modern training equipment
More miles driven and less time sitting in traffic and classrooms
Mountain driving time
Students receive a training certificate from Thompson Rivers University
Lifetime job placement assistance
Access to the Career Education and Employment department
Pricing
For prices and scheduling information, please contact us.