Class 1 Extended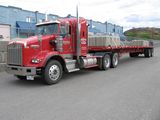 This 40-hour course is designed for the student who intends to become a commercial truck driver and requires the confidence and skills needed to apply for entry level driving positions. This course is more suited for those applying for in-town driving jobs. You'll experience a mix of urban and rural driving and receive the training you need to continue to safely improve your driving skills. A licensed instructor individualizes training using hands-on practice and demonstrations. Practical training is scheduled in three and four-hour formats. This training program includes the use of the truck and trailer unit for a pre-arranged ICBC road test. Students need to have a good operational understanding of non-synchronized transmissions to do well on this course.
Prerequisites
To enter this course you must be 19 years of age or older and produce a valid Class 1 learner's permit with an air brakes endorsement.
Pricing
For prices and scheduling information, please contact us.