Class 1, 2 & 3 Upgrading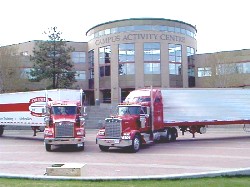 This course is designed to assist those who have a valid Class 1, 2 or 3 licence or learner's permit, with an air-brakes endorsement, to upgrade their current driving skills. Instruction is one-on-one, and includes pre-trip training along with behind-the wheel training in each session. Training lessons are based on a fixed time length of 2-hour to 8-hour lesson blocks. Each training session can be modified to suit the students' specific requirements. This hourly training can also be beneficial for those students who want to evaluate their current driving skills before deciding which training program is best suited for them.
Prerequisites
To enter this course, you must be 18 or older, produce a valid Class 1, 2 or 3 learners licence with the airbrake endorsement or valid class 1, 2 or 3 drivers licence with an air brakes endorsement.
Pricing
For prices and scheduling information, please contact us.