Super B-Train Upgrade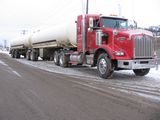 This course is designed to assist those who hold a valid Class 1 licence or learner's permit, with an air-brakes endorsement, and want to upgrade their current driving skills on a B-Train style trailer. Students can choose from taking 2 hours to 8 hours refresher training or challenge the Fraser Canyon with a 10 hour run to Hope and return. Instruction is one-on-one, and includes vehicle inspection training log book training along with behind-the wheel training in each session. Training lessons are based on a time length of two-hour to 10-hour training blocks. Each training session is modified to suit the students' specific requirements.
Prerequisites
To enter this course, you must produce a valid Class 1 learners licence with the airbrake endorsement or valid class 1 drivers licence with an air brakes endorsement.
Pricing
For prices and scheduling information, please contact us.