School of Trades and Technology Menu
Professional Truck Driver Training
TRU has trained commercial drivers for over 26 years. We have the staff and expertise to offer driver training programs for students and trucking companies looking for drivers.
Kamloops has a blend of mountain passes in close proximity, a flat quiet industrial park to start lessons and major highways passing though the community. Kamloops does not have the high traffic volume experienced in other areas of the province, and has easy access to many mountain passes. This means students receive more driving time in a balanced blend of urban, rural and highway driving unmatched anywhere in British Columbia.
We offer only one-to-one training. While training drivers for the Canadian Armed Forces, Columbia was asked to evaluate the merits of having more than one student in the cab. The study showed that such placement is detrimental to learning and the one student to one instructor ratio was initiated. We also believe in training students through practical experience, not in a classroom environment. Trucking companies have indicated they would prefer to hire students who have had more "behind the wheel" time.
Our students are in great demand. Trucking companies from BC and Alberta call, wanting to hire our student drivers. We offer lifetime job placement assistance for students that complete our Greenhorn and Canadian Driver programs. Students are given the opportunity to contact long-haul and oilfield trucking companies that conduct a pre-employment interview before starting the course. This allows students to inquire about the working conditions and gives you peace of mind that employment is assured upon completion of the Class 1 program.
When choosing a school, compare the equipment, location and our commitment to professionalism and you will see that TRU/Columbia and Kamloops offer the very best in driver training.
---
Air Brake Course
This course has been designed to prepare students for the ICBC written examination for an air brake endorsement to operate air brake equipped highway vehicles. Emphasis is placed on safe operating procedures, and ongoing maintenance for air brake systems. This course includes the airbrake pre-trip exam and the use of the truck for this test. Upon successful completion of this course, students have 90 days to write their air brake endorsement exam at the ICBC Driver Services Centre. To enter this course, students must have a valid BC driver's licence.
Please note: ICBC has the right to review certified records and to retest certified students at their discretion.
Dates and Times: Saturday & Sunday 8:00 am - 5:00 pm
February 11 - 12, 2023
February 25 - 26, 2023
March 11 - 12, 2023
March 25 - 26, 2023

Course Fee: $229
To take an
Air Brake practice test
, visit
BC Practice Driving Test
Class 1, 2 and 3 Upgrading
This course is designed to assist those who have a valid Class 1, 2 or 3 licence or learner's permit, with an air-brakes endorsement, to upgrade their current driving skills. Instruction is one-on-one, and includes pre-trip training along with behind-the wheel training in each session. Training lessons are based on a fixed time length of 2-hour to 8-hour lesson blocks. Each training session can be modified to suit the students' specific requirements. This hourly training can also be beneficial for those students who want to evaluate their current driving skills before deciding which training program is best suited for them.
Prerequisites
To enter this course, you must be 18 or older, produce a valid Class 1, 2 or 3 learners licence with the airbrake endorsement or valid class 1, 2 or 3 drivers licence with an air brakes endorsement.




Class 2 Bus Driver
This 16-hour course provides the training you need to prepare for a Class 2 road test. You'll experience mixed urban and rural driving, and receive the training you need to continue to safely improve your skills. A licensed instructor individualizes training using hands-on practice and demonstrations. Practical training is scheduled in three-hour lessons, using a 72 passenger airbrake equipped standard transmission bus. This training program provides the use of the school bus for the practical training, as well as for a pre-arranged ICBC road test.
Please note: If you train and test on an automatic transmission ICBC will restrict you to driving automatics only.
Prerequisites
To enter this course, you must be 19 or older, produce a valid Class 2 learner's permit with an air brakes endorsement.
Class 3 Driver Training
This 30-hour course provides the training required to operate a three axle truck and prepare for the Class 3 ICBC road test. It is suited for those students who have little or no experience on a manual transmission or any exposure to commercial vehicles. You will experience mixed urban and rural driving, vehicle inspection and airbrake training on one of our 2007 Kenworth highway tractors, in 3 or 4-hour training sessions. This program provides the use of the truck for the practical training, as well as for a pre-arranged ICBC road test.
Prerequisites
To enter this course you must be 18 years of age or older, hold a valid Class 5 driver's licence, and produce a valid Class 3 learner's permit with an air brakes endorsement.
5th Wheel RV Trailers and Heavy Trailer Endorsement
The endorsement 20 for heavy trailers, and endorsement code 07 for 5th wheel trailers, are now required for trailers that weigh over 4600 kilograms (10,000 lbs). This course provides the training needed to prepare for the endorsement codes 20 and 07 ICBC road test. A licensed instructor delivers individualized training using hands-on practice and demonstrations. Students are taught vehicle inspection and skills required for safe operation of a vehicle while pulling a heavy trailer or 5th wheel trailer. This training program requires the student to supply their own vehicle and trailer that weighs a minimum of 4600 kilograms (10,000 lbs) for the training and the ICBC road test.
We book the ICBC road test for you as part of this course.
Prerequisites
To enter this course you must hold a Class 5 drivers license, for the endorsement 20, hold a valid Class 3 learner's licence and for the endorsement code 07, hold a valid 5th wheel learners licence.
To obtain the learners licence, apply to the ICBC licence office in your area and ask for the information to study for the learner's exam.


Dates and Fees
For prices and scheduling information, please contact us. Students must register and bring a paid tuition receipt to the School of Trades and Technology building, Room TT158, to book your training dates or register and book your training over the phone if paying your tuition with VISA, AMEX, and MasterCard. Times and dates are confirmed for each student upon receipt of payment. For prices and scheduling information, please contact us.
---
We offer a wide selection of driver training services for trucking and government agencies.
Pre-employment driver assessments
Yearly employment assessments
Air Brake refresher courses
Pre-trip refresher and training courses
Tire chain installation courses
Winter driving courses
Off road driving courses
4 wheel drive use
Trailer operations and use
Proper downhill driving techniques
Driving for fuel economy
We will travel to your location
We can train using your own vehicles
Brake adjustment training
Collision avoidance training
If you don't see a course you require, contact us and we will customize a program for your company.
At age 53, after a couple of decades working in the building trades I decided that it was time for a career change. After some careful consideration, I settled upon the idea of driving for a living, which led me to the Thompson Rivers University website and their Class 1 Greenhorn Driver program. This spring I was fortunate enough to achieve that goal and completed the comprehensive five-week program, ultimately passing my Class 1 license. I cannot speak highly enough of Ray and his team. I would like to especially commend my two instructors, Awna, who taught the airbrakes course and introduced me to driving the beautiful Kenworth T800 during the first week and particularly Wayne who coached me throughout the remaining four weeks, all the while displaying endless patience and good humour as I slowly mastered the 18-speed transmission and negotiated assorted corners and grades. With my licence in hand, I moved back home to the Sunshine Coast of BC and started my new career, initially as a relief driver for a local freight company. I have now just been hired as a driver by the Sunshine Coast Regional District. The transportation supervisor for the SCRD described Thompson Rivers/Columbia Transport training as "the Yale of driving schools" and I have no doubt that this reputation was instrumental in helping me get my new job.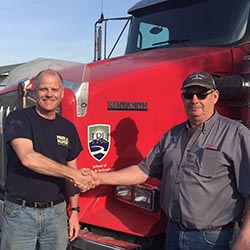 Matthew Evans
---
I would like to thank Ray Trenholm and Mike McPhee from TRU Columbia Transport Training. I enrolled for the 73 hour Class 1 course and I am so happy I made the decision to do my training there. Kamloops is such a perfect area to do this type of training as it offers so many different areas around and within the city, to challenge a student with some experience, or help a student that has no experience. I spent all my training time with Mike McPhee and cant say enough about how great of instructor he is. He used all the areas within and around Kamloops to help me improve my driving skills each day we went out, which all lead to a successful road test with ICBC at the end of my course. He did a great job preparing me for that day. Thank you also to Ray Trenholm for staying on top of the application process and helping make that happen. I would highly recommend this school to anyone who is thinking about pursuing a career in the trucking industry. The school has great equipment to train on, excellent instructors, and Kamloops is the best area to truly challenge you to become a "Professional" truck driver. Also special thanks to "007" the 2013 W900 Kenworth I had the pleasure of doing my training and road test with.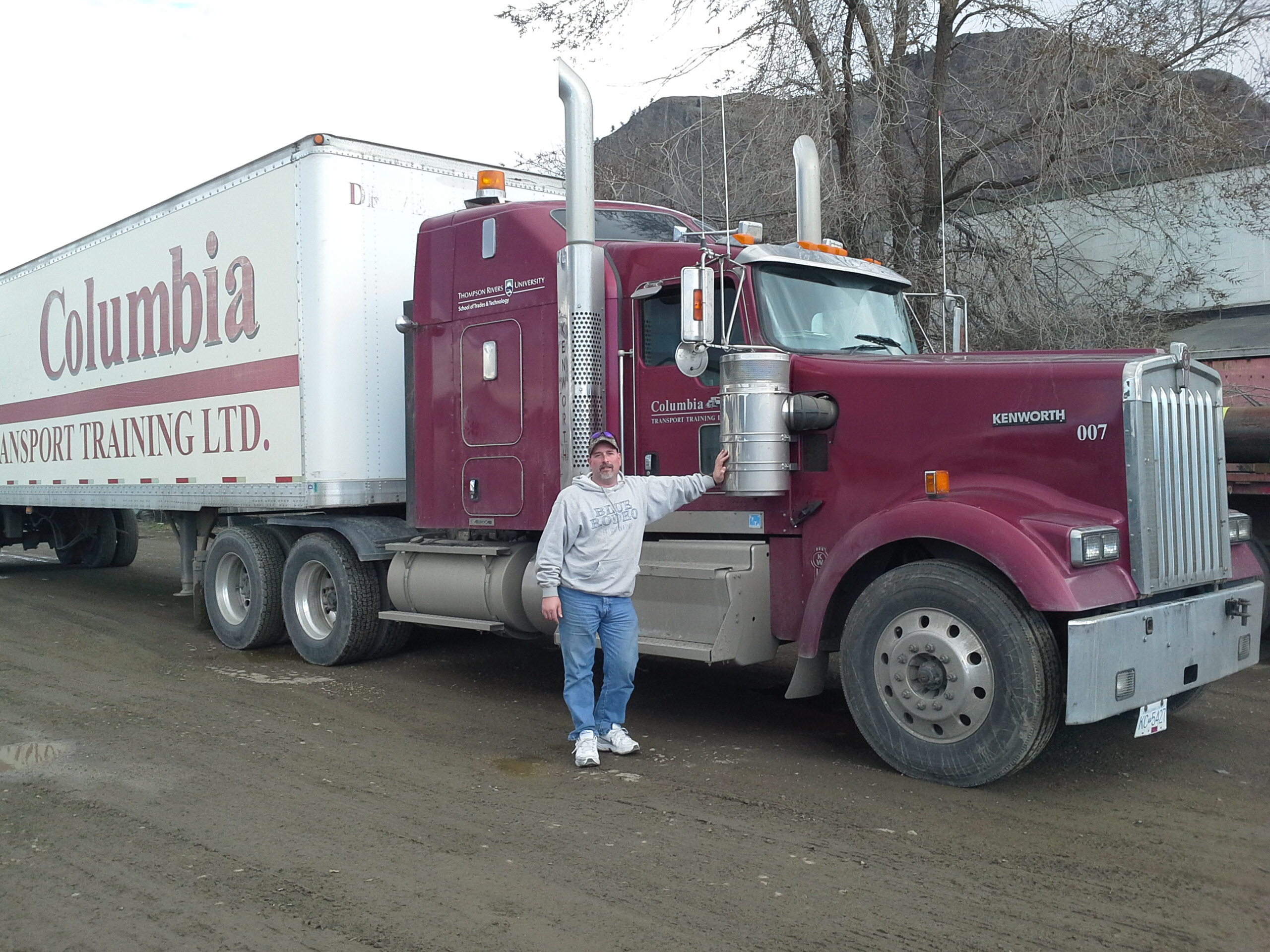 Robert Pelland
---
Just a note of appreciation for Ray and his team. Thank you for your time, patience and knowledge. TRU and Commercial Transport Training has taught me that being a truck driver is not just about driving a Big "Rig", it is the challenge of being a professional, anticipating the moves of other drivers, being prepared for the unexpected and the responsibility, especially when it comes to safety of the public and myself. I feel confident that I will succeed with this training and would highly recommend the Greenhorn course to anyone that wants a head starting in the trucking field…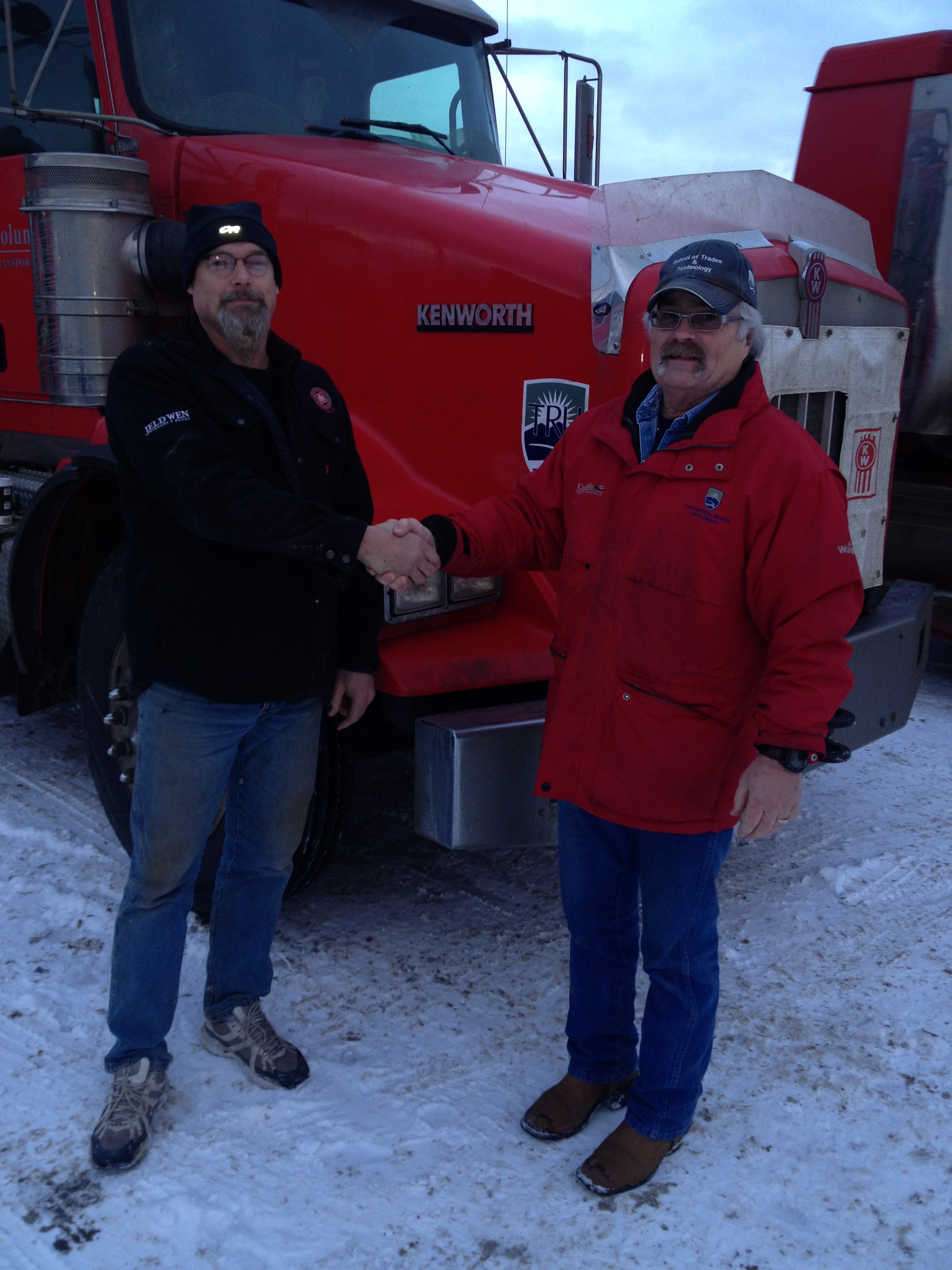 Mike Knudsen
---
The Thompson Rivers University driving program delivered by Columbia Transport Training did not only meet the outlined curriculum but in so many ways exceeded it. The skills that were taught and the manner in which that happened will ensure they are retained as part of a new skill set for years to come. The instructors without exception were able to communicate their vast and varied knowledge base into our training. Not only the skills necessary to obtain a license but the real world skills necessary to become a successful driving professional. I spent most of my time with Mike McPhee and found him to be an exceptional instructor as well as an outstanding individual. It was a great experience and I would certainly strongly recommend your institution to others who were interested in a career as a professional driver. I would also like to thank you for accepting me into the program and for your continued support and guidance throughout it.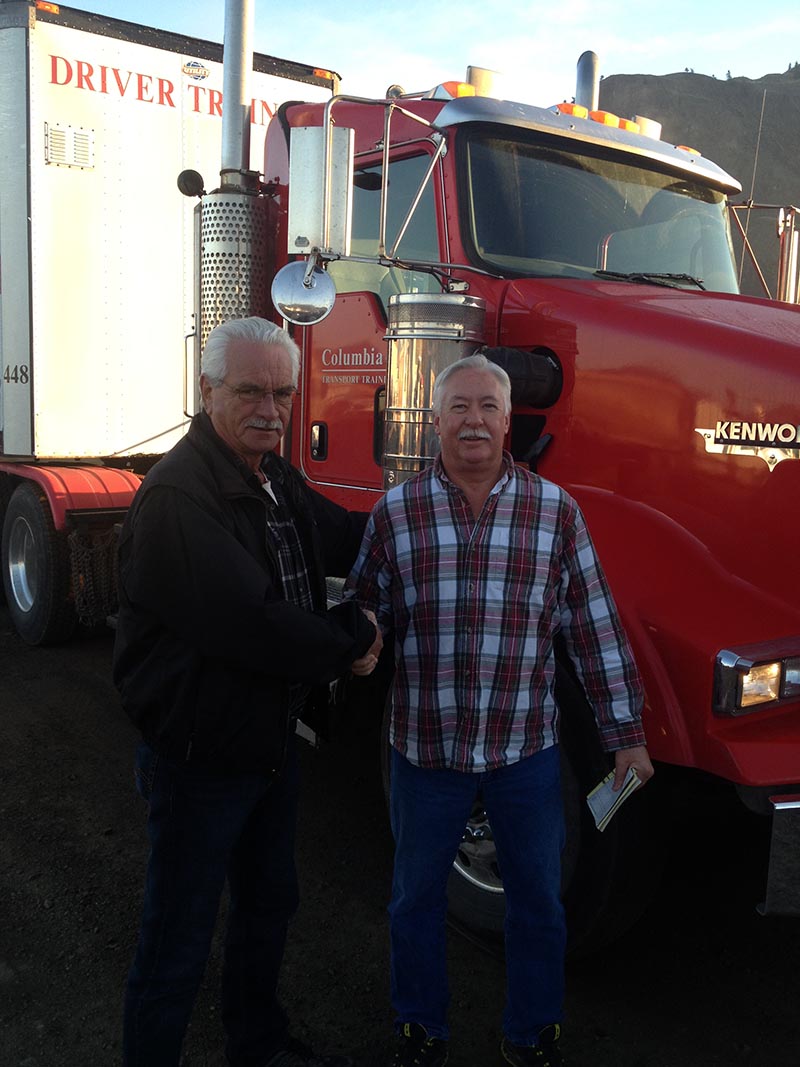 Kevin Mitchell
---
I'd like to thank Ray Trenholm and Thompson Rivers University for the excellent 104 greenhorn driver course that I just complete. After being in Sales Management for 20 years , I decided to make a drastic career change – with not truck driving experience, I knew I would need some top notch education. The Greenhorn course provided that and more. At first I thought 104 hours might be overkill but I was wrong. It was only after 80 hours, did I feel confident in most driving conditions. The last 24 hours were mostly mountain driving eight hours per day which really solidified everything I learned. I highly recommend calling Ray and finding out more about the course.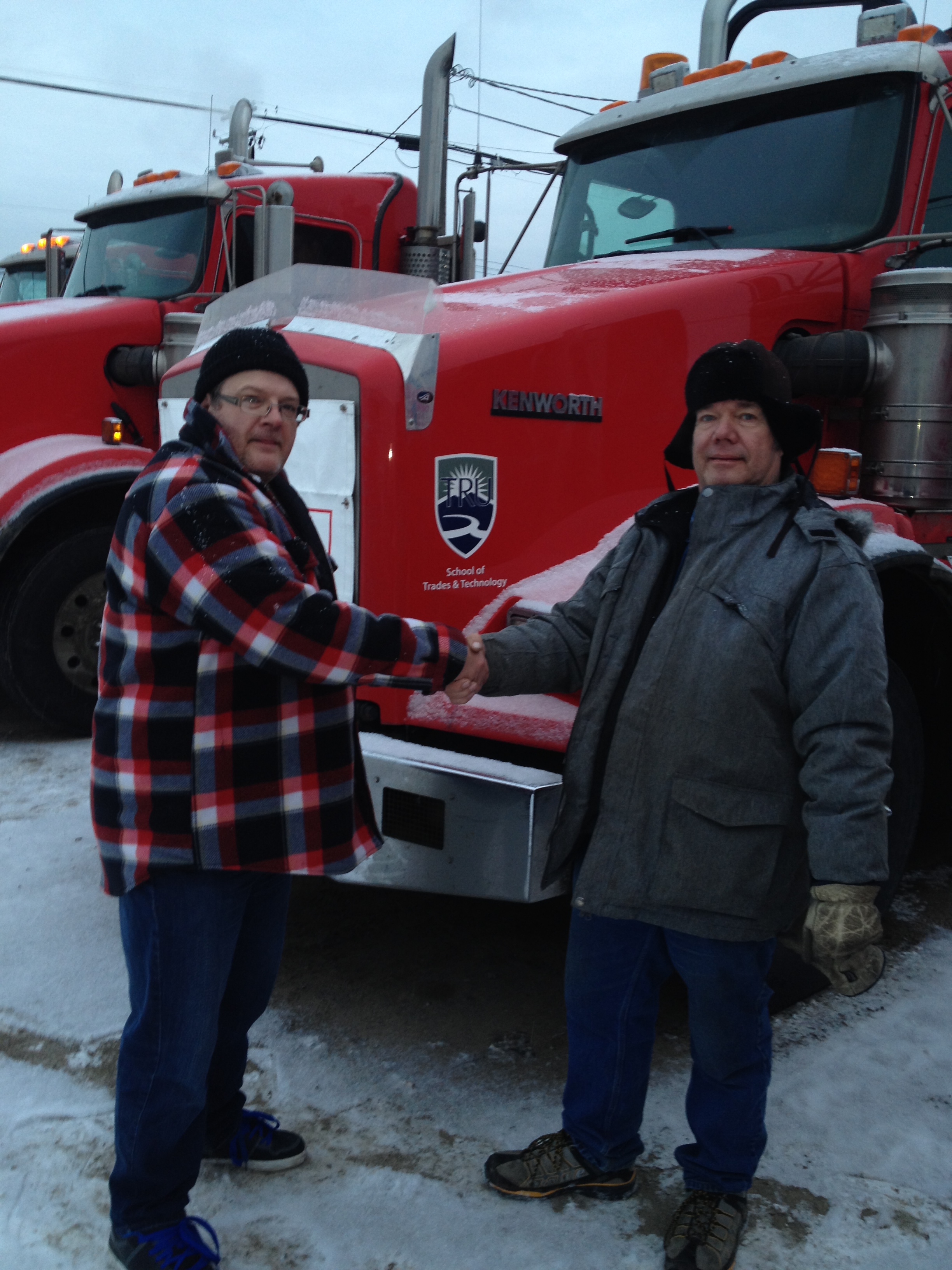 Brandon Williams
---
I would like to say thank you for giving me the opportunity to attend the commercial Driver Training course. It was an experience that has changed my life for the better in many ways. This was in fact one of the most challenging courses I have ever taken. I have to say before I took it, I was pretty cocky and figured I would pick it up no problem. Boy was I wrong. This course and my instructor were excellent. Everyone was friendly, extremely patient, supportive, knowledgeable, encouraging and went the extra mile to help me anyway the could to accomplish what I need to. I now not only have a Class one Drivers licence, the ability to go earn a good living and support my family, I also have the confidence in my abilities as well as the skills to handle situations when they go wrong. I definitely recommend taking this course at TRU to both women and men that are interested in getting their Class One or upgrading their license.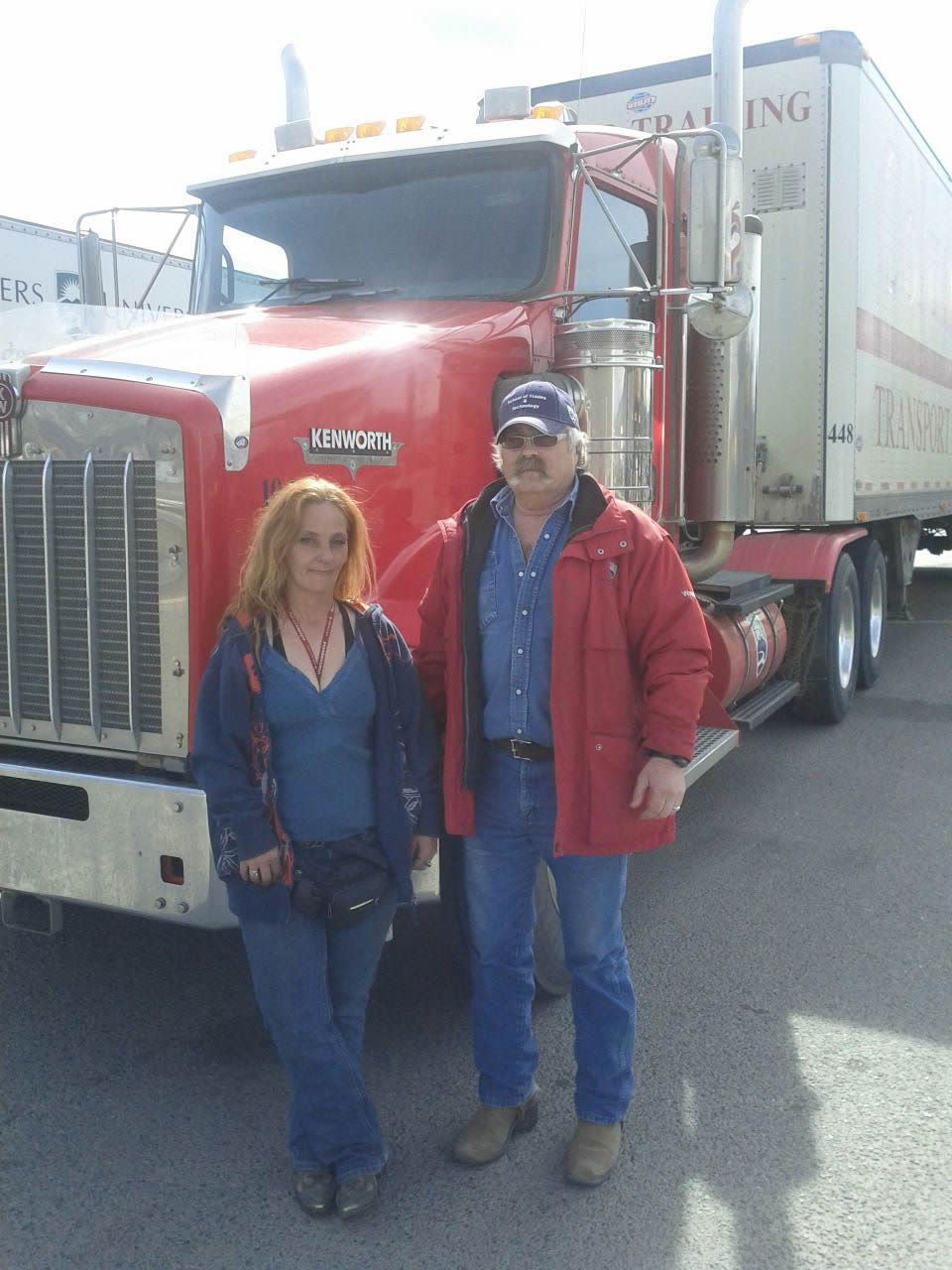 Rayella Parr
---
Just a quick note to pass along my thanks for a truly terrific course. I must admit, I began with more than a little anxiety about starting something like this at my age. My fears were quickly put to rest however, with the calm professional attitude of the instructors. I never felt any undue pressure and was able to learn all I needed to know in the allotted time. I would highly recommend this particular course to anyone looking to get into the truck driving industry.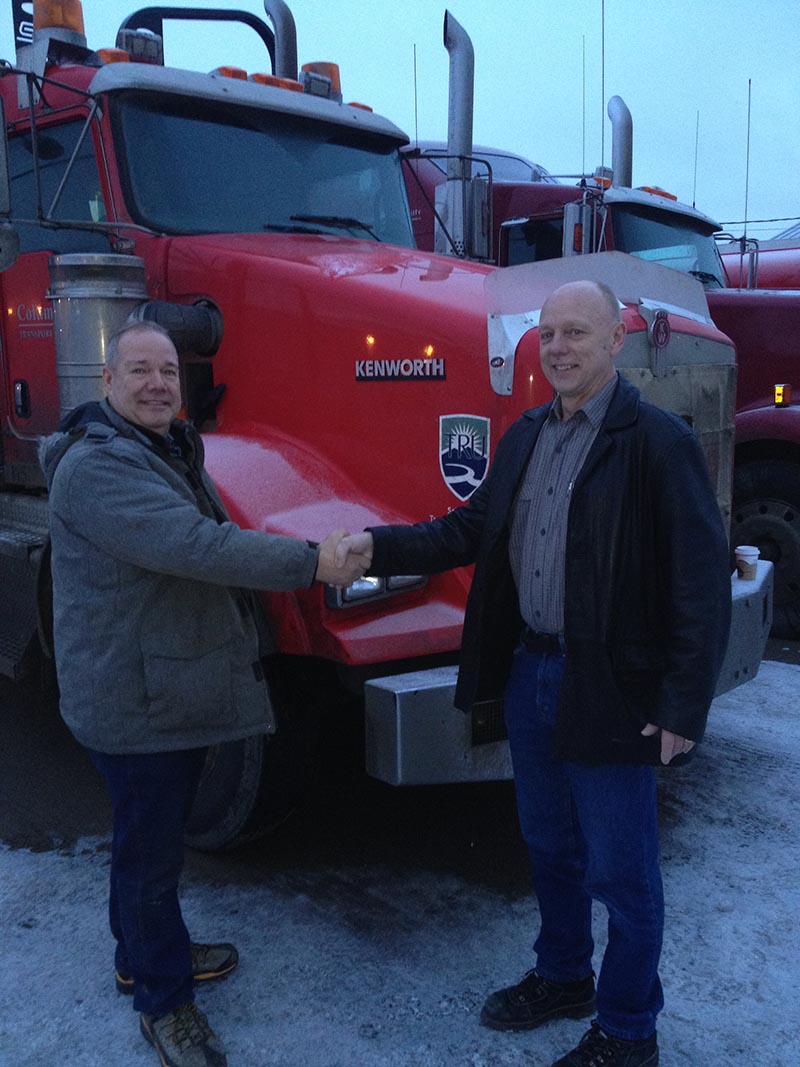 Richard Fifer
---
From the moment I applied for the program to the moment I received my Class 1 Driver's License, Columbia Transport Training provided a positive, enjoyable, professional learning experience. My first contact was with Ray Trenholm - Manager of Driver Training at TRU. Ray guided me through some of the preliminary requirements and paper work necessary to put me in position for the program. All submissions were made electronically culminating in acquiring my Class 1 Learner's License, Air Brake endorsement, current medical and drug screening. After a personal interview, I received my start date an d the instruction began. Although I anticipated some preliminary classroom or simulator instruction, I was not disappointed when Ray presented me with a short list of materials I would need for my first day of instruction and told me, "your classroom is an 18 speed Kenworth" . . . One-on-one instruction is the hallmark of this program. I was very fortunate to have Wayne Field (25 plus years trucking experience) as my primary instructor. In a very short time, he introduced me to the responsibilities and skills necessary to becoming a professional driver. Always challenging, Wayne and the other instructors work through the mechanics of driving a tractor (truck)/trailer combination in a relatively short order. Then the hard part begins, turning a "Green Horn student " into an AWARE driver. Thanks Ray for a wonderful experience. I endorse and without reservation, recommend this program as an excellent jumping off point for a professional driving career.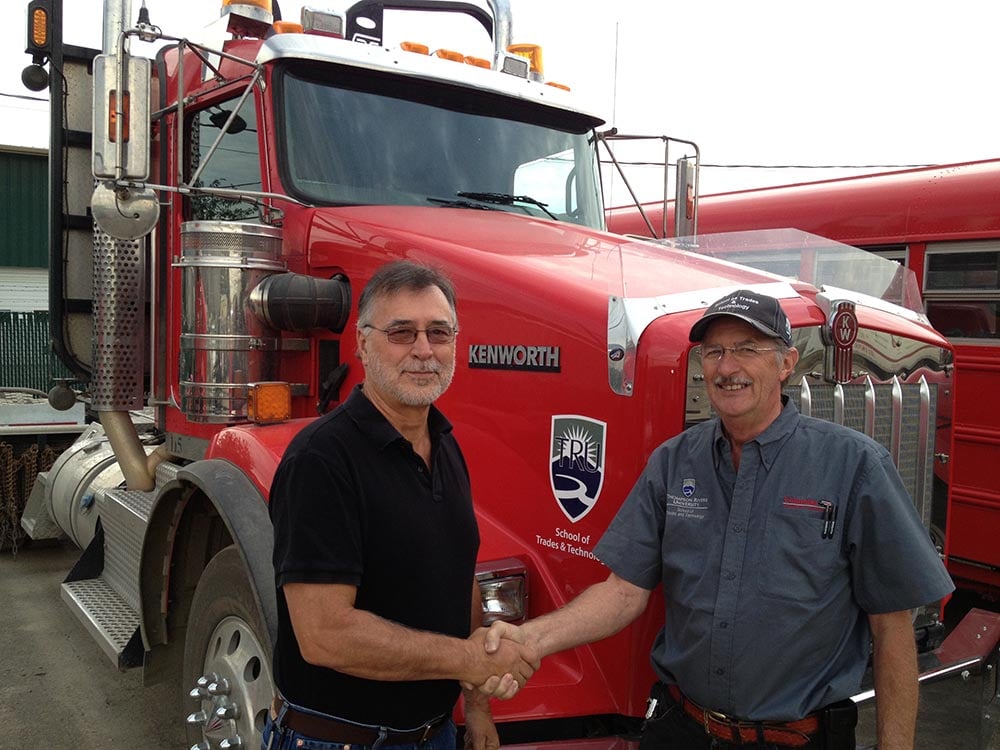 Barry Clarke