Wine and Ale Tasting with Food Pairings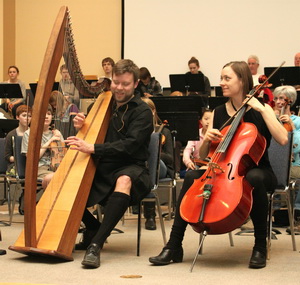 Sold out.
(this is a smaller venue and seating is limited)
There are still a few tickets remaining for the gala dinner/dance (which will be a lot of fun)

Join us on Friday, October 12 for the Wine and Ale Tasting event. This ticketed event has limited capacity (only about 150) and features local Thompson wines and ales with food pairings. The food pairings (appetizers) will be prepared by the Thompson Rivers University Culinary Arts program students.

When: Friday, Oct. 12, 5:30-7:30
Where: Thompson Rivers University Culinary Arts Building (2nd Floor)
What: Wine and ales (all from the region) paired with appetizers.

This is a great opportunity to sample some great wines and ales, chat with colleagues and enjoy wonderful entertainment by Crossbow.
Crossbow, Kamloops, B.C. - Neil Burnett (Celtic harp, penny whistle, etc.) and Christina Zaenker (cello & voice) make music from a wild new recipe for 38 strings, ringing timber, and assorted sonic spices. These well seasoned musicians serve up original compositions using traditional Celtic forms and hints of jazz, creating music that is uplifting, at times melancholic, and always enchanting.