Exhibitors
There is an amazing variety of exhibitors at the conference.  The Exhibitor Showcase is open:
- Exhibitors' Preview (sneak-a-peak): Thursday October 11, 5:00 pm - 8:00 pm
- Exhibits Open: Friday October 12, 8:00 am - 5:00 pm
- Exhibits Open: Saturday October 13, 8:00 am - 4:00 pm

Participants in the TESL Canada 2012 Publishers' Displays and Exhibition:
Special Exhibits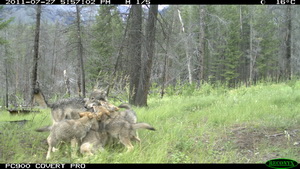 Parks Canada

Visit the Parks Canada booth to sample some new ESL learning activities that use images like this, from remote cameras placed throughout Banff National Park to monitor wildlife activity.

Through ESL learning activities students are introduced to the nature, wonder, and conservation goals of Canada's first national park, that Parks Canada protects and presents for all time. Along with essential language skills, ESL learners gain a greater appreciation and understanding of an important element of Canadian identity.

These learning activities were developed by an accredited ESL instructor, and tested for effectiveness and user-friendliness by Bow Valley College. The activities build on one another; they can be combined to create one complete lesson or they can be used individually within other lessons.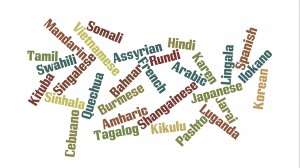 Shining Light on First and Heritage Languages
Photography Installation

Presenters: Nora Ready (VCC Faculty), Michael Yue (VCC Project Coordinator), Sandra Almeida (YWCA Youth Worker)

Amharic, Lingala, Ilokano, Jarai, Pashto, Assyrian…our classrooms are abuzz with languages! How do we tap into this wellspring of culture? The intention of this project is to portray and give voice to the many first and heritage languages in our classrooms and within our communities. Because of our experience with late arrival immigrant youth through Vancouver Community College's World Beat Project, we are focusing on this vibrant and linguistically rich group of learners. This photography installation is a co-construction that has emerged from sessions on language sharing and exploration. This exhibit is the result. Our hope is that we have expressed some of the ways first and heritage languages enrich, inform and enliven our lives.