TESL Canada 2012
TESL Interiors: Landscapes of Literacies and Language
October 11-13

Thompson Rivers University, Kamloops, BC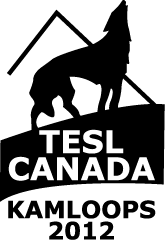 Click here for Presenter handouts, presentations and materials, and click here to view conference photos. Thank you for your participation!
---
TESL Canada and BC TEAL welcome you to join us in Kamloops for TESL Canada 2012. Plan now to participate in one of North America's most important professional development conferences for language educators. The theme for the 2012 conference is "TESL Interiors: Landscapes of Literacies and Language".

Conference Planner - eBook full of information about all aspects of the conference.

Conference Program note - this does not include the programs for the Graduate Students Symposium and the Pre-conference Symposia.

This year, we have a number of exciting plans for the conference in Kamloops, a vibrant and easily accessible city. This conference will bring together academics, practicing instructors, graduate students, and others interested in language education. The fields of inquiry within language education are varied ranging from linguistics and assessment to educational technology and teacher education and we welcome you to share, learn, network and enjoy the 2012 conference. The conference and symposium keynote speakers, Steven Pinker, Michael McCarthy and Penny Ur are internationally acclaimed and not to be missed.

Teacher educators and graduate students may be particularly interested in the Graduate Students Symposium taking place Oct. 11.

Also on October 11 are the pre-conference Symposia and Workshops from leaders in our field cover a range of timely topics. Furthermore there are several excursions in and around Kamloops prior to the conference and some fantastic social activities.

Nestled in beautiful grasslands valleys, Kamloops is a welcoming and easily accessible city close to many renowned destinations such as Sun Peaks Resort, the Adams River salmon run, and the Thompson-Okanagan wine country. For information on Thompson Rivers University, Kamloops and accommodation, click here.