Zero Waste/Circular Economy
Five-year zero waste plan
TRU is launching its new five-year zero waste plan in February 2022. The goal is to achieve true zero waste status, which is diverting 95 percent of all waste from landfill. The latest waste audit (conducted in the middle of 2020) shows that TRU realized a 78 percent diversion rate, although this was during a significant lock-down phase due to COVID-19.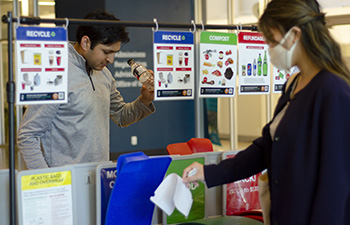 TRU is launching reuse programs — such as the Reusable Cutlery Program and Fill It Forward — and also taking steps to start a reusable food container program and a paper reuse program. This will all help to reduce waste going to landfill. The Sustainability Office also has a mandate, in lockstep with the federal government, to reduce six types of single use plastics: cutlery, check-out bags, straws, stir sticks, certain types of takeout containers, and six pack beverage can holders (this last one is not applicable since the campus has none).
There is also a TRU zero waste subcommittee dedicated to looking for ways to continuously reduce the amount of waste produced on campus. The Sustainability Office will continue with the rollout of its residential food composting program. The first pilot started in September 2021 with the McGill residence and next will be the East Village and finally North Tower.
Goals for 2022 include: re-launching the zero waste station monitors program, introducing the first zero waste station 3D poster, starting a pilot project to introduce zero waste stations in offices, paper towel composting, and a student-led paper reuse program.
Three things you can do
1

Learn to use the zero waste stations. You're at a university — you can do it!
2

Buy durable goods — they may cost more up front, but will last longer.
3

Try to avoid single-use packaging and items, especially plastic.