Zero Emissions Transportation
Buying electric or hybrid vehicles
Currently, TRU has 24 electric car charging stations on campus, both Tesla and generic.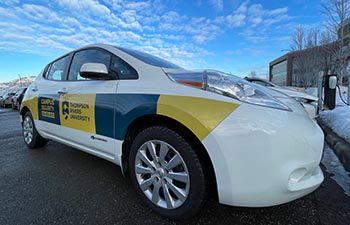 TRU has a policy of buying an electric or hybrid vehicle anytime a new vehicle needs to be bought, unless there are no options available for the specific type of vehicle that is needed, for instance a forklift. Financial considerations are also important and so the EV or hybrid must have a competitive price.
Other ideas being considered to encourage adoption of zero emission transportation are: free parking for electric vehicles, and subsidizing staff and faculty to buy transit passes.
TRU also has a seasonal commuter parking pass, which essentially gives users a 50 percent discount on parking over the fall and winter semesters if they ride their bicycles during non-winter months (March 15 to Nov. 15).
TRU staff also sit on the City of Kamloops transportation committee to advocate for better transit service for TRU students and employees.
Also, TRU has a dedicated Transportation Demand Management Coordinator, who is constantly looking for ways to improve alternative and active transportation options for TRU community members.
Three things you can do
1

Make a pledge to reduce the number of trips you take to campus, as well as other trips you take in your ICE vehicles (internal combustion engine). Combine trips so get things done but in fewer trips.
2

Take advantage of TRU employee e-bike discounts — worth a maximum of $300. This includes the e-bike purchase incentive program, as well as a financing option. You can spread the cost of an e-bike over a maximum of two years and have the payments come off your pay cheque.
3

Sign up for the seasonal commuter parking pass.