Zero Carbon Homes and Buildings
Certified LEED gold buildings
The last three buildings that TRU has built — the Chappell Family Building for Nursing and Population Health (2020), the Industrial Training and Technology Centre (2018), and the Brown Family House of Learning (2011) — are all certified LEED gold buildings, and have many low-carbon features.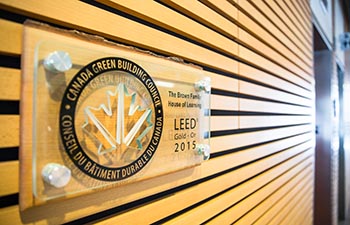 TRU Chappell Family Building for Nursing and Population Health is the campus' first no-fossil-fuel building. It burns no natural gas for heating. TRU is moving ahead with its Low Carbon District Energy System, which, when complete after 10 years in 2030, will see a reduction in greenhouse gas emissions from all campus buildings of 95 percent compared with 2020 levels.
TRU employs both an Energy Manager and Energy Specialist, who both focus a lot of their work hours on trying to make all campus buildings as energy efficient as possible. Another member of the Sustainability Office staff has been part of the BC Energy Wise Network for many years, and that organization's mandate is to run behaviour change campaigns to get community members to use energy more wisely.
Three things you can do
1

When working at TRU, instead of turning up the heat, bring a sweater or other extra layers in case you get chilly.
2

Don't use the automatic door openers unless you need to. Doing so unnecessarily lets out heated air in the winter and cooled air in the summer. This is a waste of energy and money.
3

A switch takes about one second to push. Doing so if you're not using lights, computer monitors and other devices can save a lot of energy and money all over campus every day. It's so easy!