TRU Fill It Forward (Cupanion)
It's time to start reusing with the TRU Fill it Forward Programs!
As of July 4th, 2018 TRU has three Fill it Forward programs running:
Water refill program
Hot beverages reuse program
Coffee rewards program
Connect your reusable mug, cup, or bottle with your smart phone to Fill it ForwardTM, track your reuse, and work towards rewards.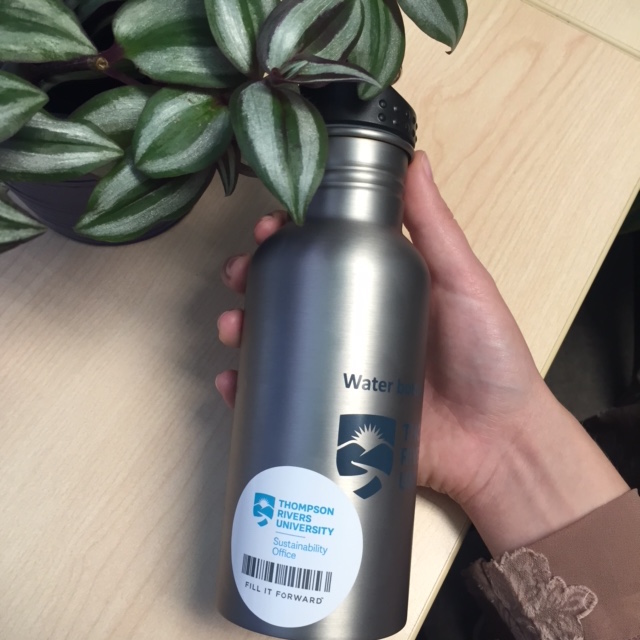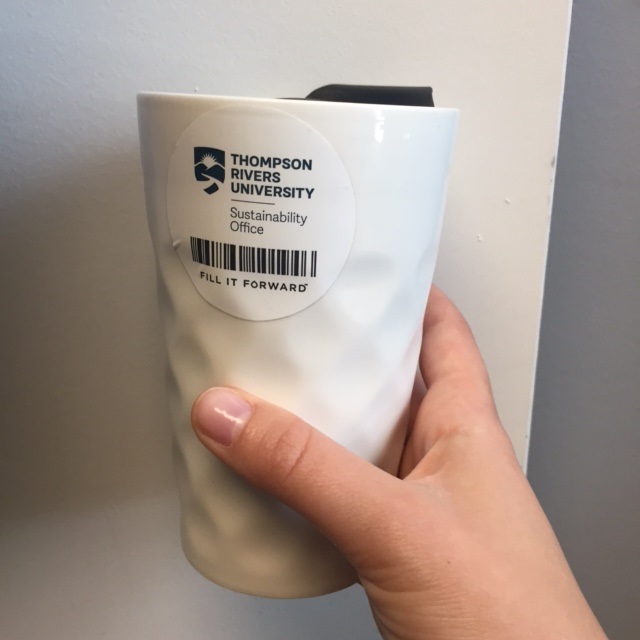 (Left)Teal water barcode for refilling your water bottle. (Right) Dark blue hot beverage barcode for refilling your mug. Start scanning and reusing!
What is Fill it ForwardTM?
An innovated program that lets you tangibly see the impact YOU have as an individual on the environment by using reusable beverage containers rather than single use cups. Fill it ForwardTM is a Canadian born movement that links your beverage container to an interactive app experience that you download onto your phone. Every time you refill your bottle, cup, or mug you scan your Fill it Forward tag and a cup of water is donated to a water charity project through the organization WaterAid on your behalf! In addition, with every reuse you will be entered into draws for sweet prizes, and have the opportunity to work toward free beverages at select coffee shops on campus! Intrigued, excited, and enthused? We definitely are!
Water Program
Identified by TEAL tags. Stick a tag on your water bottle and scan it every time you refill your bottle! Water will be donated to charity with every scan and you will be entered into a weekly draw prize for a $20 TRU Food Services gift card through the Sustainability Office.
Hot Beverage Program
Identified by DARK BLUE tags. Stick one of these tags on your favourite mug that you fill up with tea or coffee and scan the tag every time you enjoy a hot beverage! When you scan your dark blue tag you are entered into a weekly draw for a $20 TRU Food Services gift card through the Sustainability Office
Where to find teal and blue tags:
Currently there is a dispenser at these major water refill stations on campus:
AE 2nd floor by stairs
HOL 1st floor
IB 1st floor
Main Library 1st floor
Old Main 1st floor, 2nd floor
Faculty of Law/3rd floor of Old Main
Science 2nd floor
Clock Tower 2nd floor
Coffee Rewards Program
TRU Food Services is happy to get on board with Fill it Forward! As an extra incentive, the coffee shop in the Trades building, Trades Café, will reward you with points on the app by using your reusable mug. Use your Fill it Forward app to scan the Trades Café unique barcode and after 10 coffee purchases at their location they will give you a coffee for free! Stay tuned for more locations offering this redemption in the Fall!
Let's get Started!
STEP 1: Grab a tag (teal for water bottles, dark blue for hot beverages)
STEP 2: Put the tag on the bottle you will use for that respective program
STEP 3: Download the Fill it Forward app from an app store Apple App Store

Google Play

STEP 4: Start donating water by scanning the tags with the Fill it Forward app every time you refill!
Restrictions?
There is a 30 minute cool down period between scans to prevent misuse of the program. The app will let you know when you can scan again! Maximum number of scans per day is 10. For the Coffee Rewards Program, the Lug a Mug discount does not apply.
WaterAidProjects
Mali: Healthy Communities Project
The land locked West African nation of Mali is one of the poorest countries on earth. The lack of economic stability leads to a range of serious and often deadly conditions. One of those issues is the lack of access to safe drinking water and adequate sanitation.
WaterAid is working to achieve their goal of reaching 59,960 people with better access to clean water and sanitation and another 72,500 people with hygiene education by 2020.
The Mali Healthy Communities program will:
Build and rehabilitate 43 water points at schools, health centers and public spaces.
Build and rehabilitate 42 toilet blocks in schools, health centers and public spaces. They will be gender segregated and specially designed to meet the needs of people with disabilities.
Reduce the spread of infectious diseases by providing medical waste incinerators to 4 high-priority healthcare facilities and train healthcare staff on how to use and maintain them.
Provide hygiene kits to 17 schools and 7 health centers, including hygiene promotion materials, handwashing devices, garbage cans, gloves etc.
Using a proven participatory methodology called Community-Led Total Sanitation we will encourage thousands of people in 45 villages to build their own household toilets. We will also show them how to do it by equipping 175 of the most vulnerable households with decent toilets.
Set up 39 local committees and train them on how to operate and maintain the new infrastructure.
Support 13 groups of women and young people in establishing small water and sanitation-related businesses (e.g. soap making) through micro-credit. This will improve their access to new economic opportunities and decent employment.
The Clean Water of Schools in East Africa – Ethiopia, Kenya and Uganda
Now that the 5 year journey has wrapped up, WaterAid can proudly say that 170 schools and over 120,000 students across East Africa have access to clean water and sanitation.
Through the engagement and collaboration of community members, senior school staff and government officials, WaterAid was able to:
Develop child-friendly hygiene and toilet facilities that respect different physical and mental developmental differences of students at different ages.
Develop gender-appropriate hygiene and toilet facilities so girls and female teachers can practice effective menstrual hygiene management in safe and private environments.
Teach students about the importance of hygiene using drama, music, and art.
Engage children as agents of change, building their confidence and encouraging them to spread the message about good hygiene at home and in their communities.
Questions
Heard or was involved with the Cupanion project in the Winter of 2018? In March 2018, the Sustainability Office was very excited to launch TRU's first Cupanion experience – the previous version of the Fill it Forward program. Unfortunately, we have had to put the program on hold because of rebranding and printing issues internally within the company Cupanion. A new and improved program, renamed Fill it Forward, is now launching at TRU and merges with the previous Cupanion program.
I have received a Cupanion water tag. Will this tag continue to work now and in the future with the new Fill it Forward program? Yes! Your tag will remain active and we encourage you to keep scanning it whenever you fill your water bottle!
I received a Cupanion water tag but always had trouble scanning it – what should I do?
The main reason why the company Cupanion decided to remodel their merchandise was because they found that the water drop shape of their tags inhibited some users from being able to scan the barcode easily. The new circular Fill it Forward tags have been tested extensively to ensure that any difficulties scanning the barcodes have been eliminated. If you had trouble with your Cupanion barcode grab a Fill it Forward tag and it will work seamlessly with the app account that you already created. If an error message does occur, try exiting the app and reopening it.
I see that there is a new Fill it Forward app. Should I be using this instead of the Cupanion app? Yes! The Fill it Forward app is the new and improved version of the Cupanion app and includes many more innovative and exciting features. As long as you sign into the app with your old Cupanion account information, all of the reuse that you have already logged will appear in the new Fill it Forward app.
Can I combine the Lug a Mug discount with the Buy 10 Coffees get 1 Free? No, you cannot combine the reusable mug discount, "Lug a Mug", with the Fill it Forward points redemption system.
Is the Fill it Forward app collecting data and selling it? No. The only people with access to the back end data is the developer from the Fill it Forward team and a coordinator who administers draw winners.
How are the water projects funded? The water projects are funded by sponsors. Currently, Cupanion is the sponsor. In the future, brands that align with the vision of reuse will be selected. A sponsor will be acknowledged within the app for their willingness to fund the program, but will not have access to the user data.
Want to get involved or have questions? Contact:
James Gordon
jgordon@tru.ca