Buildings and Grounds
In 2010 the Kamloops campus underwent an extensive energy audit, followed by a $1.5-million energy retrofit encompassing 78 percent of the campus building area. A partnership with BC Hydro under their Continuous Optimization Program promises further energy efficiency advancements to come.
Get the details on individual buildings
---
Real-time monitoring of energy use
Wireless monitoring with Pulse software is installed in all buildings larger than 1,000 square metres. Get real-time feedback on electricity and gas use.
Energy Dashboard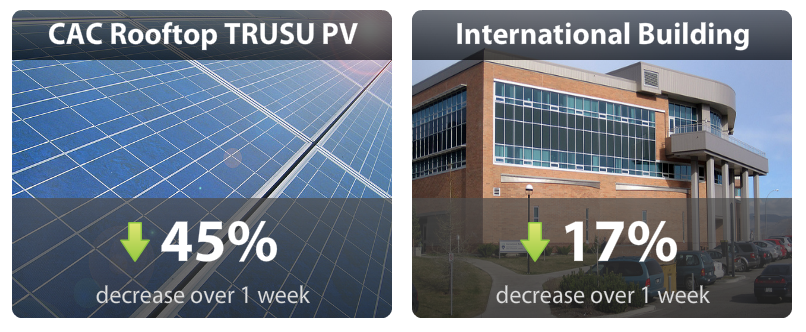 LEED certification
Many buildings on campus were built or designed with environmental sustainability in mind. LEED (Leadership in Energy and Environmental Design) is a rating system that indicates the level of standards for environmnentally responsible construction. Ratings include: Certified, Silver, Gold, and Platinum.
House of Learning — LEED Gold

It includes a green roof, water efficient landscaping, showers for bikers, and 75 percent of its lighting is provided by natural light.

Independent Centre — up to LEED Gold standards but not certified
2010 Dream Home

TRU student Jody Martens won the Equilibrium House Design Competition, designing a net zero home where passive and active solar systems will generate as much energy as it consumes in normal home living

Kamloops Centre for Water Quality — LEED Gold

This building was co-financed by TRU and TRU has labs and training programs within the building
Green Labs Program
TRU Green Cleaning Program
Energy Management Plan
Water Management Plan