TRU Sustainability Office
* Special Notice: Watch the remaining 8-minutes of the Al Gore Film

The TRU Campus Strategic Sustainability Plan (CSSP), created in 2014, guides our efforts. The SSP is aligned with the overarching goals of TRU's Strategic Priorities Plan, which has 'Increasing Sustainability' as one of its five priorities. Our office plays an active role in three main areas to achieve all goals:
Energy
We strive for energy efficiency and progressive energy use through conservation, new technology, behaviour change, and renewable energy sources.
Engagement
We coordinate engagement opportunities with the TRU community using events, contests, programs and grant funds.
Projects
We help TRU students, faculty and staff members in any way we can with their sustainability projects.
---
Random acts of sustainability
Transportation
Walk to school
Energy
Only use handicap buttons to open doors if you really have to (they let out heat in the winter, and cool air in the summer)
Click the recycling icon for more tips!
---
Apply to the Sustainability Grant Fund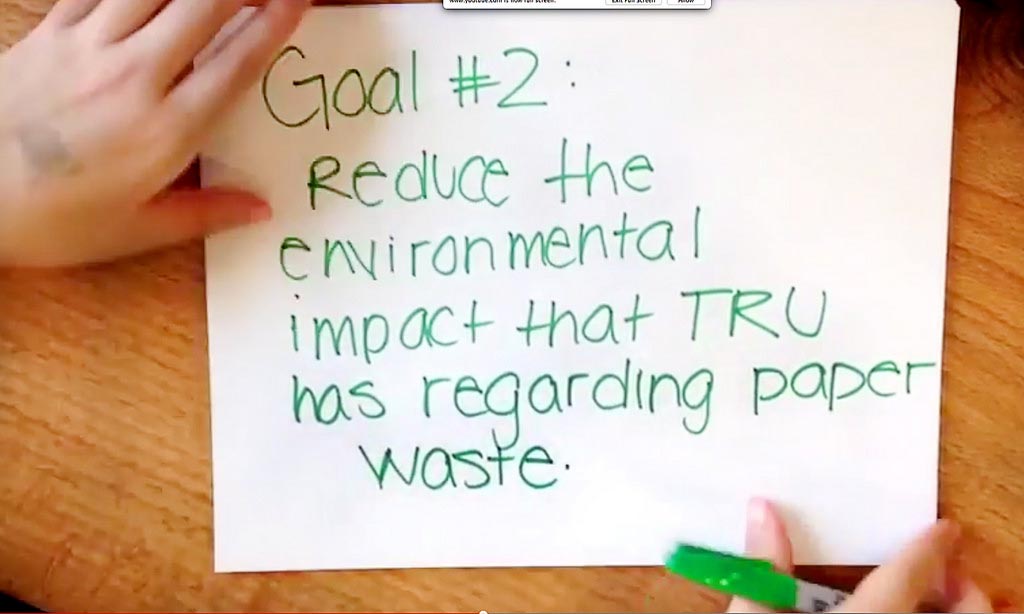 If you have your own sustainability project in mind, we may be able to help with a grant of up to $100,000. This fund is open to TRU students, staff and faculty.
Learn More
---
---