Science Menu
Facilities and Resources
The department includes three first-year laboratories, two of which are outfitted with up-to-date computers and lab software at every work station. Research and upper-level labs are supplied with specialized electronic, acoustic, optics and holography equipment such as a multi-channel analyzer, optical table, evaporator and ellipsometer. Dedicated computer labs are also available for data analysis, word processing and on-line access.
The new TRU Observatory replaces the old observatory that had been operational since 1972. The old telescope (a 12.5" Newtonian reflector) was replaced by a new 14" Celestron Schmidt-Cassegrain reflector telescope. The observatory is housed in a six-metre dome set atop the three-story International Building erected on the same site as the original observatory. The department also has a solar telescope with its main mirrors located on the roof of the Science Building connected to an observation area inside.
Observatory photo gallery
Student resources
The TRU campus provides a variety of venues and resources for both academic and lifestyle activities. Student housing, daycare and health services are only but a few of a host of Campus Services available to students.
Leisure time can be spent attending WolfPack basketball and volleyball CIS games, participating in numerous recreational and intramural sports on campus, sampling from "haute cuisine" dining or just "food and fun" at Hero's Pub. The Canada Games Pool facilities with new indoor track, field house and gymnastics building along with a newly built Hillside Stadium with full outdoor track and three multi-use fields can provide for almost any of your favourite athletics and recreation.
Academic resources include a Counselling Centre, Writing Centre, a variety of computer labs spread around the campus, IT Services and much more. Given the new International Building along with TRU's flexible program access through the Open Learning Division, resources are available to meet any student's needs. Learn about the history of TRU and how it can accommodate your lifestyle.
Off campus, the beautiful city of Kamloops — Tournament Capital of Canada — and the surrounding area offer a great sports, leisure and cultural array of activities. The area boasts world-class sporting facilities, incredible recreational experiences in all four seasons, an unbelievable 84 parks in the city along with the warmest summers and the friendliest people you will find anywhere. Students will find that few cities can match the quality and diversity of attractions of Kamloops and area.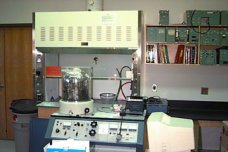 Physics lab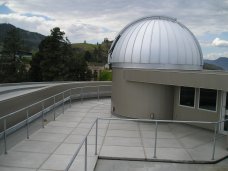 Observatory