Bachelor of Natural Resource Science (BNRS)
In a world where specialization is the norm in university training for careers in the natural resource professions, the demand from industry and government agencies is increasingly for professionals who are generalists. The BNRS program addresses this need by providing a course of study that is unique in its scope and purpose. The program consists of 126 credits which can be completed in four or five years on a full-time basis or up to seven years on a part-time basis once admitted to the program.
The purpose of the BNRS degree program is to prepare students for careers in a wide range of natural resource sector jobs and for further academic study in graduate school. The program goals are met by providing a unique combination of courses covering biology, ecology, scientific methods, and sector-specific resource management skills in a cooperative education format. Students will learn problem solving, oral and written communication skills, and integration of various disciplines in both an independent and team environment.
By understanding the scientific, economic, and social basis of natural resource issues, graduates of the program will be able to effectively interface between diverse interest groups, all having a stake in how our terrestrial and aquatic ecosystems are managed. Courses and field work dealing with management of the various sectors give students technical skills in a wide variety of management disciplines. Upon graduation, students will have acquired a wide range of technical abilities in assessing the status of ecosystems. This assessment covers aspects such as forestry, fisheries, range, and recreation.
Possible areas of employment after completion of the BNRS degree include resource management and planning for government or industry, operational forestry, and teaching. In addition, the degree will qualify students for academic studies at the graduate level.
For students interested in certification by a professional association, TRU is seeking accreditation for selected specific courses from the Association of British Columbia Professional Foresters.
Completion of the BNRS degree fulfills the academic requirements of the B.C. Institute of Agrologists and College of Applied Biology.
As well, students wishing to enter a teaching program at the secondary level can do so with an additional 6 credits of upper level biology courses. Please see the chairperson before planning electives.
TRU is an equal opportunity educational institution, and encourages applications from women, First Nations students, challenged students, visible minorities, and international students who wish to pursue a degree in Natural Resource Science.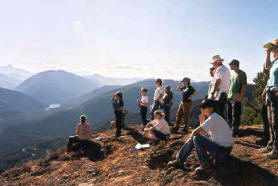 Course requirements
Semester 1
BIOL 1110
Principles of Biology 1
NRSC 1110
The Science and Management of Natural Resources
ENGL 1100
Composition
NRSC 1120
Dendrology 1
MATH 1150
Calculus for the Biological Sciences 1
Total 15 credits
Semester 2
BIOL 1210
Principles of Biology 2
ENG 2300
Writing for Science & Technology
ECON 1900
Principles of Microeconomics
NRSC 1220
Dendrology 2
*ENGL 1110
or
AGSC 2200
or
Elective
Prose Fiction
or
Food Systems at a Local Level
Total 15 credits
Semester 3
BIOL 3000
Biometrics
CHEM 1500
Chemical Bonding & organic Chemistry
NRSC 2000
Introduction to the Study of Soils
NRSC 2100
Forest Ecology and Silvics 1
NRSC 2230
Geographic Information Systems
Total 16 credits
Semester 4
CHEM 1510
Fundamentals of Chemistry
NRSC 2110
Forest Mensuration
NRSC 2200
Forest Ecology and Silvics 2
NRSC 3000
Diversity & Ecology of the Vertebrates
NRSC 3170
Ichthyology
Total 15 credits
Semester 5
NRSC 3200
Silviculture
NRSC 3260
Limnology
*NRSC 4020
Natural Resource Entomology
*NRSC 4030
Natural Resource Pathology
*NRSC 4130
Fire Ecology and Management
Elective
Total 15 credits
Semester 6
BIOL 3030
Population Biology
ANTH xxxx
Anthropology
NRSC 3110
Range Ecology
ECON 3730
or
Elective
Forest Economics
Total 15 credits
Semester 7
NRSC 4100
Fisheries Management
NRSC 3210
Range Management
NRSC 4040
Wildlife Management 1
NRSC 4140
Natural Resource Policy Course
ECON 3710 or 3740
Economics of the Environment or Land Use Economics or Elective
Total 15 credits
Semester 8
NRSC 4110
Watershed Management
NRSC 4210
Conflict Resolution in the Natural Resources
NRSC 4230
Graduating Essay
NRSC 4050
Wildlife Management 2
Total 15 credits
* See the department chairperson before selecting an elective.