Science Menu
Engineering Events and Workshops
Annual events
Women in Engineering
We hold an annual Women in Engineering event on campus in the spring. Girls from grades 8-12 are invited for a day of learning and exploring through hands-on engineering activities. Engage in a robotics workshop and competition, explore TRU's Makerspace, create a button, use a 3-D printer, try out virtual reality, meet TRU engineering faculty and more! Registration for this event opens early March each year.
When: Spring every year
Where: TRU engineering labs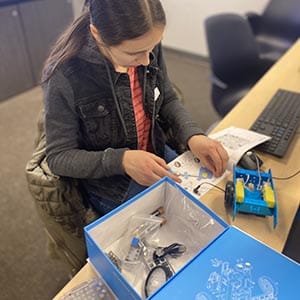 Discover Days
Students in grades 10-12 are invited for an exciting day of discovering software engineering. Students tour the engineering labs, TRU Makerspace and have the opportunity to explore two hands-on engineering workshops in the engineering software and hardware labs. Students may also have the chance to explore an engineering lecture with current TRU engineering students. This event is excellent for those students who have little or no knowledge of software engineering or want to learn more and explore software engineering as a career.
When: Fall and spring every year
Where: TRU engineering labs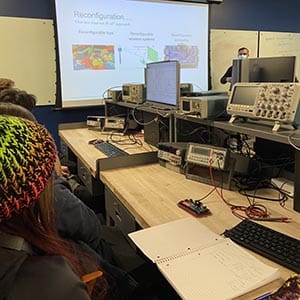 SENGConnect
We strive to increase high school students' understanding of software engineering-related activities and to help them choose their discipline in the software engineering profession. To assist high school students in this academic decision-making, we have designed the SENGConnect program.
The program targets students in grades 11 and 12, giving them the opportunity to try out various software engineering experiments for technological engagement. Each experiment is two or three hours long with hands-on experience demonstrated by the engineering department members.
When: During academic year
Where: TRU engineering labs
High School Career Talks
Software Engineers: Solving Today's Problems To Create A Better Tomorrow is presented to students in grades 10-12. The engineering advisor and a faculty member attend high school classes to discuss the software engineering program at TRU, career opportunities and how to be a successful software engineer. Presentations are around 30 minutes with a Q&A session at the end.
When: During academic year
Where: TRU engineering labs
---
Past events
TRU Career Talks
We host career talks with industry professionals for current software engineering students to have the opportunity to learn, meet and engage with industry software engineers. Past guest speakers have been from Facebook and Huawei Technologies.
Applicant Event
We invite fall applicants to a reception where potential software engineering students have the opportunity to meet engineering faculty, tour the engineering labs and TRU Makerspace, have lunch with faculty and enjoy a hands-on workshop.