Dogs
Please note: Prior to public adoption appointments, animals may already be adopted or show adoption pending within the TRU community.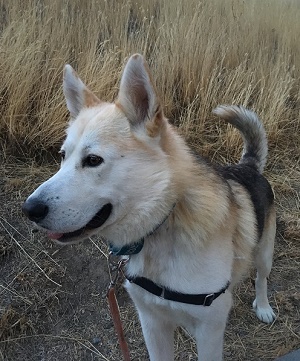 Adam - Adopted
Adam is a very handsome 2 year old MN Husky Shepherd X. He is very friendly, happy and outgoing. Adam loves his long walks and being outside. He really enjoys being groomed. He is good with most dogs but has not been introduced to cats. Adam is a very relaxed and tolerant guy, he would probably do well in a house with kids
---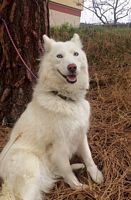 Annie - Adopted
Annie is a 3 year old, spayed Husky Samoyd X. She is quite shy at first but very loving and adores affection. Annie is a bit of an escape artist so will need to be monitored in a fenced yard. She will lay against you and flop onto her back for belly rubs. Annie seems to love the outdoors and going for long walks. She gets along with most other dogs and would do well in a home with another dog. She doesn't seem to be interested in cats so much but not suitable for a home with small children as she can be nervous and timid with loud noises.
---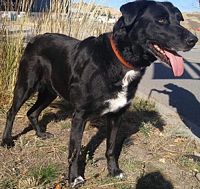 Arya - Adopted
Arya is a very friendly and affectionate 6-7 year old FS Lab X. She loves to play fetch and has basic manners under her belt. Arya gets along with most other dogs but unsure how she would be with cats. She is very sweet and well- trained. She still has a lot of energy for playing and would be great with kids. She does have an ear infection that has been treated and has been making great progress. May need some continued medical support.
---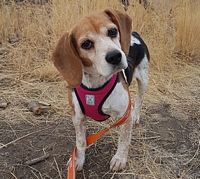 Daisy - Adopted
Daisy is a 6 year old FS Beagle X. She is very shy of new people and can be quite fearful at first but does warm up with some convincing. She is very food motivated. Daisy really enjoys walks in quiet less populated areas. This girl needs lots of patience, love, care and affection to adjust to a new home. She loves other dogs and it would be ideal for her to go to a home with another dog. She has been introduced to cats and is comfortable with them.
---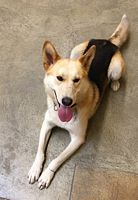 Davis - Adopted
Davis is an outgoing 2 year old MN Husky Shepherd X. He needs lots of exercise due to his high energy. Davis likes most dogs but can be inappropriate when greeting and introducing himself so this would need to be continued work with him for successful relationships. He has seen cats through a window and gets very excited and tries to chase them but may be ok with some training. Davis did very well being introduced to children while on walks and loved the pets and attention. Davis was entirely outdoors prior to TRU and has made vast improvments adjusting to the indoors. He may need some guidance in his new home.
---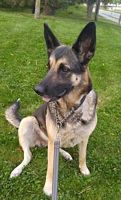 Hannah - Adopted
Hannah is a beautiful 3yr old FS German Shepherd. She is very friendly, affectionate and is very loyal and wants to please. Hannah is good with other dogs but does not like inappropriate greeters and will let them know. She is really good with kids so would fit into a household with children fantastically. She is very smart and learns quickly.
---
Harlow - Adoption Pending
Harlow is very friendly, full of energy, 1.5 year old FS German Shepherd cross. She loves attention, especially when it involves belly rubs. The students have been working hard at teaching her about manners and appropriate behavior when approaching people and dogs. She gets along with some dogs but definitely needs more work on the appropriate play and introductions with most. She seems to be uninterested with cats when she sees them through the window but hasn't directly been introduced. Harlow would be good with older children but may be a bit too rambunctious for little kids. She needs lots of exercise.
---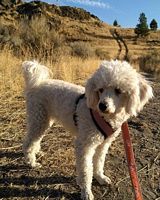 Maggie - Adopted
Maggie is a shy 7 year old FS Miniature Poodle X. With lots of patience she is becoming more confident. She gets along well with most of the dogs here and is also good with cats. She would be best suited in a quieter house with no kids. Maggie needs a patient owner that will help her become more confident in her environment.
---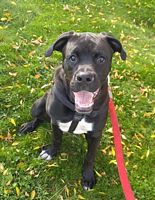 Sam - Adopted
Sam is a 7 month old Lab Boxer MN. He is full of energy and affection and really wants to play. Sam gets along with most of the dogs in the program but has not been introduced to cats although does not seem too concerned when he has seen them. As he is still a puppy, he can be mouthy when he gets excited and still needs work with basic manners. He would be good in an active household with older children that could help encourage consistent good manners.
---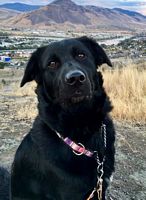 Shila - Adopted
Shila is a 2-3 year old Lab x spayed female. She is shy at first but once she gets to know you she is very affectionate and thinks she is a lap dog. She loves belly rubs. Shila has been noted to be nervous of strange men but the students have been working on this with her and she is making good progress. She is very good with other dogs and respectful of them and responds well. She has not been tested with cats. She would probably do best in a home that was not too busy due to her nervousness and older children would be better.
---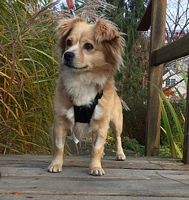 Taco - Adopted
Taco is a very confident, friendly and affectionate MN 3 year old Chihuahua spaniel x. He gets excited and barks when he is going out for an adventure but loves quiet cuddle time too. Taco likes most other dogs but does get reactive with intact males. Hasn't been tested with cats. He would probably do well in a home with children.