Dogs
Please note: Prior to public adoption appointments, animals may already be adopted or show adoption pending within the TRU AHT community.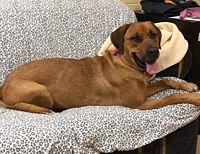 Autumn - Adopted
Autumn is a 5 yr old Rhodesian Ridgeback mix. She is a large dog and is very strong. She is an attention seeker and likes cuddles and belly rubs. Autumn gets along with most dogs but can be choosy with some. She is smart and enjoys learning new things. Autumn likes to go for walks and really likes her playtime with her K-9 friends. She will need a confident owner that can provide her with structure, lots of daily exercise and a consistent routine. She would do best with older kids due to her size and strength. Autumn is a real sweetie!
---

Copper - Adopted
Copper is a 2 yr old Coonhound that is a social and friendly dog. He likes to cuddle and play and enjoys vigorous playtime with other dogs. Copper would do great with kids and would suit a very active home. He LOVES food so he is easy to teach new things when there is a food reward involved! Copper is a strong dog and will follow a scent so a proper harness or gentle leader is a must for walking him. He is a charming, sweet guy and will be a great addition to any family.
---

Doug - Adopted
Doug is a super high energy Chocolate Lab that is approximately 4 yrs old. He is smart, rambunctious and lots of fun. Doug likes to play with other dogs, go for walks and play with toys. He will need A LOT of daily exercise to keep up with his vitality. Doug would do well in a home with older kids and another canine companion would be a good fit for him. He is always a happy dog.
---

Eddy - Adopted
Eddy is a senior Border Collie mix that is an extremely sweet and affectionate boy. He likes getting pets and tummy rubs and relaxing with you on the couch. Eddy gets along okay with other dogs but prefers the company of his people. He seems to be fine with cats. Eddy is an all around wonderful dog that will make a great companion.
---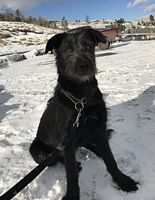 Everest - Adopted
Everest is a friendly, playful Wolfhound/Lab mix that is 7 months old. She can be a little shy with new people but warms up quickly with pets and affection. Everest is smart and is a quick learner! She LOVES to play with other dogs and is an exuberant player. She would do great with kids, other dogs and would probably be fine with cats due to her gentle nature. Everest is still a pup so she will need a consistent routine and lots of daily exercise.
---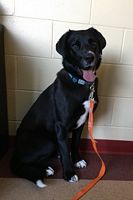 Katia - Adopted
Katia is a sweet, gentle dog that is very loving and affectionate once she is comfortable with you. She is a 2 yr old Lab mix. Katia is shy and is nervous of new things and new environments. She will need an owner that can spend a lot of time with her to help her gain confidence. Katia LOVES other dogs and would do better in a home with another canine companion. She will be a loyal and wonderful dog for the right family.
---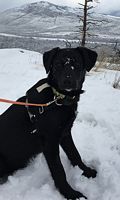 Marshall - Adopted
Marshall is a friendly, affectionate gentle natured Lab mix that is 7 months old. He LOVES to play with other dogs and is extremely smart. He has done amazingly well with learning basic teaching cues while here at TRU. Marshall gets very excited to go for walks and wants to greet any dog he sees! He would be a great addition to any family that can give him lots of daily exercise, playtime and attention.
---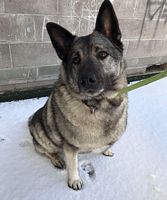 Odin - Adopted
Odin is a 3 yr old Norwegian Elkhound that is super friendly with all people and is good with cats. He isn't crazy about other dogs but he is okay with some. He likes to bark when he gets excited to go for his walks and he will bark when he sees other large dogs. Odin LOVES playing in the snow and being outside. He has lots of energy and needs lots of daily exercise. Odin is affectionate and likes to snuggle with his people. He will even nuzzle your hand for pets and affection.
---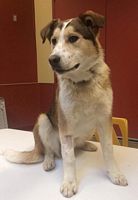 Ollie - Adopted
Ollie is a 7 month old Husky mix that is a real sweetheart. He loves people and enjoys playing with other dogs. We have introduced him to cats and he is very curious. He would probably do okay with cats with a supervised introduction. He is very smart and learns quickly! Ollie likes to carry stuffed toys around in his mouth and likes the squeaky ones. He will do great in any home environment that can provide him with attention, lots of exercise and a consistent routine. He is a cutie and will steal your heart!
---