Dogs
Please note: Prior to public adoption appointments, animals may already be adopted or show adoption pending within the TRU AHT community.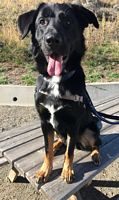 Angus - Adopted
This very energetic, exuberant and friendly boy is a year old. You will often find him with a squeaky toy in mouth or seeking attention and affection from passersby. Angus loves to go for walks and since he is such a strong, big boy he may be a bit much for very small children. He is working hard on his manners when it comes to meeting people and other dogs. He is very curious about bicycles, runners and cars. A home with someone who is comfortable with a large, active dog would be the best fit for him. With his long legs he would no doubt easily run alongside his new family.
---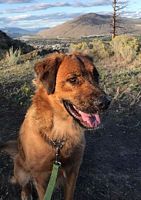 Bear - Adopted
Bear came to TRU with his housemate Ginger. The two of them have been known to "yodel" with excitement, often when it is time to go for a walk. Despite his size, Bear is a big cuddle bug, often seeking out available hands for belly rubs. He is not shy around cars or most other dogs. He is very enthusiastic for walks and will sometimes jump up but is working hard to do better. This 3 year old Shepherd mix with a sweet face and perpetually wagging tail will no doubt win your heart once you meet him.
---

Bowen - Adopted
This dapper 3 year old Husky/Akita mix is Bowen. He is a very playful, energetic and affectionate dog. He loves his walks and really comes to life during playtime. He enjoys scratches and once he burns off some of his energy, is happy to snuggle with his people. The students have been working hard with him to direct his energy - with treats and an eagerness to please there has been much success. Bowen has made a few friends here at TRU but would not be recommended for a home with cats or birds. In a home with children, he should be supervised as he will sometimes use his mouth to try to illicit play.
---

Bryn - Adopted
This beautiful 1 year old mixed breed girl is incredibly smart and loving towards people. Bryn is always eager to learn new things and has done incredibly well with not pulling on her leash since she's arrived at TRU. She is a very strong girl and the best family for her would be one that is comfortable with her strength. A home without cats would be best as she does have a history of chasing cats. Bryn does have some friends here at TRU, but would benefit greatly from additional training in regards to socializing with other dogs. This darling girl is eager to please and gives love readily to any person she meets.
---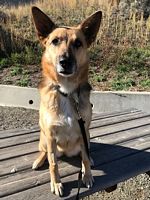 Dixie - Adopted
Those big brown eyes earn Miss Dixie lots of extra treats at TRU. This affectionate 6 year old Shepherd mix is so very calm and gentle - a lap dog in a larger body. At first glance she may seem shy, that is until she rolls over for her belly rubs. Loud noises and quick movements can sometimes make her nervous. She is often eager to meet new dogs, but when they are overly excited she can be unsure and will bark at them. We think the best home for Dixie would be one with another calm dog. Dixie may have some orthopedic (hip) concerns down the road and her new owner should be prepared to followup with a veterinarian to ensure that she is as comfortable as possible so her tail never stops wagging.
---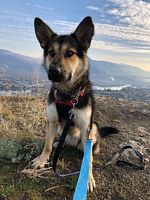 Frankie - Adopted
Frankie travelled all the way from NWT to join us at TRU! This friendly 10 month old female Husky mix is a ball of energy. Sometimes she gets a bit too excited and her enthusiasm can be a bit overwhelming for other dogs. Thankfully she has made a good friend in Bowen and the two of them enjoy their walks together. Frankie needs an active home with someone who is comfortable continuing her training. She will focus very well for treats...and more treats, always eager to please her trainer. She gets a bit concerned in new environments particularly if they are loud or busy. Supervision with children is suggested until her training has been reinforced in her new home.
---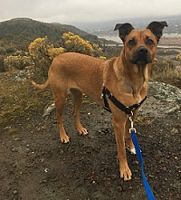 Ginger - Available for Adoption
Ginger is a 3 year old female Rhodesian/Shepherd mix that loves walks and playing with her favorite toy - even tossing it in the air! She can be nervous around new people, particularly men. It can take some time for her to warm up to you, but once she does it's tail wags and kisses. Ginger would like a home without cats and with someone who has experience working with dogs. She has had some trouble making new dog friends and would benefit greatly from additional training. Ginger does much better in a calm and quiet environment so a busy household is not likely the best fit for her. Her forever home should be one where her owner has time and desire to work with her. A home with older children who would respect her space would be best for this sweet girl.
---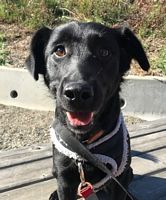 Lilly - Adopted
This little girl has won the hearts of everyone at TRU. Lilly is a 1 year old Labrador mix with much energy and affection. Very little scares her and she wants nothing more than to say hello to everyone she meets; people, dogs, cats...just maybe not skateboards. She may be our smallest dog in the program, but she certainly is not lacking in the energy department. She is always ready to go for a walk or whatever adventure lays ahead...and just maybe there are some extra treats for her?
---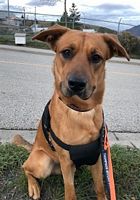 Milo - Adoption Pending
This 1 1/2 year old male Shepherd mix came to us full of energy! The students have worked hard with Milo to teach him to sit, down and shake a paw, all of which he will happily do for a treat. With a history of chasing cats and birds it may be best for Milo to be the only pet in the home or at least a home with a laid back friend to balance out his high energy. His enthusiasm can be a bit much for some dogs so slow supervised meetings are recommended. With patience and training we are confident he will make someone a loving and loyal companion.
---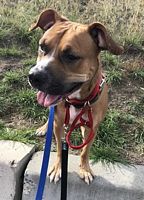 Prada - Adopted
This precious 2 year old terrier mix can often be found in our student lounge curled up on the couch next to a group of admirers receiving belly rubs. We believe she came from a home with children where she got lots of attention. She gets very excited when she sees other dogs, which can be intimidating for them so a slow supervised introduction is recommended. Prada can sometimes be nervous in new situations but is working hard on improving her confidence. During her time at TRU AHT she did have an allergic reaction and a couple of minor medical problems. The problems have been resolved but there may come a time she will need follow up with her veterinarian. She is a very strong young lady and would benefit in a home with someone who is comfortable working with her robust energy. She has not yet been introduced to cats, but seem very curious about them.
---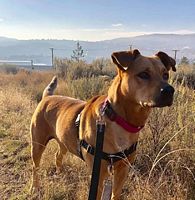 Tella - Adopted
Don't let her deep bark fool you as Tellla loves to be loved! While here at TRU she has worked hard on her sit, lay down and wait skills. We recently discovered an ability to "speak" as well. This happy girl is tolerant of most of the dogs here at TRU but seems more keen to spend her time with humans. She may need some veterinary follow up regarding some minor health issues. She is doing well here and has not needed ongoing care. Tella is smart and strong so a home with small children, supervision would be recommended as she may very well bowl them over!
---