Cats
Please note: Prior to public adoption appointments, animals may already be adopted or show adoption pending within the TRU AHT community.
---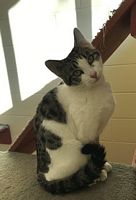 Anna - Adopted
Having recently been a momma, Anna has become our unofficial kitten groomer. One of her favorite things to do is sit and watch the kittens play. She is a bit more shy when it comes to people but with treats in hand and patience, she can be coaxed out of her hiding spot. The best home for this one year old shy girl would be with someone who is patient and gentle. We are sure with time and a kind touch she will come out of her shell and share her sweet personality.
---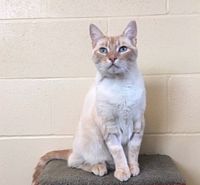 Carrot - Adopted
This majestic 1 1/2 year old flame point cat is Carrot. He has a multifaceted personality. He is both friendly and affectionate as well as independent, sometimes just wanting some alone time. He is much more tolerant of things being done on his terms (which is true for most cats). When out of his comfort zone he can get a bit upset so having someplace safe to retreat would be best for him. He enjoys exploring new places and loves to watch nature through the window. Carrot enjoys play in small bursts. He has socialized with other cats here at TRU but prefers the company of cats that respect his personal space. Can you not imagine being greeted by this handsome face at the end of a work day?
---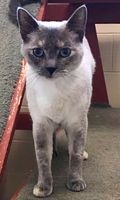 Cinder - Adopted
Although shy at first, Cinder warms up very quickly and will lay cradled in your arms like a baby. This 1 1/2 years old Siamese mix is incredibly sweet and friendly. Cinder came to us with her housemate Carrot. She is very relaxed here at TRU and although she has not met any dogs, we think with a proper introduction she would accept a dog in her life. Like most cats she enjoys having a safe place to hide.
---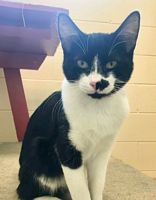 Clover - Adopted
Sister to Nona and Zorro, this little 6 month old kitten is extremely friendly and affectionate. Unfamiliar objects and noises will sometimes cause her some fright, but with time to adjust she gains confidence. While enjoying the company of people she is an active kitten and will squirm when she wants to go exporing. Clover loves to spend time with the other kittens in the program. She will no doubt fit into most homes provided she is given some time and space to explore on her terms so that she can feel comfortable. Little Clover would love to bring her sweet vocals to her fur-ever home.
---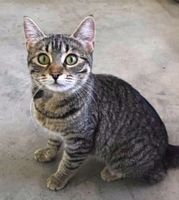 Cookie - Adopted
Cookie is as sweet as her name implies. This precious 1 year old flourishes with attention from people. She loves pets so much that she will give up play time in exchange for chin rubs. Cookie is tolerant of other cats, but would much prefer they gave her the space she needs to do her own thing. This lovely cat will soak up all the love you have to give her.
---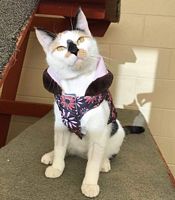 Esper - Adopted
Esper is incredibly affectionate and friendly. She craves attention and loves being handled and cuddled. This 6 month old girl will even tolerate being on her back. Esper gets along well with other cats and loves to play. She will likely do well with children as she is tolerant but will also let you know when she is tired of being handled.
---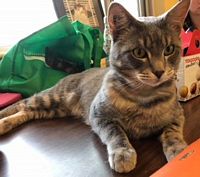 Finn - Adopted
Finn is arguably one of our most laid back cats in the program. Originally a stray cat, he has adjusted very quickly to life with soft bedding, regular meals and treats. This swarthy 2 year old is talkative and thoroughly enjoys his couch naps. Given his relaxed personality he will likely do well in almost any home, but he has not officially met any of our dogs. Anyone who has had the pleasure of spending time with our beloved Finn has fallen in love with him.
---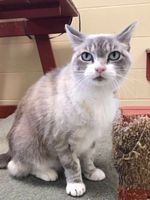 Frosty - Adopted
She may look like a distant relative to "Grumpy" cat but this 4 year old is an absolute sweetheart! Frosty is a confident ball of fur that loves attention. Although not a big fan of being held still, she will gladly come to you to illicit pets. She prefers not to share her space with other cats here at TRU but will share the playroom provided she has her own corner to retreat to. Frosty has not yet met a dog or children, but we suspect the same rules apply. Originally a mouse hunter, this independent little lady will melt your heart with her sweet purr.
---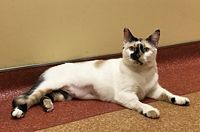 Georgie - Available for Adoption
Mother of Waldo and Esper, this 1 year old beauty was shy when she first came to TRU. Now when you approach her she comes to greet and chat with you. She is happy to seek attention and love, but prefers to do so from an open space on her terms. When she has had enough she will let you know, so a home with small children may not be the best fit for her. Georgie will bring the affection and love if you provide the treats and freedom and space to roam.
---

Gracie - Adopted
This regal long haired (Himalayan) 4 1/2 year old is Gracie. She is a very laid back lady who spends a good portion of her day lounging in sunny spots. Gracie is currently on a weight loss plan and should continue this plan in her new home. Her beautiful long hair requires some additional grooming and maintenance. She came to our program with Skittles but has also made some new friends while here. Gracie is not particularly keen to play but will be thrilled to have a cat nap housemate.
---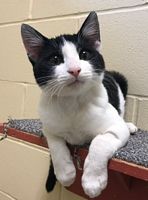 Nona - Adopted
Little Nona is adventurous and just loves to play! She enjoys lots of attention as well as layng in the sun and cuddling with all her kitten friends. An inquisitive and busy kitten, she won't sit still in one spot for long. Provided she is permitted to retreat to her space she would likely do well in a home with children. Given that she came to TRU with Clover and Zorro we anticipate she would quickly adjust to a multi-cat home.
---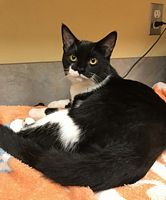 Penner - Adopted
While here at TRU this 6 month old has grown from an adorable kitten into such a handsome fellow! Penner will purr at the drop of a hat, so much so it can sometimes be a challenge to actually listen to his heart. This confident and playful boy is curious about his world and explores at every opportunity. He will no doubt thrive in a home that can give him lots of attention and playtime. We will miss his soothing purr, but know that he is going to make someone very happy.
---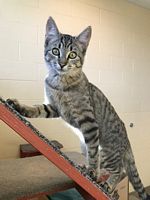 Presley - Adopted
Presley is an adorable 5 month old bundle of love and energy. She is still working on gaining confidence with loud noises and sudden movements but when you're as tiny as Presley the world can be a scary place. Once she relaxes in your arms, she happily bestows purrs in exchange for chin rubs. She is very playful and has a hard time sitting still for long. Just look into those adorable little brown eyes... can't you imagine waking up to those every morning?
---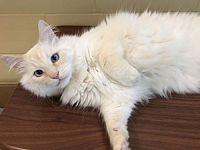 Skittles - Adopted
Skittles is a 1 1/2 year old, friendly guy with a high cuddle demand. He is happy to let you do almost anything to him as long as you are petting him while doing it. He is confident and inquisitive, often exploring new areas the minute you set him in it or just as content to bathe in the windowsill and watch the world. This big boy loves to relax! He came to our program with his housemate Gracie, but since being here has made a few more friends. He recently participated in our lunchtime kitten meditation, or rather he walked around the room rubbing on people's legs and seeking out pets.
---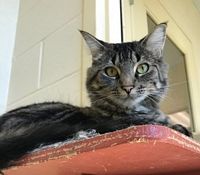 Suki - Adopted
Meet our sweet Suki! A 1 year old female who loves belly rubs and chin scratches. She is very friendly and affectionate and will no doubt thrive in her new home. She is quite comfortable with other cats but has not yet met any dogs. Like most cats she would just like a quiet place to call her own. She thoroughly enjoys time in the playroom and with some interaction from people, will engage in playtime.
---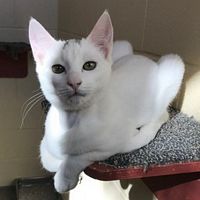 Tic Tac - Adopted
Sister to Vanilla and Presley, this little cuddle bug is super friendly once she gets to know you. Tic Tac is a 5 month old typical kitten, splitting her time between naps, affection and play (in that order of course). During playroom time she gets a chance to get her kitten energy out. As she is still young she will likely fit in well to most homes provided she has time to adjust and find her safe space.
---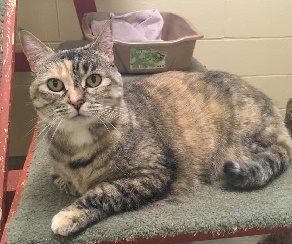 Tiva - Available for Adoption
This charming 6 year old female is Tiva. Our precious Tiva is an independent girl, seeking out attention on her terms, after all humans are here to keep her happy right? She is set in her ways and will let you know when she has had enough of something. Although not a huge cuddler, she frequently comes to rub on your legs. Tiva was originally in a multi-cat home and has been given some playtime by herself due to an orthopedic condition which may or may not require follow up with a veterinarian. In the right home Tiva will likely make a perfect couch companion serenading you with her gentle, quiet purring.
---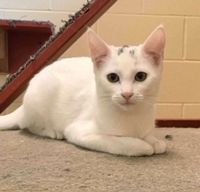 Vanilla - Adopted
While here at TRU, this 5 month old beauty has come out of her shell. Like a typical kitten, Vanilla loves to run around and play. She was our first cat to figure out how to escape her kennel upon arriving here! She has not yet met dogs but is very happy to spend time with her kitten friends. Vanilla has had some digestive issues, but is improving under the care of our staff and students. With love and lots of playtime, this adorable purring kitten will bring much joy to her forever home. P.S. She enjoys being hand fed.
---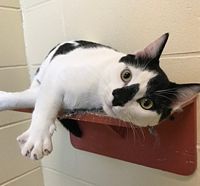 Waldo - Adopted
Waldo is an easy going young man. He arrived with his sister and mother from the Shuswap area. This confident 6 month old will fill your home with love. While he enjoys attention, he is an independent cat who likes to explore on his terms. While not yet introduced to dogs, his calm demeanour and tolerance of other cats is promising that an introduction would go well. We also feel that he would do well with respectable children provided he has somewhere to call his own space. FYI... he does respond to "Where's Waldo".
---
Zack - Adopted
This handsome 4 year old male is Zack. He thoroughly enjoys pets and attentiuon but being an independent boy, he would prefer it to be on his terms. No doubt there is a little lion in him as he enjoys "hunting" his toys. Zack does have some skin issues which we are in the process of resolving, however he may need veterinary follow up at some point. He is fine to share his space with other cats provided they respect his space. He prefers the company of people, particularly those with treats in hand.
---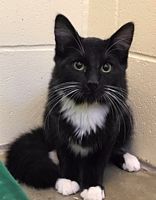 Zorro - Adopted
Zorro is a 6 month old domestic medium hair, sweet and friendly young fellow. Shy at first, he quickly warms up and will be more than happy to curl up in your arms. Unlike his sisters Nona and Clover, he missed meowing lessons from his Mom because rather than a meow he has more of a squeak sounding like a baby owl. If your home is in need of a soft purr and a little squeak, maybe Zorro is for you!