Science Menu
Veterinary Technology On-Site Diploma Program
(formerly Animal Health Technology)
The Veterinary Technology program is designed to train individuals for employment as professionals in the field of veterinary medicine. A registered veterinary technologist works under the supervision of veterinarians and veterinary scientists in a variety of areas including: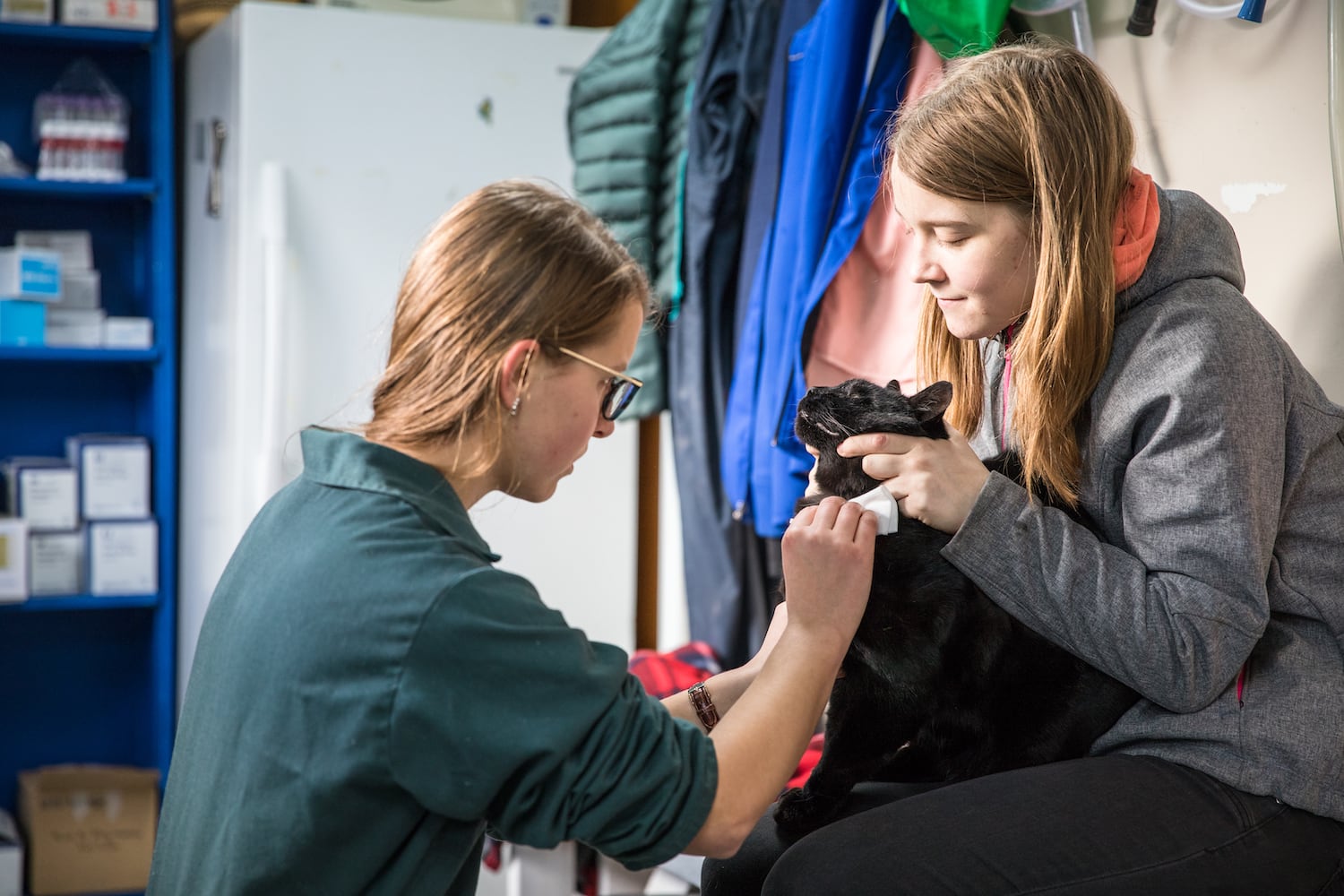 Diagnostic testing
Radiography
Medical procedures
Office protocol
Animal nursing, anesthesia, and surgical assistance
Most graduates are employed in private veterinary practices. Occasionally, positions may be obtained in the emerging biotechnical fields, animal shelters, zoological parks, and other animal-oriented areas in the public and private sectors. Graduates can expect a varied and satisfying career.
The Veterinary Technology program has a longstanding history at TRU. Since 1981, our program has offered small class sizes, quality coursework, and unique training opportunities. Our program is accredited by the Canadian Veterinary Medical Association and combines classroom and laboratory instruction, field and clinical experience with small and large animals. Students have daily hands-on experiences with small animals in the teaching facility on campus. Large animal work is carried out in a separate facility where students develop hands-on experience with livestock, wildlife, and birds.
There are 30 hours a week of combined lecture and laboratory work. Students are also responsible for case study sessions and for providing routine daily care for the program animals. Animal care involves evening and weekend duty. Students' clinical practicums take place at veterinary facilities during the 1st year (2 weeks) and 2nd year (4 weeks) of the program.
Video created by former AHT students Evangeline McElwain, Caitlyn Knight, and Ali Lussier
A unique learning experience
Top 10 reasons to pursue an RVT diploma:
Innovative, knowledgeable, and experienced faculty
Daily opportunities to acquire practical skills
Onsite program animals (dogs, cats, rats, mice)
Access to our university farm for large animal experiences
Field trips and class work at the BC Wildlife Park
VTEC grads consistently score high in provincial exam
Low student-to-instructor ratio in laboratory sessions
Opportunity to adopt TRU animals open to students at the end of each semester
Option to access the National Laboratory Animal Examination for provisional status
Veterinary employers in British Columbia and Alberta specifically recruit and hire TRU VTEC graduates