Safe Working Procedures
The management of Thompson Rivers University recognizes that written safe work procedures [SWP] or supplementary instructions are extremely important to ensure a safe work environment and form an essential part of the overall Occupational Health and Safety Program.
These guidelines provide information necessary to assist all workers and supervisory staff in performing their various tasks safely. They also assist in the training and orientation of new employees/students in job hazards, as well as providing them with the rules and procedures necessary to ensure that they can perform their work in a safe and hazard free manner.
ALL faculty, staff and students are expected to familiarize themselves with these requirements. Everyone is expected to follow these general rules when engaged in any TRU operations.
Certain specialized or hazardous tasks will have a separate SWP which is contained within Section 2 of the Occupational Health and Safety Program. People engaged in such activities should familiarize themselves with the specific SWP for the task they are involved in.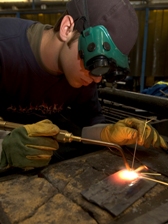 Campus-wide safe work procedures
Carpentry safe work procedures
Electrical department safe work procedures
Mechanics department safe work procedures
Science safety safe work procedures
Welding department safe work procedures
Metalworking machine safe work procedures
Piping and plumbing safe work procedures