Safety Resources and External Links
If you experience a threat to your safety, let someone know. Reporting incidents can bring greater attention to safety needs and lead to more effective programs and services.
You can also obtain further information and/or discuss your concerns with your student association, union, the administrative head of the unit, or with one of the following services: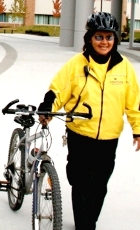 TRU security
Uniformed Security staff patrol the campus 24 hours a day
Call Security at any time to report anything suspicious or to receive assistance.
Phone: 250-828-5033 or local 5033
Occupational health and safety
Occupational Health and Safety develops and promotes personal safety training and awareness and administers related programs. This includes identifying and responding to personal safety risks, promoting awareness of risks and support services, and recommending procedures to enhance an effective TRU response to incidents. This office also helps develop and promote measures aimed at dealing with violent, threatening, dangerous, and disruptive behaviour by anyone on campus.
Phone: 5139
After hours contact Security: 250-828-5033
External links