UREAP
Undergraduate Research Experience Award Application
To complete your application for an Undergraduate Research Experience Award:
Login to the Romeo Researcher portal using your email address and password information. Please refer to the Registration section for further information on how to obtain an account.
On the Home Screen, choose APPLY NEW.

Under Research, Innovation and Graduate Studies – choose "Undergraduate Research Experience Award Application."
1. Project Info: Include the title and proposed start and end dates of your project.
NOTE: Be aware of the dates that you choose. If your project is chosen for funding, the end date indicated here will be considered the deadline for project completion, and you will need to contact the research office for an extension should you wish to extend that deadline.

Related Certifications: once you have applied for certifications (e.g. human ethics, animal care, biohazard), you can associate them with this file here. Once funds have been awarded, it is critical to secure all necessary certifications before you will be issued any funds. If you are unsure, ask your supervisor whether your project will require certification.
2. Project Team Info: You will automatically be added as the principal investigator. For UREAP you are likely to be the only investigator on this project. If you would like your supervisor to have access to your application, you may include him/her as a co-investigator.
Add co-investigators using "Other Project Member Info"
a. Click Add New
b. IMPORTANT: ALWAYS choose

before adding investigator information. If an investigator is added to the database twice, the system will have problems properly managing communications.




Search for a team member by entering his/her first or last name at the top of the screen <screen shot> and clicking "Search."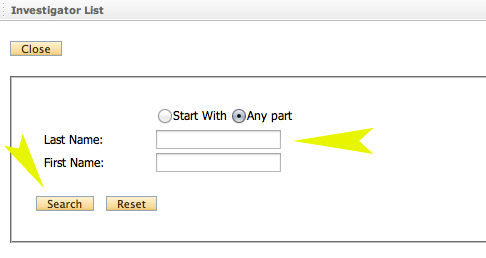 3. Project Sponsor Info: The information in this tab does not apply to your UREAP project, and therefore does not need to be completed.
4. Undergraduate Research Experience Award Application: This tab comprises the key sections of your U-REAP application.
NOTE: Questions marked with red asterisks require responses.
NOTE: This section has several sub-tabs. Please complete all required information. For more details on the application process, visit U-REAP Award.
5. Attachments: Use this tab to attach any relevant documents, such as your undergraduate transcripts.
NOTE: Please do not attach documents that extend word count for any of the questions in the application. This may be viewed by the U-REAP committee as trying to gain an advantage over other applicants. If you wish to attach a document and are unsure whether it would be appropriate, email cwhitelaw@tru.ca.
6. NOTE: If the red "Errors" tab is visible, you have missed a required field. Click on this tab for details as to which information is missing.
7. Once you have completed all required information, the "Errors" tab will disappear, and you will be free to Submit your application by first clicking "Save" and then "Submit."




When you hit "Submit" the application will automatically be forwarded to the Research Office for committee review and adjudication. You will receive email confirmation that your application has been successfully submitted and will be able to follow the application through the approval process by viewing the Logs tab within the application.
NOTE: When you have clicked "Submit" a "Comments" box will appear. You must type something in this box to proceed with submission.
NOTE: Once funding has been approved but before you can spend research funds, you will need to complete a Conflict of Interest/Conflict of Commitment Declaration. This declaration is paperless through TRU Romeo.