President's Biography: Dr. Brett Fairbairn
Dr. Brett Fairbairn is a distinguished academic and a passionate advocate for universities and higher education. His special interests include students and access, participatory governance, and community-university engagement. As a leader, he strives for strategic focus, relationship development, and a strong value system of integrity, respect and accountability.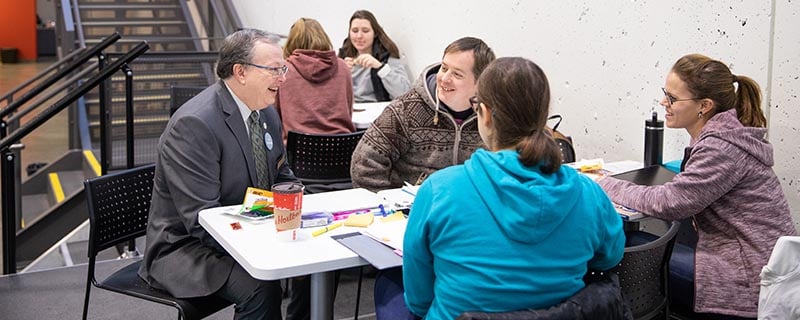 A Rhodes Scholar and a Fellow of the Alexander von Humboldt Foundation, Brett taught and conducted research in history, public policy, and interdisciplinary studies at the University of Saskatchewan (USask) for over 30 years before becoming president and vice-chancellor at TRU in December 2018. While at USask, Brett held increasingly senior leadership roles including as provost and vice-president academic. For his last five years at USask, he was a professor at the Johnson Shoyama Graduate School of Public Policy, teaching about ethical leadership in democracy and public service, social economy, and co-operatives in the new economy.
Brett's academic work has focused on the history and interdisciplinary study of democracy, social movements, and co-operative enterprises in Canada and around the world, with a special focus on organizational governance. He has been supported through numerous grants from the Social Sciences and Humanities Research Council of Canada. A strong believer in community-based research, Brett has more than 80 publications, which are a mix of scholarly and community-oriented writings. He has published on the history of German elections in the 19th and 20th centuries, on farmer movements in Western Canada, and on how governance and strategy in co-operative businesses can contribute to stronger communities and social cohesion. His most recent book, Risk and Relevance: The Transformation of Canada's Co-operative Retailing System, was published by the Canadian Centre for the Study of Co-operatives in spring 2019. It is a study of organizational change, leadership, governance and strategy in Western Canada's retail co-operatives.
Brett completed a DPhil in Modern History at the University of Oxford. He holds a Bachelor of Arts from Oxford (honours first class) and from the University of Saskatchewan.
As a proponent of active citizenship, Brett has served in voluntary leadership roles, including chair of the Saskatchewan Academic Health Sciences Network and chair of the Saskatchewan Archives Board. For his university and public contributions, Brett has been honoured with a number of awards including the Queen's Golden Jubilee Medal in 2002.
Brett resides in Kamloops with his wife Norma, a ceramic artist. They are the parents of three adult children, one of whom has special needs. Brett's interests also include hiking, photography, science fiction, and cats.