Why universities raise funds
Recently our university announced the highest fundraising goal in our history: to raise $50 million for our 50th anniversary in 2020. Quiet work over a period of years has already brought together $41 million from donors for our Limitless campaign. If this is a marathon, we are running the last few miles.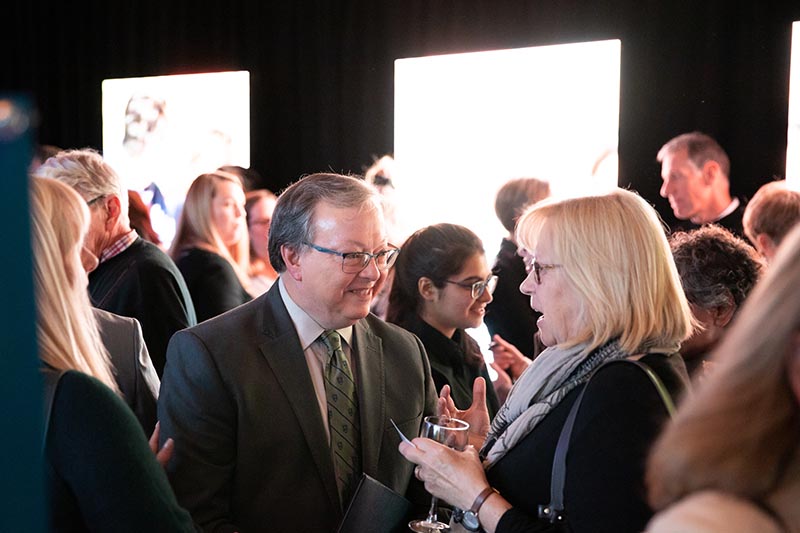 Brett at the Limitless campaign launch
Which raises the question: Why do universities do this? Why do we raise money? And some might also ask, who are these donors? What difference do they make?
These questions are of central importance for a university president. One of my mentors once told me, a university president has four jobs. One of them is ensuring the institution has enough resources for its mission. And that, in part, is what fundraising is about.
Universities are expensive. We hire expert talent from global markets. We outfit labs and buildings with state-of-the-art features and equipment, because our students deserve to learn with the tools of the present and future and not only those of the past. We are leaders in developing digital networks and environments. Technology may reduce costs in mass-production industries. For us, it increases costs.
So how do universities cover this? Where do the resources we need to fulfill our mission come from?
Tuition, taxpayer funds, and the role of donors
Students pay most of the cost of operating universities. Tuition fees are our biggest source of revenue, some 41 percent of our consolidated income. Government grants come second at 34 percent, including important operating grants from the provincial government. Together with miscellaneous income including investment earnings and sales of goods and services (such as our popular TRU and TRU Wolfpack branded apparel), these recurring, year to year revenues pay our core, recurring year to year costs.
In our basic operations, we are a student-funded university, with important government assistance. But neither students nor governments have bottomless pockets. Students can and should be asked only to pay so much. Taxpayers ditto. With careful management, our student funding, government funding, and T-shirt sales are enough to meet payroll and keep the lights on, and a bit more. When we run surpluses, those operating surpluses are our capital funds we can use to build and renovate buildings.
Students and taxpayers pay for the basics. Donors make us extraordinary.
Donors are philanthropists, individuals (less often, businesses or organizations) who support what we do. They give gifts to provide students, faculty, and communities with some of the enhancements our annual revenues can't cover.
One of the most frequent things donors want to do is create scholarships and bursaries for students, which help ensure that less-well-off students can attend university, and which give students new opportunities to concentrate on their studies or to pursue leadership, athletics, arts, or other activities.
Many donors want to help build and outfit labs and learning environments for transformative teaching, research, scholarship, and artistic work. We've seen this with our new Industrial Training and Technology Centre and our future Nursing and Population Health Building.
Some gifts specifically help connect our faculty and students to the community, helping members of the university work together with community organizations for the advancement of these organizations as well as practical experience to enrich student learning.
Donors and universities — a reciprocal relationship
Donors who support these causes give according to their means, whether the gift is $5 or $5 million. Often, they do so because they are alumni, and in every case because they want to pay it forward and benefit future generations. When a gift is large, transformative, and meets scrupulous criteria, it may result in a building or scholarship being named after the donor. But other donors insist on remaining anonymous.
We accept only gifts that are consistent with our purposes, values, and ethics. Similarly, donors consider whether what we do is compatible with what they believe in. We may make a request, and they can say no, and that's the end of it. Ultimately, the donations that come to TRU such as the $41 million received to date for Limitless, are the results of happy congruences of purposes between our donors and our university which together are transforming TRU into an accessible, high-quality place of learning
To find out more about our campaign and how money raised will help support future generations, please visit the Limitless website.