TRU's 50th – What do anniversaries mean?
January is a month to look both ahead and back. That's why the month is named after Janus, a Roman deity who had one face looking at the past and one at the future.
As I look ahead and back from 2020, one number has been much on my mind. Fifty.
Fifty years ago, Thompson Rivers University's predecessor, Cariboo College, opened its doors. A new institution was born in temporary space, including in a handful of trailers at the former Kamloops Indian Residential School. We were one of several new two-year regional colleges established to provide academic and vocational programs outside BC's large urban centres served by the province's three universities. Over time, our new college grew in its offerings to meet the educational needs of local people. From the beginning, we embraced a broad definition of local, quickly establishing a campus in Williams Lake and then, in the 1980s, establishing educational outreach offices in multiple communities.
TRU's humble but earnest beginnings reflected lofty ambitions. Our roots lie at the dawn of the mass expansion of North American higher education. Access was the issue of the day: to take higher education beyond the few percent who had participated before and to engage the majority of the population. The 1970s was an era when women, notably, entered jobs and higher education in large numbers, and I have heard that colleges like ours particularly supported this societal change. We were not just a participant in the drive for access, but a leader in transformation through education.
During TRU's recent Envision TRU visioning process, a colleague sent me an excerpt from the 1970s about Cariboo College's philosophy. Here it is: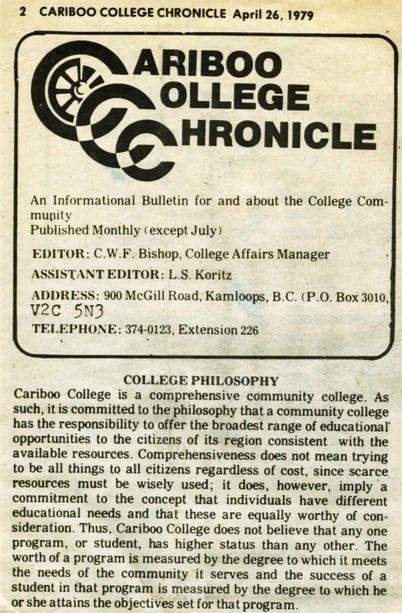 One of the things I love about this document is its definition of the word comprehensive. I have long puzzled over universities calling themselves comprehensive because no university in the world offers every program (which is a superficial definition of what comprehensive might mean). But our 1970s philosophy addressed that problem. We aimed to be comprehensive not so much in our programming but rather in our vision—in our overview of all community needs. We aimed to consider community systematically (giving equal consideration to all) and consciously, to direct our resources to the programs that would most fully meet community needs. This philosophy led us to serve underrepresented groups. It's a philosophy that has led us to preserve, nurture and enhance our trades programming when most other universities do not have programs of this kind. Why? Because it's important for meeting community needs.
Community orientated. Flexible. Willing to be different. Egalitarian. Supporting individuals to succeed in their own terms. All of that is in our university's DNA.
Like a person, our university grows and changes while carrying inside ourselves the history of where we came from—our identity. We grew in academic programming as University College of the Cariboo (1989-2005), when we educated students to complete university degrees at partner institutions. When in 2005 we merged with the BC Open University, we merged with another institution born in the access wave of the 1970s: a radical vision of a university that would not be campus-based but rather, using all available technologies, deliver education to learners in widely distributed locations. In effect, that merger doubled down on our original mandate of openness and accessibility and expanded it into wider reach and new forms of delivery. And, as TRU since 2005, we have more and more fully embraced the mandate of research and scholarship that is a defining feature of the university model.
A lot of change! Are we the same institution we were 50 years ago? In exactly the same sense that I am the same person I was 50 years ago! In other words, yes and no. We have a continuity of identity, basic personality and values from then until now and into the future. But outwardly, we have changed enormously.
An institution differs from a person in an important way: TRU will still be around 50 years from now, and I will not.
And what will TRU look like after 50 more years?
Three thoughts.
First, TRU will change more in the next 50 years than in the last 50. I don't know what all those changes might be, but some of them will be extrapolations of things we have already worked on.
I would bet that in the future, we will achieve seamless lifelong learning, maintaining relationships with learners from early childhood to old age. Distinctions like "student" and "alumni" will blur as we welcome more and more K-12 learners, first-time older learners and returning learners into our community. We will have more and more 16-year-old alumni and 61-year-old first-time learners.
In addition, we will fluidly embrace and combine every suitable technology and mode of delivery. Online? On campus? On the land? Abroad? Learners will combine and integrate the best experiences for their success while our administrative and academic systems support, facilitate and don't get in the way. Every stage of learning will be recognized with an appropriate course credit, credential (degree or certificate) or "micro-credential" so that every learner can show and explain the learning they have done and piece it together over time in their own way.
A second thought: among the things we do in the next 50 years, our biggest single impact will come from supporting Indigenous communities—within our region, particularly Secwépemc communities—to thrive. This is the social imperative for our time and place. It is not unrelated to the access imperative of the 1970s when we were created, but it is, if anything, more urgent. The harm done to Indigenous communities by colonization is a stain on Canada's history. Undoing the harm where possible and honouring Indigenous people is a responsibility for Canadian institutions like TRU. I predict TRU will be a leader in this lengthy and important journey of decolonization, Truth and Reconciliation and resurgence of Indigenous rights.
Third, I expect that in coming years we will remain "open" but go beyond open to something more. The metaphor of open was good for the world of the 1970s. In my mind, it calls forth the image of a house with an open door. Because the door is open, we may assume individuals can enter, and want to, and all see the door the same way—as an opportunity. This is a good image, but our 2020 society generally has a much better understanding of the great differences in how people experience the world. It's not just about physical access but also culture, a healthy environment, supportive relationships. To return to the image of a house, what humans want is not just an open door, but to enter a place where there is warmth and welcome; not just open access, but to access a place where they feel they belong. I think our future is to be that kind of place and we have made a good start.
Predicting the future
I accept the criticism that all I have said may only be an extension of trends we already see and things we have already done. There will also be changes and accomplishments and setbacks that are unforeseeable from our present knowledge. Whatever these may be, we will prepare for them best by knowing our strengths, building our capacity and making TRU a cohesive and resilient community.
What I have predicted above is plenty challenging; some might say too much so. To that, I can say that our philosophy of the 1970s probably sounded pretty challenging and idealistic at the time—which was perhaps why it drove 50 years of accomplishments. It's a good moment to reflect on what will carry us through the next 50.