Making sense of blogs
I'm not certain yet who will be interested in reading a university president's blog, but I have to imagine an audience. My mental model for a blog relates to the lost art of letter writing, and letters don't make sense without readers.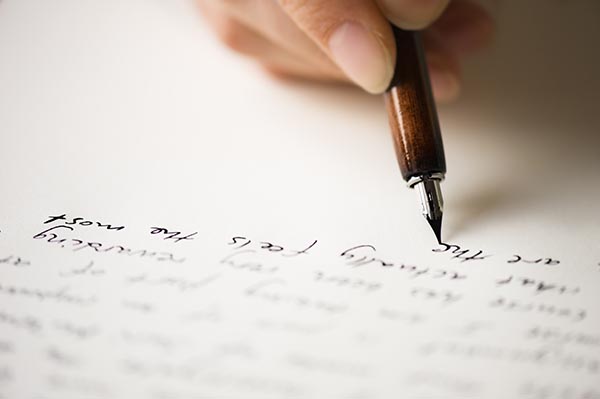 I am old enough to remember handwritten, paper-based, personal, periodic essays. Letters, in other words. I wrote such to my mother when I was off to university, following the example of my older brother Garry. He was a Canadian Press correspondent in Ottawa and Washington D.C. in the era of Pierre Trudeau and Jimmy Carter, and sent lengthy letters that mixed anecdotes of daily life with reflections on the politics of the time and the view from the parliamentary press gallery.
Later, my wife Norma and I conducted a crucial early year of our relationship predominantly via the medium of paper, because — and this will be inconceivable to many people today — phone calls were outrageously expensive. I recall $2 a minute for off-peak dialing after midnight (those were 1981 dollars). Compared to plugging a mittful of coins as fast as you could into a payphone while having a tender conversation in a windowy booth under a streetlight, ink and paper looked pretty good.
Blogs and letters by comparison
Decades have gone by and while keys on a keyboard have for the most part replaced ink and paper, I see clearly the similarities between blogging and letter writing.
Both have a personal touch, providing some insight into the writer.
Blogs, like letters, accumulate over time. There may be gaps of varying length; former themes may continue or new ones may appear; but each entry lands on top of the ones before and can be read in their context, allowing for multi-faceted exploration and chronological development of views.
As student of history, I have read collections of letters in archives and treasured the way they document life and thought. I don't know whether today's blogosphere will leave records for future historians to ponder, but I hope it will.
To me, what connects letter writing and a blog the most is the fact that both are current without being frantic or instant. They are connected, in other words, to the issues of a certain time, yet with a deliberation that requires thoughtfulness and self-awareness — in this regard, the opposite of a tweet that is often all about immediacy and gut reaction.
Why write a blog?
This brings me back to my initial thoughts. Who will read a university president's blog, and why write it?
As TRU's president, primary among my responsibilities is to be an advocate and ambassador for the university and post-secondary education. I meet with people every day — students, faculty, our staff, community members, donors, and government partners. But there is only so much time, and conversations are often brief. A blog helps me go further and deeper on selected topics.
I hope that a blog also helps people connect with me and with TRU. There is an increased desire in today's age for more consistency and transparency in communications from leaders, and more authenticity.
My blog entries are not official communications to express formal positions of my university. Rather, I'm writing as an individual, but one who is in a leadership role that revolves around communication. My blog will primarily be related to matters affecting Thompson Rivers University, which however include many aspects — academic leadership, organizational culture, student and faculty expectations, participatory governance, etc. — that are not dissimilar to other universities. I hope that this leaves room for occasional, constructive self-criticism; and perhaps to write occasionally about my cats or my hiking trips. (Only a little. I promise.)
There is one way in which blogs are more limited than letters: they do not create an expectation of a specific reply, and, for this reason, I doubt I could have used them to woo my future spouse. Nevertheless, I hope this blog spurs conversation, and that I will hear responses and reactions through comments, email, and hallway conversations in days and months to come.